Celebrating AAPIH at Stockton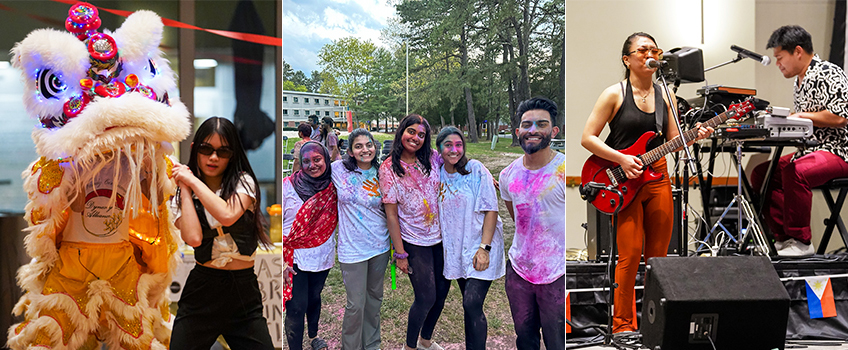 Galloway, N.J. – Stockton University commemorated Asian-American and Pacific Islander Heritage with several events in April and will continue the celebration this month with a Brown Town Street Fair May 19.
"While Asian Pacific American Heritage Month is nationally celebrated in May, Stockton begins celebrating in April while students are still on campus and we continue celebrating through May," said Lauren Wilson, associate director for Student Development. "As one of the advisors working with our AAPIH Celebration Planning Team, it's so exciting to watch about 15 student organizations and campus offices come together to collaborate & celebrate AAPI culture at Stockton."
This month, the Pakistani Student Association (PSA) will host a Brown Town Street Fair, a mela or festival, for the Stockton community from 4-9 p.m., Friday, May 19, in front of the Campus Center. The festival will celebrate South Asian culture and feature halal food trucks, games, music and more.
---
April had both large and small-scale events, including the inaugural Cultural Night by the new International Student Organization, an Eastern Brush Painting Workshop, a lecture by spoken word artist and mental health advocate Sam Louie, and Japanese Shinrin-yoku: "Forest Bathing" for Unity and Harmony.
Students also had the chance to travel to the University of Virginia to participate in the East Coast Asian American Student Union Conference and the Philadelphia Cherry Blossom Festival.
Below are some of the larger events that our student organizations held on campus in April.
Phoenix Night Market on April 7
The Asian Student Alliance's (ASA) annual Phoenix Night Market event has been a longtime staple on campus. During the event, students gather in the Campus Center to watch traditional and modern dance performances from student organizations and Dynesty Alliance, sample Asian food and learn more about the Asian student organizations on campus.
---
Barrio Fiesta on April 17
The Pilipino-American Student Association of Stockton (PASAS) recently held Barrio Fiesta – or neighborhood celebration – in the Campus Center Event Room. The PASAS band performed songs, and their dance team performed a traditional binasuan dance. According to Ashley Dalisay, president of PASAS and recent recipient of Student Development's Student Organization of the Year Award, the event was meant to both commemorate AAPIHM and "highlight the significance of diversity on campus.
"The event's main goal was to give our Filipino and non-Filipino community an opportunity to fully immerse themselves in our culture through live performances, music, line dancing and food — for free," Dalisay said. "With a successful 200-plus in attendance, there was no better way to end my undergraduate experience at Stockton."
---
Holi Celebration on April 26
The Bengali Student Association (BSA), in collaboration with Student Senate and the Stockton Entertainment Team, originally scheduled their Holi, or 'festival of color,' event in March but had to postpone it due to bad weather. Thankfully, the students were able to cover themselves in both powdered color and sunshine. Students gathered at the Townsend Residential Life Center and enjoyed dance performances from BSA and Stockton Sahana, food from The Nizam's, a local restaurant, and lots of color everywhere to welcome spring.
"Stockton BSA was honored to bring the vibrant culture and joyous celebration of Holi to the Stockton community," Nashia Ara, public relations chair of BSA, shared. "We aimed to immerse everyone in the colorful festival while providing a source of positivity during a challenging time in the semester. We're excited to make this an annual tradition, bringing even more color, music and fun to Stockton."
Photos submitted by Ara and Parth Thakkar
---
– Story by Loukaia Taylor