Connecting Through Culture: 'The Fusion Experience'
By Kiaraa Fulton, '22, '25 and Loukaia Taylor, '22
You can say that the Fusion Experience fell into Kiaraa Fulton's lap.
Fulton, a Doctor of Physical Therapy student and graduate coordinator for the Office of Residential Life, was suddenly put in charge of the program two months prior to the October event.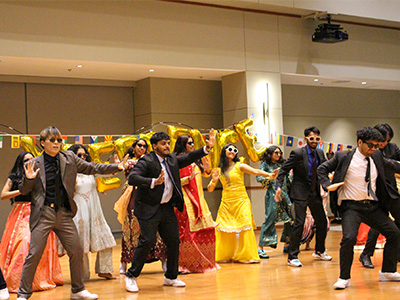 She was more than up for the challenge because she recognized how significant the program was to the multicultural student organizations involved.
"I would imagine (the founder's) vision for the event would be to create a space that highlights and celebrates all the diverse cultures that make up Stockton's student body," Fulton shared. "I know that many people looked forward to this event after having attended last year's event, therefore, my goal this year was to make the event larger and better than last year's."
But what exactly is The Fusion Experience? According to Fulton, it's all in the name, since "the term fusion literally means to mix two or more entities to create one thing, and this perfectly describes the point of the program: to mix cultures and to celebrate the beauty of diversity."
Fulton and La Mesa: Residential Oasis for Intercultural Engagement, an initiative that is focused on centering students of color with dynamic programming, hoped the night of cultural dance performances, food and mingling would allow students to connect with each other in a unique way.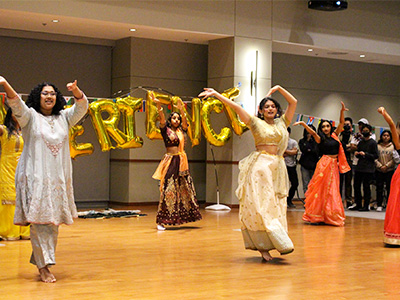 Since the program takes place during the fall term, it also provides a perfect opportunity for new students to be exposed to the different cultural student organizations on campus.
"These clubs are important to the students on campus that identify with them, and this program allows them to have a spotlight," Fulton said. "It also allows students of color who are looking for a community at this predominantly white institution to see themselves represented on a large scale."
Essentially, the program wouldn't exist or garner the same experience for students without the performances and participation of the multicultural student organizations here. The Bengali Student Association (BSA), Pakistani Student Association (PSA), Asian Student Alliance (ASA), Korean Student Organization (KSO) and Stockton Sahana all performed dance numbers during the event.
The Experience During the Fusion Experience
With more than 300 students in attendance, the Campus Center Event Room was transformed into a jam-packed concert venue, complete with a dance floor/stage. Performances ranged from traditional dances, like BSA's holud raat and PSA's attan, to modern ones, like Stockton Sahana's popular Bollywood moves and KSO's K-pop routine.
BSA's founder, Tabasoomara "Tabu" Sarwar, already knew her group would be involved in the Fusion Experience this year: it has become a tradition that the performances are opened and closed by the BSA. The group sets the tone at the beginning and provides a strong conclusion with electrifying dances complete with traditional clothing and even fan dances.
For Sarwar, the experience gave the multicultural organizations on campus the chance to really connect with each other through music, which she said is the best way to do so.
"I think a lot of people got a lot of insight toward (different) cultures through the performances and the music itself," Sarwar said. "It spoke a lot of words without even speaking."
The BSA's performance was a traditional Bengali/Bangladesh holud raat, which is a dance typically performed before a wedding. As explained by Sarwar, the night before a wedding is usually a chance for the families of the bride and groom to "party, perform and dance."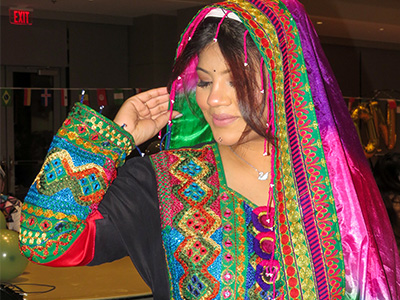 For the PSA and its president, Qurratulaain "Annie" Imran, dances rooted in folk traditions have been important for the group to showcase since the inception of the Fusion Experience. Last year, the organization danced with a traditional dholki, a dual-headed hand drum used in Punjabi music. This year, the group decided to highlight the underrepresented side of Pakistani culture: the Pashtuns of Pakistan.
"In the past, PSA has mainly focused on the Punjabi side of Pakistani culture in our meetings and events, being that Punjabis do make up the majority of Pakistan," Imran explained. "Many of the Pashtun members of PSA feel that the Fusion Experience definitely allowed them to represent their, often underappreciated, culture in a fun way."
In attan dances, participants gather in a circle and hold each other's hands. The music begins slowly and gradually speeds up, making the dancers' steps and claps faster as well. The women in the organization wore traditional regalia full of bright colors and mirrors, which shone as they spun and danced amongst each other.
Stockton Sahana's dance was rooted in culture as well, and it also demonstrated the beauty of multiculturalism. Stockton Sahana is different from other student organizations in that, while culture is a major driver of it, it's not centered by culture; rather, the love for dance is, and they accept any student regardless of if they are a part of Indian culture.
"We do not like restricting cultural dancing to only those who are part of that culture, especially when I— someone who isn't Indian and doesn't have official training in the style — choreograph most of our dances," said Irenonsen Eigbe, vice president of Sahana.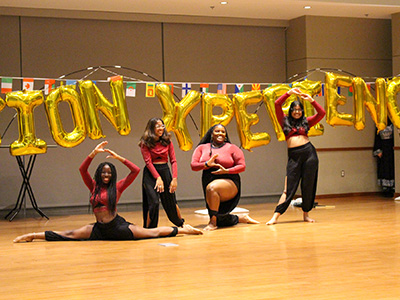 "Our team is meant to be a way for people to come and relax and get to know others. A way to relax from all your classes and to just dance away the pain."
Sahana's president, Jewel Kunnumpuram, and Eigbe both emphasized that the organization is diverse in skill as well — dancers of all levels are welcome to join in the fun.
"The main styles we focus on are Bollywood, Bhangra and Bharatanatyam," Kunnumpuram said. "I personally have studied all three of these styles professionally for 13 years. With this knowledge, I know I have to put my best foot forward to properly show these skills to others and have these styles expressed fully and properly."
"We are a noncompetitive, beginner-level dance team. We make sure that everyone can perform all the steps with no difficulty while still staying true to the dance form and allowing more advanced dancers to enjoy it," Eigbe said.
All in all, the performers had nothing but great things to say about the experience, as well as each other.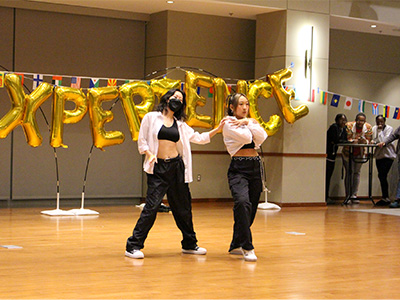 "I was excited to perform because I love to dance," Jo Tse of the KSO shared. "My favorite part was seeing all those amazing performances and meeting new people."
"The performances this year were really, really good," Sarwar said. "I really loved how each club gave a part of their culture back to the community, which was very nice to see."
"We love seeing others express themselves and show off their talents to the community," Kunnumpuram said. "Typically, you do not see people just dancing on campus, so events like this allow us to see who else likes to perform and their talents. It also gives us the chance to see whom we could possibly try to collaborate with in the future."
Fulton's sentiments mirror the performers': "The event was successful. The DJ kept everyone on the dance floor and the performers were amazing!
"I am just so proud of everyone that helped with the event," Fulton said. "I am so thankful to everyone who performed, set up, collaborated and attended. This event means so much to so many people and it couldn't have been done without all the help."
Kiaraa Fulton is a Doctor of Physical Therapy student and graduate coordinator within the office of Residential Life.
Loukaia Taylor is an alumna of the Communication Studies program and member of the Campus Committee on Diversity and Inclusion Excellence.
---
---