Stockton Recognizes Student Leaders, Clubs for Service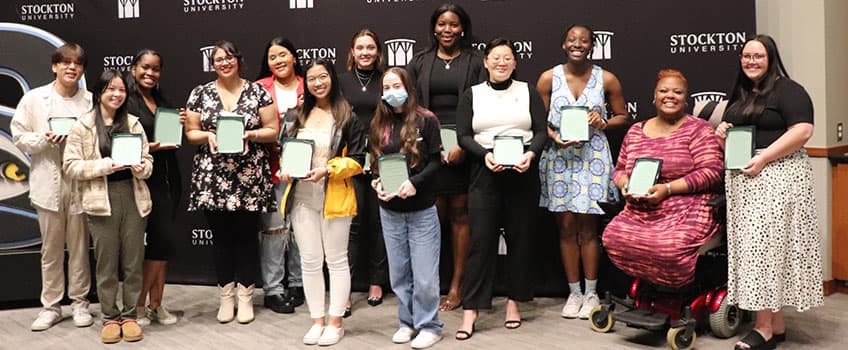 Galloway, N.J. – With more than 250 student organizations leading 1,200 events this academic year, the Student Involvement Awards celebrated these student initiatives and leaders April 28.
Nearly 100 students gathered at the annual event to celebrate the contributions and accomplishments of their fellow leaders and respective organizations.
"It has been a very active year on campus and so many of the students have done great things. We are only able to give a few awards to some of the standout programs and leaders, but this only scratches the surface of all the great things that the students did this year," said Jeff Wakeman, director of Student Development.
"Student involvement not only gives the students something to do but to the leaders involved who are involved also learn how to plan and market their events and organizations, also how to build budgets, organize meetings and work in teams. The best student leaders will have built skills that will help them succeed long after they graduate from Stockton."
"Their accomplishments and impressive contributions to student involvement have each brought this campus to life in a beautiful way," said Lauren Wilson, associate director of Student Development. "We look forward to the continued involvement and leadership of our returning student leaders. To those who are graduating, we look forward to seeing their leadership skills in action in their next adventures and wish all of our graduating student leaders the very best of luck."
The complete list of awards and honorees includes: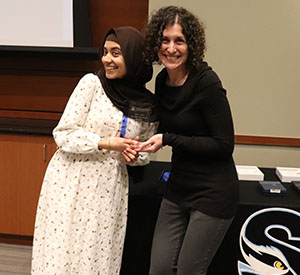 Community Service Award: Jared Lombardi
Stockton Spirit Awards: Juan Diego Chaparro, Mekhi Davis and the Stress Management Club
Graduate Community Scholars Award: Gabrielle Petrucelli and Matthew Romen
Be the Change Awards: Fatima Khawaja and Yamirah Williams
Unsung Hero Awards: Stockton Production Services, Loukaia Taylor and Melissa Vander Ryk
L.E.A.D. Awards: Shahyan Abraham, Aleyshka Barbosa, Hailey Carson, Katherine Cupo, Ashley Dalisay, Irenosen Eigbne, Tierra Houston, Alicia Jenkins, Mary-Rose (Mo) Keane, Moujnir Lewis, Heather McCarty, Andrew Ngo, Divya Rajput, Tori Robbins and Valerie Troisi
Outstanding Advisor of the Year Award: Brian Pluchino, Circle K
Outstanding Program of the Year Award: African Student Organization Fashion Show
Greek Leader of the Year: Aleyshka Barbosa
Greek Chapter of the Year: Zeta Phi Beta Sorority Incorporated
Student Development Engagement Awards: Anthony "A.J." Brooks, Ashley Dalisay, Riya Goyal, Dorothea Toku and Alexander Roman
Student Leader of the Year Award: Mary-Rose (Mo) Keane
Student Organization of the Year Awards: Pilipino American Students Association of Stockton and Queer & Trans People of Color Society
Dean of Students Service Award: Shahyan Abraham
A gallery of photos from the event are available here.
--Story and photos by Stacey Clapp