Food Pantry Donation Right on Time for Holidays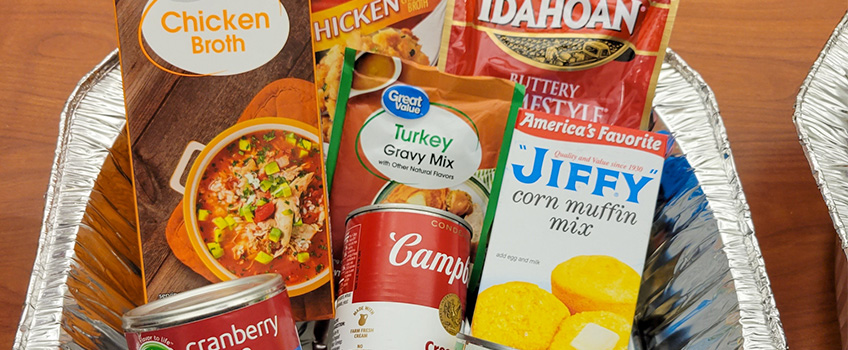 Galloway, N.J.- Stockton University's Food Assistance Program was selected to benefit from the proceeds raised during the New Jersey Association for Financial Aid Administrators (NJASFAA) Fall 2022 Conference in Atlantic City.
Monica Viani, the coordinator for student assistance programs, accepted the $1,000+ donation and spoke at the conference dinner about the Osprey Food Pantry and Food Assistance Programs.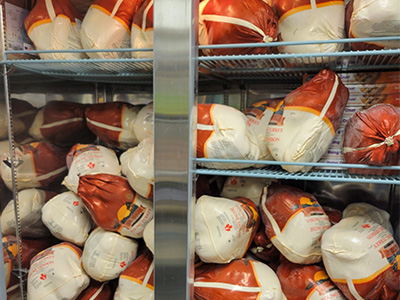 Viani has been involved with the program since the initial stages of the university's food pantry; she saw the pantry grow from limited meal vouchers to a mobile food pantry to the recent expansion in the Townsend Residential Life Center (TRLC). The program's work has been recognized by the entire Stockton community, as well as state assemblymen.
During the week of the conference, the Community Food Bank of New Jersey coordinated a special delivery for the holiday season: 60 13-pound frozen turkeys. After managing to fit most of them in the pantry's freezer (and narrowly avoiding frostbite), Viani went to work figuring out how to distribute the 780-pound delivery.
That's when the idea of Thanksgiving meal kits came to life.
Thanks to the recent NJASFAA donation, student volunteers assembled several meal kits that were then given to students and their families. The kits had all of the holiday staples: roasting pans, stuffing and gravy mixes, chicken broth, mashed potatoes, corn muffin mix, green beans, cream of mushroom soup and cranberry sauce.
It was a labor of love, really. Some students may not be able to go home for the holidays, due to problems like an unstable home life or the lack of means to get there. At least with these kits, they'll be able to have a meal or even a Friendsgiving dinner instead."
The pantry currently has more than 200 students officially enrolled for immediate access to the pantry as well as 70-plus students approved for restricted funds. With the rest of the donation from the NJASFAA, Viani hopes to stay on the upswing and continue to provide students with food at no cost.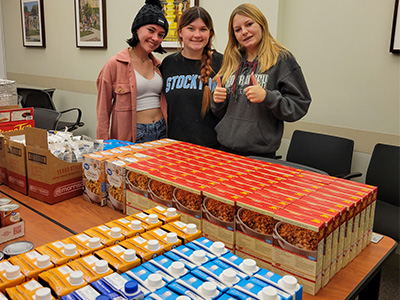 (L-R): Cedar Creek High School students Caesarina Lehneis, Mackenzie Lehneis, and Aniyah Wright.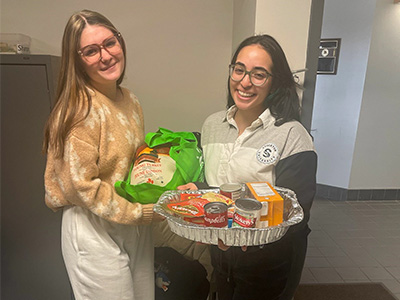 Osprey Pantry student assistant, Emily Ventoso, with meal kit recipient, Monica Rodriguez-Escobar.
The Stockton Food Assistance Program was launched in spring 2015 as a collaborative effort between the Student Senate and the Board of Trustees to help a growing number of students who reported experiencing varying levels of food insecurity.
The Food Assistance Program supports Stockton students through access to its on-campus food pantries, dining dollars and other community resources. Currently enrolled students are eligible to participate in the Food Assistance Program. Upon completing the enrollment form, students can visit both campus pantries.
Osprey Food Pantry Locations
TRLC Room 105 (Galloway), M- 9-11 a.m., T/Th/F- 10 a.m.-5 p.m., W- 1-7 p.m.
Residential Complex, 1st floor (Atlantic City), T/F- 10 a.m.-3 p.m., Th- 3-7 p.m.
-Story by Loukaia Taylor
-Photos provided by Monica Viani