State Assemblymen Tour Expanded Food Pantry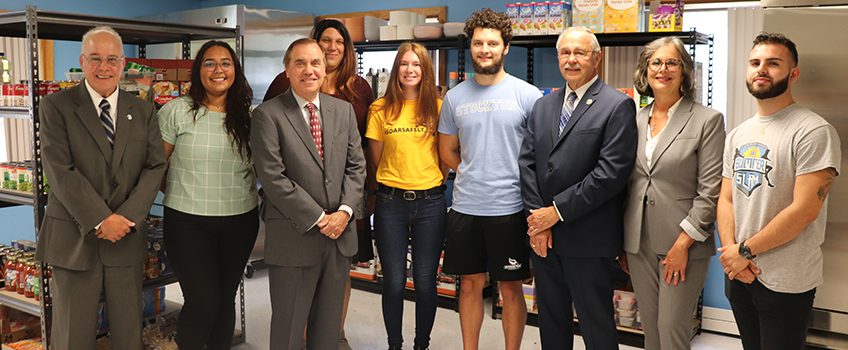 Galloway, N.J. - Stockton's food assistance program should serve as a template for the rest of the state said N.J. Assemblyman John Armato D-Atlantic, as he toured the space in the Townsend Residential Life Center (TRLC) that will house Stockton's expanded student food pantry.
Armato accompanied N.J. Assembly Speaker Craig Coughlin and Atlantic County Commissioner Caren Fitzpatrick on a tour of the University's Galloway food pantries July 30.
Coughlin, Armato and Fitzpatrick were joined by Stockton University President Harvey Kesselman, plus Dean of Students Haley Baum and Assistant Vice President of Engagement and Community Development Craig Stambaugh, who oversee the food assistance program at Stockton. They discussed Stockton's role in combating food insecurity among students and also spoke with several students who rely on the pantry about their personal experiences with food insecurity in college.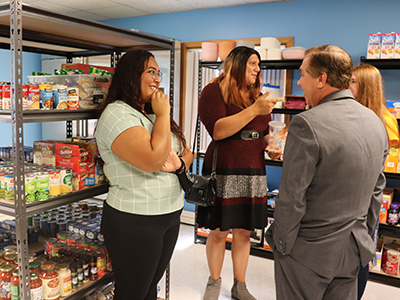 "Reliable access to healthy food has a significant impact on people's wellbeing and their ability to achieve social, emotional and academic success," said Coughlin. "Understanding how our state-level initiatives are empowering our public institutions of higher education to fill food access gaps is critical to evaluating their success and strengthening our efforts. During today's visit, we heard some incredible stories from students whose struggles have been made more visible by the Hunger-Free Campus Act passed in 2019 and who have gained confidence by having access to a network of on-campus support."
The food pantry expansion will be supported by a recent Hunger-Free Campus Act grant awarded to Stockton. These grants help address college hunger, generate sustainable solutions to address basic food needs of students, raise awareness for available food services and aid in building strategic partnerships between local, state and national groups. Stockton received $80,038.94, part of which is being used to expand and relocate the Galloway food pantry to meet the growing number of students who need assistance.
"The Hunger-Free Campus Act recognizes the importance of addressing food insecurity among students," Kesselman said. "We have seen the impact here on Stockton's campus and know how much the students appreciate the extra help and support the food pantry provides, not just in food, but in showing we care about them and want them to succeed."
Nancy Ayala '21 from Newark talked about her initial hesitancy to ask for help from the food assistance program. But she quickly realized accepting help was better than struggling on her own.
"Sometimes, you have to count on other people," said Ayala, "that's how you survive."
Stockton's program serves over 200 students each academic year. A second food pantry is located on Stockton's Atlantic City campus.
"I think Stockton is doing one heck of a job," Armato said as he listened to students discuss how vital the food pantry has been for their college success, particularly since the onset of the COVID-19 pandemic.
According to Stambaugh, the food pantry receives inventory from about seven different sources, including Stockton's sustainable campus farm which helps provide Ospreys with fresh produce. The newly expanded pantry will have refrigeration.
The food assistance program launched in spring 2015 as a collaborative effort between Stockton's Student Senate and Board of Trustees to help a growing number of students who reported experiencing varying levels of food insecurity. The program supports Stockton students through access to its on-campus food pantries, dining vouchers and other community resources. To learn more about the program and Stockton's food pantries, visit https://stockton.edu/dean-of-students/foodassistance.html.
- Reported by Eliza Hunt