Campus Food Pantry Expands, Moves to Larger Site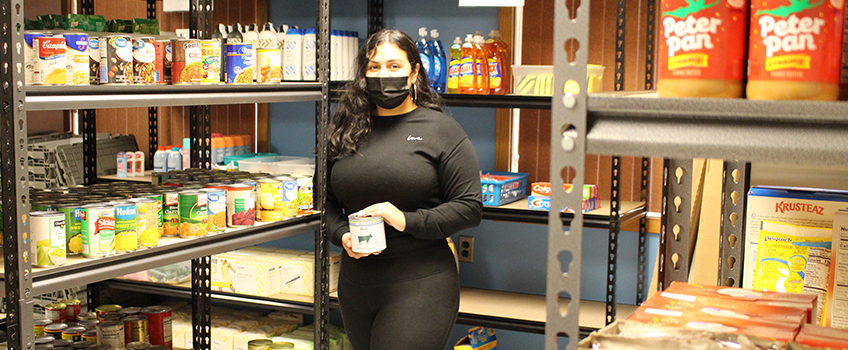 Galloway, N.J. – In an effort to ensure that no student goes hungry, Stockton University has expanded the main campus food pantry, now located at the Townsend Residential Life Center (TRLC).
The university received an $80,000 grant from the State of New Jersey as a part of the Hunger-Free Campus Grant program. The grant allows Stockton to keep the pantries in Galloway and Atlantic City fully stocked and pay student workers such as first-year student Yanet Reyes.
Reyes says that she saw the pantry position on the Stockton website and it was something she really wanted to do.
"I love being able to see students have full access to this resource here on campus," Reyes said. She also appreciates being able to spread the word about the food pantry to students who may not know about it.
"This is more than just a job," said Reyes. "My hope is that talking about this option will create a domino effect so that every student will know that the food pantry is available to them."
The Food Assistance Program is open to all students. They can enroll online and will get access to both pantries. Enrolling also gives students access to advisors who can connect them to other resources and programs.
The pantries are always in need of supplies and typically hold monthly donation drives and host tables at special events to increase awareness of the program with the student body. The pantry accepts donations of non-perishable items that have not reached an expiration date as well as personal care items. There is an Amazon wishlist linked on their website. They also send out a bi-yearly student survey to keep up to date on what the students want and need.
Food Assistance Program coordinator Monica Viani said making connections with the students is just as important as providing them with food.
"I like to engage with the students that visit and make connections. Getting to know them better is the best part of my job," she said.
She also thanked those who donate and encouraged donors to check the list of what is needed and contact her to arrange a pick-up.
The Food Assistance Program currently has 150 students enrolled with over 150 total visits to the pantries since the beginning of the semester.
The pantry hours are: Galloway Campus, TRLC 105, Monday-Friday 10 a.m. – 4 p.m. and Atlantic City, Residential Life Building, A127, Monday-Friday, 9 a.m.-4 p.m. For more information, visit the Food Assistance Program website or email foodassistanceprogram@stockton.edu.
Reported by Hannah Urbanowycz
# # #
Contact:
Diane D'Amico
Director of News and Media Relations
Galloway, N.J. 08205
Diane.DAmico@stockton.edu
609-652-4593
609-412-8069
stockton.edu/media