New Students Give Back During Fall Day of Service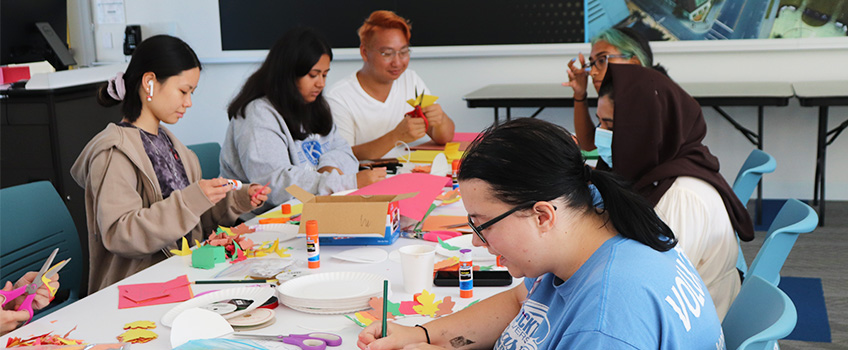 Galloway, N.J.- "It was spontaneous, but like, a fun spontaneous."
That's how Ryan La, vice president of Circle K, described the New Student Day of Service, which happened during (and next to the finish line of) the famous Ironman Race Sept. 10.
Around 60 students weaved through racers, cyclists and orange barriers along the Black Horse Pike to the John F. Scarpa Academic Building at Stockton University Atlantic City for a day of education, service and fun.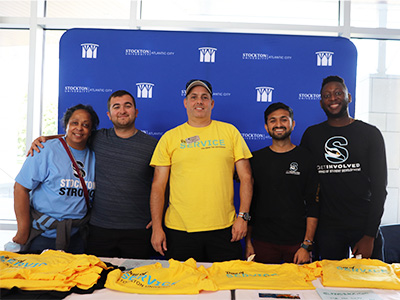 Each fall term, the Stockton Center for Community Engagement and Service-Learning (SCCESL) and the Office of Student Development work together to create a day where new and transfer students give back to the community through various service projects.
"We wanted to focus on the concept of place-based service," Jeff Wakemen, associate director of Student Development, said. "That is when students participate in community service and learn about the community in the community that they are serving."
This year, students completed various clean-up and beautification projects at sites such as Center City Park, the Absecon Lighthouse and within the Chelsea neighborhood in Atlantic City. One of those projects included installing self-sustaining planters.
"Some members (of Circle K) planted trees while some helped build planter boxes," La, a Visual Arts major, said. "There was a lot of engineering involved in making the planter boxes self-watering. Overall, it was nice helping make the place a little prettier with some plants and help the environment too."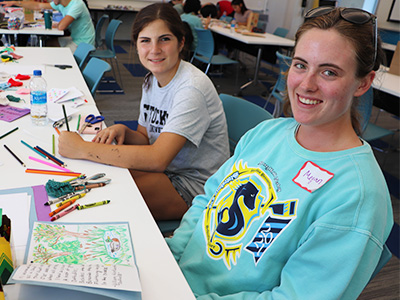 Other service projects included participating in a clothing drive for members of the Atlantic City community hosted by the Eastern Service Workers Association (ESWA), filling lunch bags for Stockton's Food Pantry, writing motivational letters to the terminally ill in hospitals, and creating fall wreath decorations for older adults.
In addition to action projects, students also attended a panel discussion on the importance of service-learning as undergraduate students. Christopher Lipari-Pazienza, coordinator of the Bonner Leader program at Stockton, moderated the panel, which included students Gabriela Garcia (secretary of Circle K), Andrea Sandoval (Student Senator and Bonner Leader), and Nicholas Cerniglia (Bonner Leader, ESWA, and recent Newman Civic Fellow). They shared advice for new students looking to get involved on campus.
Garcia:

Take the blinders off and go into it with an open mind.

When I came in as a freshman, I thought I knew everything that I wanted to do already: graduate in three years, become president of XYZ club, and all of these things. However, doing that in your first-year limits what you can do, see or experience. You may be able to do all of those things, but you never know what you're missing out on by holding on to your original plan.
Sandoval:

Do the things you love, even if people judge you for it.

You don't know what you'll encounter in life and how much it will change you. If it's something you like, like getting involved, just keep doing it and try new things.
Cerniglia:

Ask questions.

If you think you know everything, you probably don't. Even if you do, the staff here at Stockton are always willing to help you and give you the tools you need.
Social Work student Ashley Vargas already has the right attitude as a first-year student. "Today was more than a service day," she said. "I got to do something new that can open me up to new experiences and opportunities for serving the community."
Students, staff and faculty have the opportunity to participate in the 19th annual Rev. Dr. Martin Luther King, Jr. (MLK) Day of Service in January. The day consists of a variety of projects in Galloway, Atlantic City and Hammonton.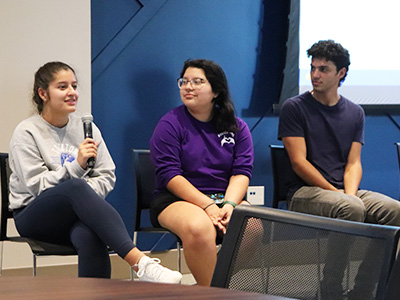 La and Sandoval consider Day of Service just one of the ways that they're able to help out and look forward to participating in the projects.
"We've participated in MLK Day of Service for about eight years. It's one of our biggest service projects during the year and includes some of the members' favorite projects, like no-sew blankets and making peanut butter and jelly sandwiches for the Atlantic City Rescue Mission," La said.
"When I was younger, my family relied a lot on community service until we got back on our feet," Sandoval, an Environmental Science major, said. "It just means something to give back what was given to me when I was younger what I needed the most."
View more photos from Saturday through our Flickr gallery.
-Story by Loukaia Taylor
-Photos by Loukaia Taylor and Christopher Lipari-Pazienza