Nicholas Cerniglia Named Newman Civic Fellow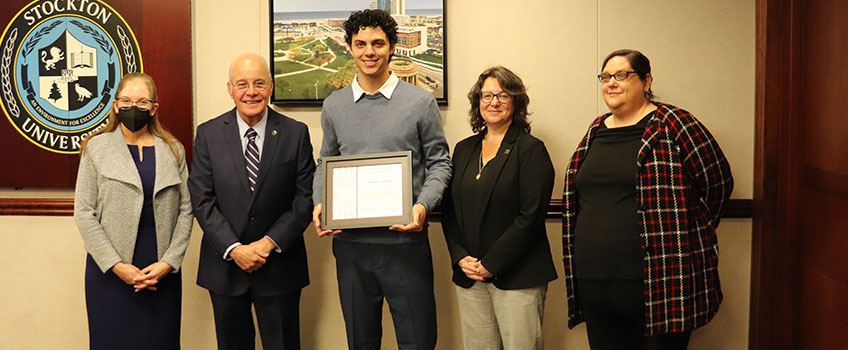 Galloway, N.J. – When Nicholas Cerniglia was younger, he was stigmatized and felt that his self-worth was not valued.
Now that he has "broken past this disbelief," the Psychology major who just finished his junior year is committed to civic and community engagement.
Cerniglia, of Pompton Plains, was named the 2022-23 Newman Civic Fellow by Campus Compact.
The Newman Civic Fellowship recognizes and supports community-committed students who are changemakers and public problem-solvers at Campus Compact member institutions. Each university or college can select one student each year.
Cerniglia is a Bonner Leader and is the founder and president of a campus club named Aspire to Inspire, which "promotes positivity, inclusion and perseverance in the face of challenges or adversity." He also is doing research on using journaling and meditation to address the mental health crisis in K-12 schools.
But he also said that some of his "most profound experiences have happened outside of the classroom."
"It has not only shaped my education, but what I value and believe in," he said in his personal statement to apply for the fellowship.
He has worked with Big Brothers Big Sisters of Atlantic County and has been a longtime volunteer for the Eastern Service Workers Association of Pleasantville.
With the ESWA, Cerniglia helped provide information to temporarily prevent tenants from being illegally evicted from their homes.
"I learned the transforming power of experience – it's easy to talk about injustices, but actually seeing or interrupting injustice is different," he said.
Cerniglia wants to use his Psychology degree and his minor in Studio Art to become a social and environmental activist.
"Civic and community engagement has deeply fueled my interest to stand up against injustices and the skills to collectively create healthier environments," he said.
Cerniglia was recommended by Erin O'Hanlon, the coordinator of service-learning at the Stockton Center for Community Engagement and Service-Learning and was nominated by President Harvey Kesselman.
"This is a national award and you should be very proud," Kesselman said when presenting Cerniglia the honor.
Newman Civic Fellows are nominated by their president or chancellor on the basis of their potential for public leadership. Cerniglia will join 173 students from 38 states, Washington, D.C., and Mexico to form the 2022 cohort.
Story by Mark Melhorn
Photo by Stacey Clapp