Minor in Public Health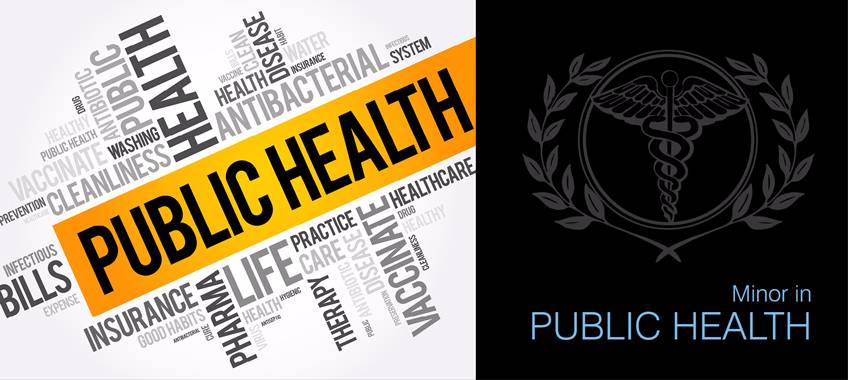 The Minor in Public Health consists of five PUBH courses (20 credits) and is intended to expose students in other majors to some of the fundamental concepts in public health.
Students must earn a C or better in each of the courses (or their equivalents) in order to earn the minor. Two courses (up to 8 credits) can be transferred into the minor with the approval of the Program Coordinator.
---
Public Health Minor Courses
PUBH Minor
PUBH 1200
Introduction to Public Health
4 credits
PUBH 3420
Epidemiology
4 credits
PUBH 2330
Research and Statistics or equivalent statistics
4 credits
(BIOL 3105, CSIS 1206, ENVL 2400, HLTH 2305MATH 4441, PSYC 2241)
Choose one of the following
PUBH 2530
Basic Environmental Health
4 credits
PUBH 2605
Environmental Justice
4 credits
Choose one of the following:
PUBH 2300
Focus on Women's Health
4 credits
PUBH 2315
Health Communication
4 credits
PUBH 2402
Health Policies and Issues
4 credits
PUBH 2432
Contemporary Health Issues
4 credits
PUBH 2450
Public Health and Marketing
4 credits
PUBH 3111
Food Safety
4 credits
PUBH 3225
Health Insurance
4 credits
PUBH 4110
Health Administration and Law
4 credits
PUBH 4113
Patient Education
4 credits
PUBH 2901
Practicum OR PUBH 4950 Internship
(prerequisites: completion of 4 PUBH courses with a "C-" or better, permission of instructor, & upon availability)
Information about the Program
Public Health Minor Program Coordinator
School of Health Sciences
Stockton University
101 Vera King Farris Drive
Galloway, NJ 08205-9441
Phone: 609-652-4501
For current, detailed course descriptions, go to the Catalog of Courses.
Faculty
Elizabeth G. Calamidas (1986), Professor of Public Health; Ph.D., Temple University; M.S., B.S., The Pennsylvania State University: community and public health, health education, health behavior, human sexuality, women and health, aging and health.
Ronald L. Caplan (1994), Associate Professor of Public Health; Ph.D., M.A., B.A., University of Massachusetts: health economics, health policy.
Tara Crowell (2000), Professor of Public Health, Public Health Internship Coordinator; Ph.D., University of Oklahoma; M.A., B.A., West Virginia University: health communication, social marketing, quantitative research methods.
PROFESSOR EMERITUS
Bruce DeLussa (1986), Professor Emeritus of Public Health; MPH, University of Michigan; B.S., Colorado State University.