Health Sciences News Archive
Spring 2018 Graduate Symposium
On April 25th graduate students from Physical Therapy, Occupational Therapy, and Communication Disorders showcased their research that they have been working on throughout their graduate career. The symposium is an excellent opportunity to present their research in a professional setting which provides an experience which benefits the students in and outside the classroom long after graduation. Congratulations to all!
Inaugural School of Health Sciences Student Research Showcase
Eight students presented posters in the West Quad Lobby on various topics of accents and cross-cultural communication on April 4, 2018. The students are mentored by Dr. Amee Shah, associate professor in Health Science. All of the projects are part of the SMARTS mentoring program and CRSLA lab. These poster abstracts were previously accepted for presentation at the Day of Scholarship on March 22, 2018. Click on the link below to read the news story about the event https://stockton.edu/news/2018/student-research-shah.html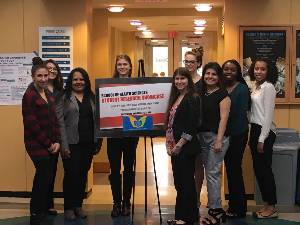 Dr. Kelly Dougherty/Manuscript Published
Congratulations go to Dr. Kelly Dougherty as she recently had a first-authored manuscript published titled "Muscle Strength, Power, and Torque Deficits in Children with Type SS Sickle Cell Disease" in the Journal of Pedatric Hematology and Oncology. The work was completed in collaboration with colleagues in the United States (The Children's Hospital of Philadelphia and University of Pennsylvania School of Medicine) and Italy (Sapienza University). The manuscript can be read
here
.
Dr. Guers/Exercise Science Receive Grant Funding for Research Project
Congratulations go to Dr. John Guers and the Exercise Science program as they received grant funding for the research proposal "Comparison of Brain Blood Flow in Acute Exercise and Opioid Use". The project will involve ultrasound and PET-CT scans to compare cerebral metabolism and blood flow following both acute exercise and fentanyl administration. Assisting in the project will be the Molecular Imaging Center at Rutgers University and Dr. Sara Campbell in the Kinesiology Department of Kinesiology and Health at Rutgers. Two of our Exercise Science students, Harlee York and Qudratullah Qadri, will assist as well, and will provide data at an upcoming conference in the coming adademic year. Harlee York recently received a Research Experience for Undergraduates Award and Qudratullah Qadri just received a Board of Trustees Fellowship to work on this project. His funding will be used to measure F-FDEG 18 uptake using PET-CT scanning. F-FDG 18 is a marker of glucose uptake which will provide an index of brain metobolism following opioid use and exercise.
Career Fair 2018
On Tuesday March 6, 2018 Stockton University's School of Health Sciences along with Career Education & Development held its second annual Professional Networking Event. Clinical partners were invited to network with our current DPT, OT, Nursing, and CMDS students and alumni. This event was a way to show gratitude and appreciation to our clinical partners who take our students under their wing and teach them through clinical experiences. Overall the partners felt that our Stockton students were very extremely professional and very prepared for this event. The faculty and staff agreed that this event aids in relationship building and career development and was beneficial for all who attended.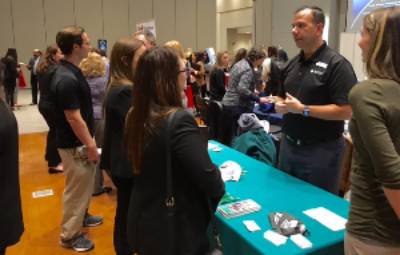 Manahawkin Instructional Site

Ribbon Cutting

On March 8, the School of Health Sciences held the grand opening of the Manahawkin instructional site. The facility is nearly 8,000 square feet of space with seven physical assessment exam rooms, clinical labs and advanced technology for accelerated nursing students. "We understand the need for this critically important profession," President Harvey Kesselman said, adding the expansion is the next step in Stockton's commitment to providing programs in Ocean County. Dr. Elizabeth Calamidas, Interim Dean, thanked the personnel from all Stockton departments involved in the creation of the new facility. Daniel Paganelli, graduate of the first accelerated nursing class, said the Manahawkin site is not just a campus, but a second home for students in the program. He said students receive personal attention from faculty and make connections at medical facilities with future job potential. Atlantic CEO Lori Herndon attended the event as did State Sen. Chris Connors and Assemblywoman DiAnne Gove. After the ribbon cutting guests toured the facility and students demonstrated what they have learned.
Dr. Guers/Exercise Science Student Harlee York Awarded
Congratulations go to Dr. John Guers and Exercise Science student, Ms. Harlee York as they were selected to receive the Research Experience for Undergraduate (REU) Award from Stockton University. The award is funded through the of office of the Provost. Students and their mentors compose a written proposal and budget on how the funding will be implemented. The proposal that was submitted was so Dr. Guers could train Harlee to use the state of art ultrasound equipment at the Molecular Imaging Center at Rutgers University. Once Harlee is trained on the equipment, techniques will be developed to measure blood flow in the organs of laboratory specimens as well as other experiment methodologies.
Dr. Shah Honored by ASHA
Dr Amee Shah was recently honored by being recognized as a "Trailblazer" by the American Speech, Language , and Hearing Association. ASHA-Certified Professionals are extensively trained to identify speech, language and hearing issues at the early stages, help prevent them in certain patients and treat them in others — these professionals are dedicated to improving lives. Congratulations!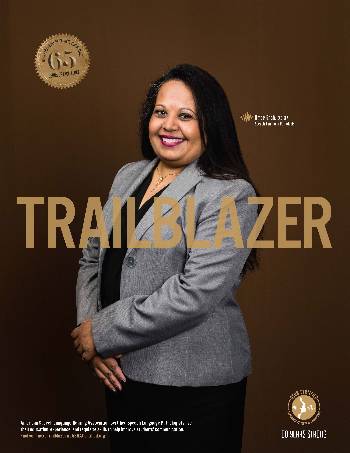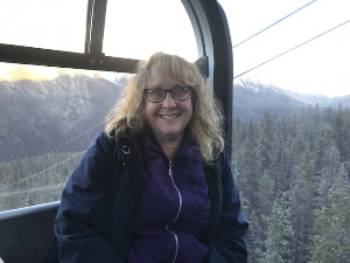 Dr. Pat McGinnis/ Named Fellow
Patricia Quinn McGinnis, PT, MS, PhD was elected as a Distinguished Fellow of the National Academies of Practice (NAP) in Physical Therapy. Induction of new Fellows takes place during the NAP Annual Meeting in April, 2018 in Atlanta, GA. She joins many outstanding healthcare leaders and practitioners of NAP, who are working collaboratively as an interprofessional community to influence and promote national health policy, legislation, quality healthcare, and research.
The NAP website states: "The purpose of the National Academies of Practice is to advise Congress in matters of healthcare practice and delivery. Chosen by their peers as persons who have made a significant and enduring contribution to practice, these Distinguished Practitioners have spent an important part of their lives in the practice of their profession. They have transcended the turf interests of their respective professions and are prepared to address the issue of national health. NAP is the only interdisciplinary group of practitioners dedicated to addressing the problems of practice in the interests of the citizens of the United States." Congratulations!
Dr. Kelly Dougherty/AC Press Interview
Dr. Kelly Dougherty, Assistant Professor of Exercise Science was recently interviewed by the Atlantic City Press for a story regarding the importance of exercise to our everyday health. She stressed the importance of making exercise as enjoyable as possible and to start small. "In the beginning, just find something you like to do and start doing it, I always say something's better than nothing and more is better than something." Dr. Dougherty says there is an inactivity epidemic in the country and our region is no different. Atlantic County is currently ranked 17th and Cumberland County was ranked the least healthiest county in New Jersey for the eighth year in a row. While the U.S. Department of Health and Human Services provides a physical activity guide for exercise time, Dr. Dougherty stresses not all exercise has to be regimented. She suggests making small changes as you begin like parking your car farther from your destination, alternative commuting when possible like biking or walking and taking the stairs whenever possible. "Once you start to break it down it seems a little bit less daunting of a task."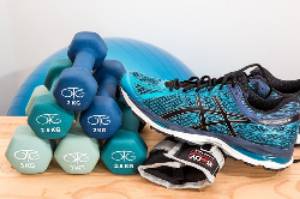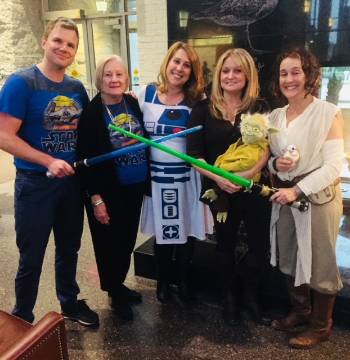 Clinical Education Event 2017
On Friday, December 8th, the School of Health Sciences held its fourth annual clinical education workshop, "Know the Power within You." This years theme was Star Wars.The event hosted ninety-eight clinicians from the fields of Communication Disorders, Physical Therapy, and Occupational Therapy where they heard presentations from Stockton faculty specifically designed to enhance their ability to facilitate student learning in their practice environments. Topics of discussion included presentations on using emotional intelligence to assist in clinical education performance, identifying cultural competence and sensitivity in others, the importance of interprofessional collaborative practice, and the importance of debriefing clinical students during assessment. Presentations were given by Jennifer Calabrese, Academic Fieldwork Coordinator, Phil Hernandez, Assistant Professor of Communication Disorders, Amy Hadley, Associate Professor of Communication Disorders, Lee Ann Guenther, Associate Professor of Physical Therapy, Mark Adelung, Assistant Professor of Nursing, and Joyce Welliver, adjunct instructor. Amanda Copes, Director of the Speech and Hearing Clinic, served as coordinator and moderator. Pictured from left to right are: Mark Adelung, Assistant Professor of Nursing; Joyce Welliver, adjunct instructor;Amanda Copes, Director, Speech and Hearing Clinic; Jennifer Calabrese, Academic Fieldwork Coordinator; and Lee Ann Guenther, Associate Professor of Physical Therapy.
Orthopedic Conference 2017
On Friday, December 1st, the School of Health Sciences held a conference "Common Orthopedic Sports Injuries" for physical therapists and athletic trainers. The conference was sponsored by the Rothman Institute, Bacharach Institute for Rehablilitation, and AtlantiCare Regional Medical Center. Rothman physicians, athletic trainers from Stockton and Rothman, and a physcial therapist from Bacharach spoke on several common sports injuries to the head, trunk, and extremities. The conference focused on the examination, diagnosis, rehabilitation and prevention of these injuries. There were a total of 92 physical therapists and athletic trainers in attendance. Stockton students from the Physical Therapy program also attended. Thomas Nolan, Associate Professor of Physcial Therapy, and Robert Marsico, Assistant Professor of Physical Therapy, organized the conference. Pictured to the right is Dr. Bradford S. Tucker from the Rothman Institute presenting during the conference.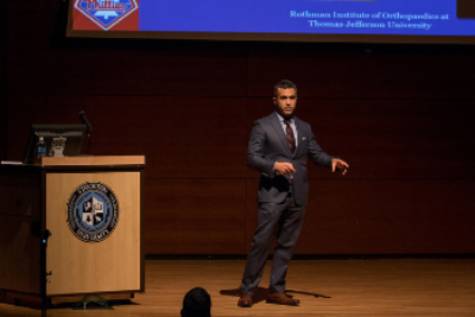 Dr. Amee Shah Awarded at ASHA Convention
In November, Dr. Amee Shah, Associate Professor of Health Science, attended the ASHA National convention in Los Angeles, CA and was honored by ASHA (The American Speech, language and Hearing Association) with a national award entitled, "ASHA'S MEDIA CHAMPION AWARD". The award signifies "outstanding efforts fostering media coverage of communication disorders and the professionals who work to prevent and treat them." ASHA states the "Shah has promoted public awareness of the communication sciences and disorders (CSD) discipline in numerous media interviews over the years. She most recently spoke with Slate, nationally known broadcaster John Tesh, and wine publication VinePair about voice, language, accent modification. In an organization of over 191,500 members, it is a testament to Dr. Shah's line of research and credentials that she was distinguished as an expert, and approached by the media to address questions about speech, language, and communication over the years. In addition, Dr. Shah and two of her undergraduate students (Alex Dobbins and Caroline Pastino) presented a panel presentation in the area of STEAM education. This is the first time Stockton undergraduates have presented at this convention. Dr. Shah also had the privilege to present a half-day short course at the convention by the organization's Special Interest Group in Cultural-linguistic Diversity. This is truly a major milestone not only for Dr. Shah, but also for the visibility this brings to Stockton and the speech discipline. Congratulations on this well-deserved achievement.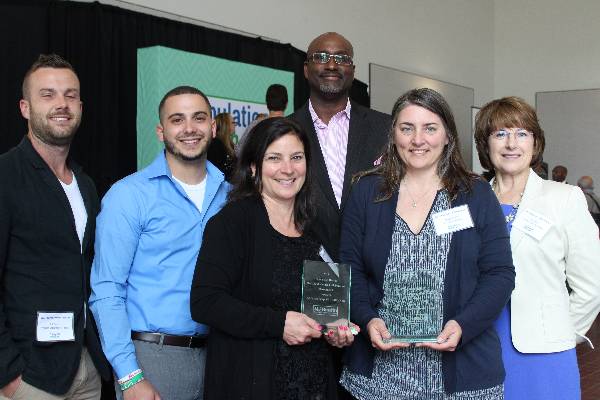 Recently Stockton Faculty and Alumni attended the "NJ Population Health Summit 2017" where Stockton University received the "Population Health Hero Award-Multi Stakeholder Collaboration Heroes" award. The Cumberland Cape Atlantic YMCA and NJ Partnership for Healthy Kids-Vineland established a Healthy Food Network, School District Well-Being, and Worksite Wellness initiatives to promote an increase to access to healthy foods and beverages, increased physical activity, and create clinical linkages in low income communities. These activities were funded by the Live Healthy Vineland grant and the NJ Partnership. Betsy Erbaugh (Assistant Professor of Sociology and Women's Gender and Sexuality Studies), Kelly Dougherty ( Assistant Professor of Exercise Science), and Alysia Mastrangelo (Professor of Physical Therapy) represented Stockton as the Evaluation team for the Live Healthy grant and Alysia Mastrangelo also evaluated for the NJ Partnership for Healthy Kids-Vineland. Pictured from left to right: AJ Dunkle (Stockton Graduate works for Vineland Department of Health), Rob LaForgia(Stockton Graduate working for Vineland Department of Health), Alysia Mastrangelo(Professor of Physical Therapy), Darrin Anderson(Stockton Adjunct Professor, State Deputy Director, NJ YMCA State Alliance), Betsy Erbaugh (Assistant Professor of Sociology and Women's Gender and Sexuality Studies), Lisa Scheetz(Executive Director of Community Health and Partnerships, CCA, YMCA) not pictured Kelly Dougherty (Assistant Professor of Exercise Science), and not pictured Emma Lopez(Stockton Graduate, Assistant Health Officer/Acting Health Educator City of Vineland Department of Health). Please see press release for additional information.