Stockton Faculty & Community Partners' Work on 'Live Healthy Vineland' Project Wins State Award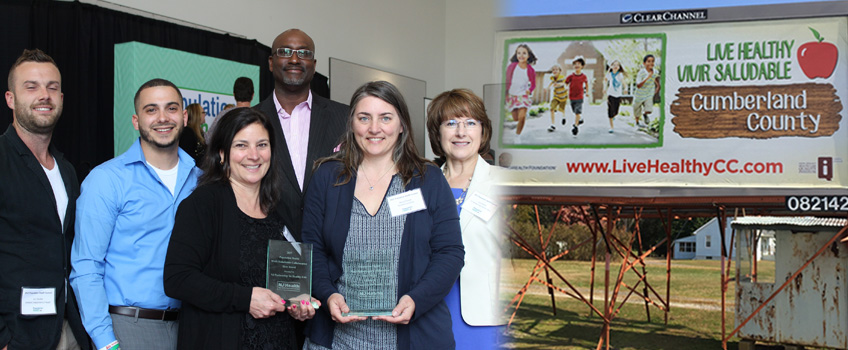 For Immediate Release
Contact: Maryjane Briant
News and Media Relations Director
Galloway, N.J. 08205
Maryjane.Briant@stockton.edu
(609) 652-4593
stockton.edu/media
Galloway, N.J. - Three Stockton University faculty members and their partners in Live Healthy Vineland (LHV), a collaborative, multi-organization effort, recently received the first-ever "Population Health Hero Award - Multi-Stakeholder Collaboration Heroes" award from the N.J. Department of Health.
LHV includes a Healthy Food Network comprised of initiatives promoting farm-to-pantry, healthy corner stores, healthy restaurants, as well as school district well-being and worksite wellness. The food network was established by the Cumberland Cape Atlantic YMCA and N.J. Partnership for Healthy Kids (NJPHK)-Vineland.
The overall project is designed to increase access to healthy foods and beverages, encourage and promote physical activity, and increase awareness and the use of resources that promote health among Latino families. These activities were paid for with a multi-year $1.35 million grant to LHV, funded by the Centers for Disease Control and Prevention (CDC), and the NJPHK, funded by the Robert Wood Johnson Foundation.
Stockton's M. Alysia Mastrangelo, professor of Physical Therapy, Betsy Erbaugh, assistant professor of Sociology and Women's, Gender and Sexuality Studies, and Kelly Dougherty, assistant professor of Exercise Science, are the evaluation team, working with the Cumberland-Cape-Atlantic YMCA, the Food Trust in Philadelphia, the NJPHK and the Vineland Health Department, where several Stockton alumni are among the employees participating.
Vineland's population is 38 percent Latino with a 17 percent poverty rate, according to the U.S. Census. The grant supports efforts to reduce chronic diseases such as diabetes and to address social and environmental factors that contribute to health disparities affecting nearly 75 percent of Vineland residents.
Stockton's team is providing support in several areas. Mastrangelo is the lead on the overall evaluation team, with Dougherty taking the lead on research related to corner stores and food pantries, and Erbaugh taking the lead on research related to promoting health among families with young children. This research receives $45,000 a year of the three-year grant.
Twenty-three corner stores are currently participating in the Healthy Food Network, offering customers access to healthy foods and beverages. Patrons are also being surveyed about their options and choices.
"Lack of access to purchase affordable, healthy foods is a prevalent problem in many communities," said Dougherty. "Helping a corner store owner to expand his or her inventory of fruit and vegetable offerings and making sure these changes are both profitable and sustainable will hopefully improve the overall health of the residents in that community by providing access to healthy foods options."
The stores targeted are in this study are primarily in census tract 411 and surrounding center city, which was identified as the epicenter for vulnerable populations in Vineland. Over 20 percent of residents in that area do not have health insurance and 34 percent of residents and almost 50 percent of children are living in poverty. The tract's residents are 75 percent Latino, 16 percent African American and 5 percent non-Latino White.
The Strong Mothers for Strong Families project brings together expertise from public health, health science, social science and community education to initiate and assess efforts to promote health and prevent chronic disease such as diabetes and heart disease among low-income Latino residents of Vineland and other parts of Cumberland County. The area is regularly ranked lowest in the state on a number of health indicators.
The Strong Mothers study evaluates the effectiveness of health education and interventions with low-income Latina mothers and caregivers of 3-to-5-year-old children enrolled in Vineland preschools.
The study held focus groups and provided training to Family Service workers in Head Start and all public and private preschools in Vineland.
"Our responsibility is to design and carry out evaluation research on the health promotion initiatives undertaken in partnership with LHV," Erbaugh said.
"Live Healthy Vineland is a partnership aiming to improve health for all citizens in the City of Vineland," said Mastrangelo. "This truly has been a collaborative process and Stockton is at the forefront of this community wellness grant."
The awards ceremony took place at Rider University June 7 at the N.J. Department of Health 2017 Population Health Summit, which was attended by more than 350 public health professionals.