Bachelor of Science in Exercise Science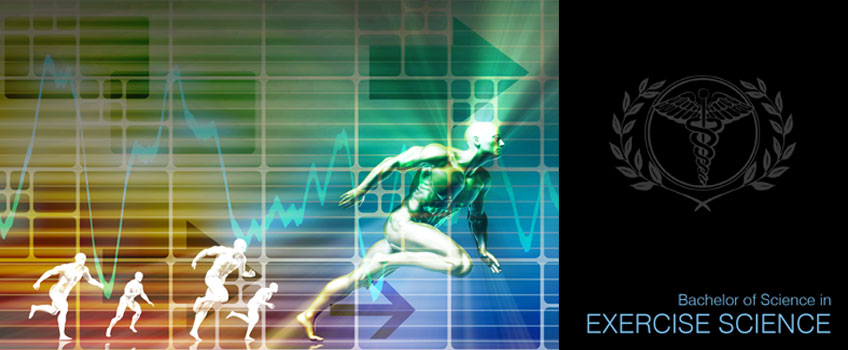 Exercise Science is the study of human movement. It includes interdisciplinary training in academic areas such as exercise physiology, nutrition, biomechanics, strength training, fitness assessment, exercise prescription, and anatomy and physiology.
The Bachelor of Science in Exercise Science prepares students for entry-level positions in public or private industries or admission into graduate programs in related areas.
---
Description of program
The program focuses on the complex and multidimensional factors that guide human movement behavior including physiological, psychological, social, and environmental influences. Additionally, the program addresses how increasing physical activity will improve health and well-being across the lifespan.
Students will be prepared for success in select certification examinations such as the American College of Sports Medicine's (ACSM) Certified Exercise Physiologist and the National Strength and Conditioning Association's (NSCA) Certified Strength and Conditioning Specialist.
---
What can someone with a B.S. in Exercise Science do?
Graduates of an Exercise Science program can work in a variety of careers (some may require additional training) including:
Athletic/personal training

Cardiac rehabilitation specialist

Exercise physiologist

Sports information/marketing/journalism
Coaching at a school or college

Strength and conditioning coaching

Program director of a corporate fitness center

Physical activity epidemiology
The health and fitness field is growing fast, with national, state, and local career opportunities. From 2012 to 2022, faster than average growth in employment is predicted in a number of areas related to Exercise Science. A recent poll of employers in southern New Jersey found many eager to provide internships and, ultimately, jobs for graduates of an Exercise Science program.
The undergraduate degree could also enable interested candidates to go on to advanced degree programs such as the Doctorate in Physical Therapy.
---
Overview of curriculum
The B.S. in Exercise Science requires 128 credits to graduate and offers a curriculum with a strong science foundation, including coursework in Biology, Chemistry, and Anatomy and Physiology.
The program combines the study of exercise testing and prescription, exercise physiology, and research methodology with supervised practical experiences. Students gain practical experience in a professional setting through a senior internship. Stockton's professional partnerships and close proximity to numerous facilities offers a variety of hands-on opportunities.
Students in the program obtain the knowledge, skills, and abilities necessary to conduct and evaluate health and fitness assessments, design and implement exercise programs based on assessment findings, and to monitor health and fitness changes over time.
---