First Cohort of Engelberg Scholars Graduate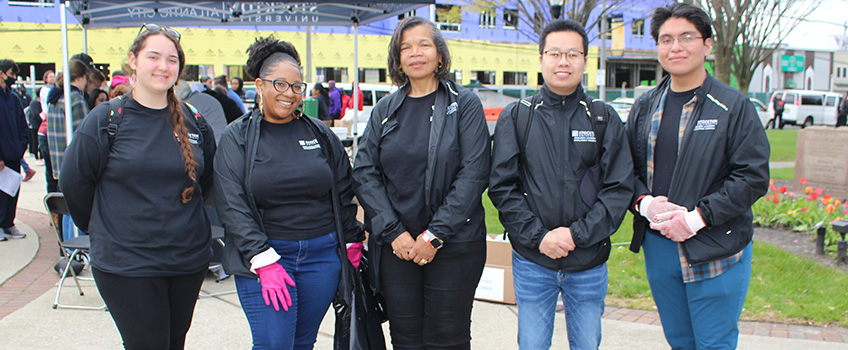 Galloway, N.J. – When the first cohort of Atlantic City area students were invited to apply to the Engelberg Leadership Scholarship Program (ELSP), they almost couldn't believe the program would pay all of their tuition, fees, room, board, books and other costs, and provide opportunities to meet and network with community and business leaders.
"It was something I couldn't even imagine," said Steven Blythe of Ventnor, a Computer Science major and one of the first four scholars chosen in 2019 who will graduate this May. "It was so new."
"It just sounded too good to be true," said Communications Studies major Loukaia Taylor of Atlantic City. "But then I was so happy and grateful."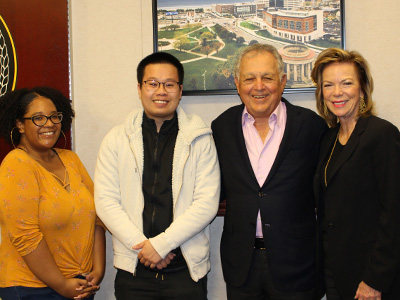 The ELSP is funded through a gift from Al Engelberg, an Atlantic City native who credits a scholarship with setting him on the path to becoming a successful attorney. He and his wife, Gail, wanted to give back to his hometown by helping the next generation become leaders in the community. His initial gift of $1 million in 2019 has funded three annual cohorts of four students.
In May, the first cohort of four Engelberg scholars, Taylor, Blythe, Elena Gonzalez and Bao T. Pham, both of Atlantic City, will graduate. All said they are honored and grateful to have been part of the first cohort and hope they can serve as role models for the future.
The Engelbergs are so impressed with their success they recently committed another $700,000 to continue the program for another three cohorts.
"When we first met Loukaia, Elena, Bao and Steven three years ago, we were so impressed with their ambition and energy that it occurred to us that they would have found a way to graduate from Stockton with or without our help," Engelberg said. "But the scholarship program turned out to be more than just a way to pay for college. It has provided an opportunity for personal growth as a result of the professional development seminars, internships and capstone project which are part of the ELSP. That has helped the cohort grow into thoughtful, confident, and articulate young adults ready to take on whatever comes next. We have great confidence in their future."
The four students in the first cohort definitely took their role seriously.
Gonzalez, a literature and education major, said she was very shy when she entered the program, but her confidence has grown as she met people, attended events, and learned to interact with other professionals.
"This program really helped me see the opportunities that are in Atlantic City," said Gonzalez, who did an internship with the Boys and Girls Club of Atlantic City and was offered a job there after graduation.
Bao Pham, a criminal justice major, did an internship with the Atlantic County Prosecutor's Office and is applying for jobs in law enforcement. His goal is to work for the U.S. Supreme Court police and he is also considering a master's degree.
All four said the financial assistance lifted a huge burden not just for themselves, but also their families.
"The financial liberation was huge," Pham said. "It meant I could save some money and take opportunities for internships."
Maralyn Mason, former director of the Educational Opportunity Fund program at Stockton, serves as advisor to the scholars, setting up meetings with community leaders, helping find internships, and working with them on a capstone project. The first cohort did a literacy project for young people in partnership with the Salvation Army in Atlantic City.
"It was a bit overwhelming in the beginning," Blythe admitted. "But our cohort worked with Michelle McDonald and Maralyn Mason and we set the path for the future. Now it's not just me doing something, or even the first cohort, it's all of us working together to bring positive change into the world."
Engelberg, who recently met with some of the students on campus, said an unexpected bonus for him was the sense of pride the scholars have in the program.
"Being part of the program has made the scholars feel special and has helped to build the kind of self-confidence that is essential to success," Engelberg said. "We were delighted to learn a few weeks ago that the scholars had created an ELSP logo and are proudly wearing jackets emblazoned with the logo. It may seem like a small thing, but it is an important indicator of how they feel about the program."
Engelberg said he and his wife hope to capitalize on that feeling by creating an alumni group that will keep all of the ELSP scholars connected for years to come.
"One of our goals for the program was to create future citizen leaders for the Atlantic City area and we hope that keeping the scholars together will help to keep them involved," he said.
Taylor, a Communications Studies major, said being accepted into the program encouraged her to get more involved on campus and develop professionally. She was impressed by the business leaders she met, especially the companies developing wind power in the Atlantic City area.
Taylor has been a student worker in University Relations and Marketing at Stockton and is also on the selection committee to help choose the next cohort of Engelberg scholars.
"I am graduating with a network of peers and mentors," Taylor said. "It is a badge of honor to be an Engelberg Scholar. I do feel like an Engelberg ambassador."
Engelberg said he sees a bright future for the program.
"We look forward to working with the leadership of the university to continue making improvements in the program to maximize the opportunity for each of our scholars to fulfill their dreams," he said.
Stockton Chief Development Officer Dan Nugent said the Engelbergs' continued support reflects the hard work and success of the first cohort.
"They set the tone for the program, and we are proud of their success," Nugent said. "They are truly ambassadors for Stockton, Atlantic City and the ELSP."
About Alfred Engelberg
Engelberg's parents were Jewish refugees who left Germany in 1938 and eventually settled in Atlantic City. He credits his childhood in Atlantic City, including jobs he had on the Boardwalk, and the experience of growing up in a multicultural city, for providing him with the tools for a successful life.
Engelberg graduated from Atlantic City High School in 1956 and an Avoda Scholarship allowed him to attend college. The award left a lasting impression on him about the impact of philanthropy on a young person's life. Engelberg went on to graduate from NYU Law School and became a nationally recognized intellectual property lawyer in New York. His support established the Engelberg Center on Innovation Law and Policy at NYU law school.
The Engelberg Leadership Scholarship Program
The ELSP operates through the Stockton Foundations and funds up to four scholars each year chosen from the current Stockton first-year class, with a strong preference for students from Atlantic City or from neighboring sending districts to Atlantic City High School.
Students must demonstrate financial need, extraordinarily strong academic success, and show an established record of extra-curricular activity and leadership potential. Participating students take a special curriculum that includes entrepreneurship classes and classes that focus on civic engagement and social change. The ELSP covers tuition, fees, room, board, books and any other expenses, including internship stipends.