Stockton Earns N.J. 'We Value Our Veterans' Award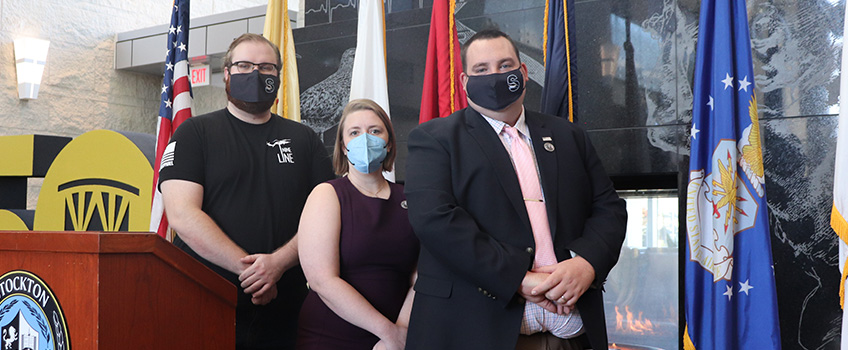 Galloway, N.J. – As Stockton celebrates its 50th anniversary of teaching, Stockton's new Director of the Military and Veterans Success Center, Michael Barany, wondered how many student veterans had attended the university.
"To our best research, we found just over 7,300 military students served by Stockton since its creation,"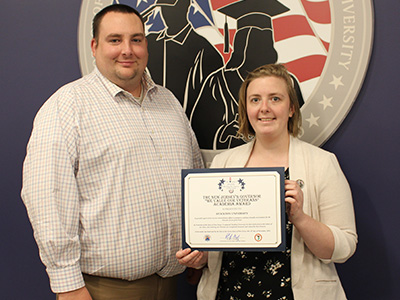 Barany said at the annual Veteran's Day program in the Campus Center on Nov. 9.
The program was held early this year so that representatives from the university could attend the Veterans Day Ceremony at the New Jersey Vietnam Veterans' Memorial in Holmdel on Nov. 11 to receive the "We Value our Veterans" New Jersey Governor's Academia Award from Gov. Phil Murphy.
The award recognizes the efforts made by the university to serve student veterans. Those efforts include offering priority registration to veterans, having a designated office and lounge for veterans, and a Student Veteran Organization. Stockton also has a wall of honor and memorial and holds ceremonies to recognize Veterans Day.
Stockton makes the extra effort to both honor and assist military-affiliated students, said Ashley Jones, the assistant director of the Military and Veteran's Success Center.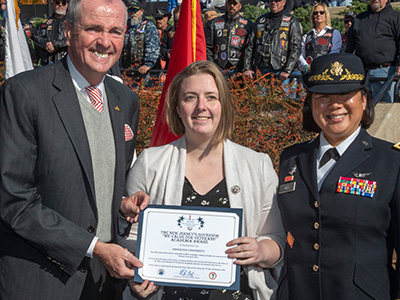 Student veteran Karl Schute said one of the biggest sacrifices a veteran make is his or her time.
"That sacrifice is something I would encounter in my own service," he stated, "I missed my grandmother's funeral… When I went to Korea, I missed the birth of my niece. I missed a lot of important things." Schute said. He said it doesn't matter if someone served in active combat, were stationed in another state, or were floating around on a boat at sea, the essence of Veterans Day is to honor those who have made that sacrifice of time spent away from their loved ones.
Barany, who served in the Army, agreed and noted that spouses and family members should also be recognized for their sacrifices and work while their loved ones serve. He recalled how little time he actually spent with his wife during their first year of marriage. He also said women in the military are still often overlooked when they are making the same sacrifices.
Barany concluded his speech by expressing his gratitude and love for the bond that all veterans share.
"What I love about the veterans is that no matter what gender you are, what sexual orientation you are, what race you are, we are vets. We all stand together, we all serve together, and when it comes to do your job that stuff doesn't matter because it's mission first."
Reported by Hannah Urbanowycz
# # #
Contact:
Diane D'Amico
Director of News and Media Relations
Galloway, N.J. 08205
Diane.DAmico@stockton.edu
609-652-4593
609-412-8069
stockton.edu/media