The PAC is Back!
The PAC is Back!
Performing Arts Center returns with reimagined vision.
By Eliza Hunt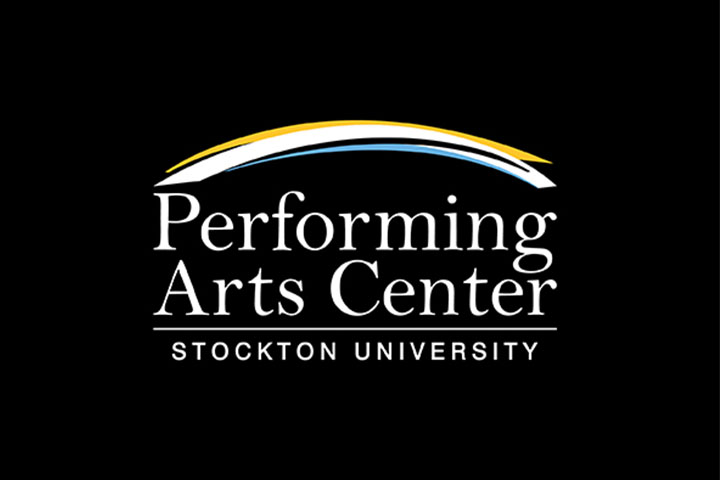 I n March 2020, Stockton's Performing Arts Center had a full slate of shows lined up.
Then COVID-19 hit, and the University switched to remote operations for two weeks.
Two weeks turned into two months, which turned into nearly two years. The stage sat vacant, nothing but the ghost light shining through the dark theater.
Anjanette Christy, interim director of Stockton's Performing Arts Center, worked at the PAC for over ten years as the director of ticketing services before the pandemic. As conversations about reopening the PAC began, Christy was an integral part of determining what that would look like.
"We were in the middle of a pandemic, but we were also in this great turmoil of social injustice. We started thinking about ways the Performing Arts Center could reassess where we were and how we wanted to move forward when we did reopen," Christy said.
Along with a team of dedicated staff and help from other departments, the PAC came back in Fall 2021 with a brand-new look and vision to create memorable experiences for more people through diverse, inclusive and interdisciplinary programming.
While the PAC has always presented high-quality, multicultural programming, according to Christy, it still felt like "we were not diverse enough, not inclusive enough, not reaching the audiences that necessarily represent our whole community."
Not only did the PAC want to engage more Stockton students by forming closer ties with University departments - particularly Stockton's School of Arts and Humanities (ARHU) - but it set out to partner with local organizations and lesser-known artists to expand its audience and serve more community members of all ages.
The PAC partnered with WLFR radio station and ARHU to create a Battle of the Bands series, pitting local artists of the same genre against each other once a month in a friendly competition. In May, the grand finale performance will take place and crown a winner.
In collaboration with the Sara & Sam Schoffer Holocaust Resource Center, the PAC brought in Ghetto Tango from the National Yiddish Theatre Folksbiene, one of the oldest continuously run theater companies in the nation.
With help from the Hispanic Alliance of Atlantic County (HAAC), the PAC lined up performances and started advertising on La Mega radio station to better reach the Hispanic community in South Jersey. In April, the PAC hosted its first Puerto Rican salsa musician, Charlie Cruz.
We started thinking about ways the Performing Arts Center could reassess where we were and how we wanted to move forward when we did reopen."
"If we want people to keep coming back, we have to offer new types of programming they're interested in," said Christy. As one of the main performing arts centers in South Jersey, the PAC offers a true multicultural performing arts space where a wide variety of community members and students can experience and cultivate a love for the arts. Christy wants to bring in more local artists to use it for workouts and rehearsals and turn the PAC into a venue that highlights new works and emerging artists, especially Stockton's own performing arts students.
"We are working on developing programming that lends itself to more of an educational impact and activities for students, and partnering with faculty to do this," said Lisa Honaker, dean of ARHU and professor of British Literature. Events like the Emerging Choreographer's Showcase and the Spring Choral Concert will remain a staple of PAC programming, but Honaker says collaboration is key for providing different educational opportunities for students.
To solidify this new direction, several Stockton departments worked together to reimagine the PAC's logo and branding. Bernie DeLury '13, a graphic designer at Stockton, was tasked with developing an updated look that represents the performing arts.
"One challenge was: how do you represent all of the different disciplines in the performing arts?" DeLury explained. In collaboration with Geoffrey Pettifer '92, '20, executive director of University Relations and Marketing, and the PAC, DeLury developed a clean, modern look that features a wave of color with hints of Stockton's yellow and blue.
"It matched the Performing Arts Center nicely because it introduced an abstract movement that I could incorporate throughout the different design pieces. I tied it to that theme of movement, that flowing motion you see a lot in the performing arts," DeLury added.
In the new logo, an arch of color flows above the words Performing Arts Center, reminiscent of the arch in Stockton's tree logo. This ribbon of color flows through all banners, playbills and flyers as you move through the PAC.
The Performing Arts Center is not only back, but better than ever with plenty of surprises in store for future showgoers.
Learn more about the Performing Arts Center