Campus Tours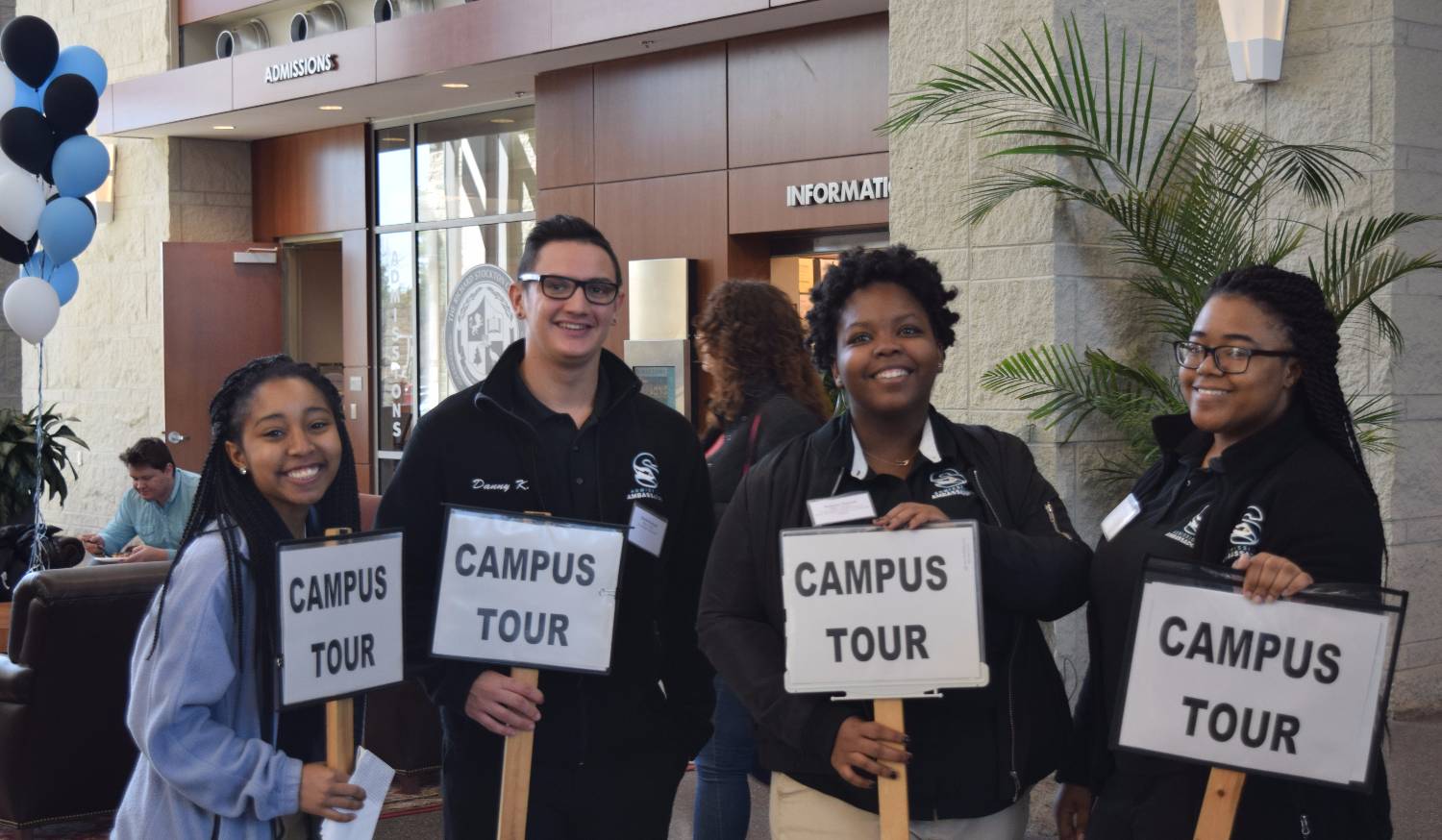 Taking a tour of our campus is a great way to familiarize yourself with our beautiful university--both physical spaces and campus resources--and to learn more about what we have to offer.
Our enthusiastic Admissions Ambassadors are highly-motivated, well-trained tour guides and look forward to the opportunity to engage you as guests of the university and to share with you part of what makes Stockton University such a special place.
Summer Campus Tour Locations & Times
Prospective students, family members, and friends are welcome to schedule a tour during one of our available time slots.
Galloway Campus
Your campus tour begins at the Admissions Office Suite and lasts approximately one (1) hour.

Monday -- Friday @ 1:30p m
Atlantic City Campus
Your campus tour begins at the AC Welcome Center and lasts approximately one (1) hour.

Mondays -- Wednesdays -- Fridays @ 10:30am
---
Walk-ins
A reservation is strongly encouraged to ensure we are able to accommodate all guests, however, guests may join a regularly scheduled tour as a walk-in based on availability. All walk-ins must register for a campus tour with the Admissions front desk staff.
---
Summer Group Tours
Stockton is happy to offer tours for large groups (10 - 55 participants) at both the Galloway and Atlantic City campuses. Typically group tour requests are accommodated for 7th - 12 grade students, prospective college transfer students, or community organizations dedicated to college-bound students. Group tours will include a presentation from an Admissions Counselor, a walking tour, and the opportunity to lunch at one of our campus dining locations. Group tours begin at 10:45 am and end by 1:00 pm.
Galloway Campus Group Tours: Monday - Friday @ 10:45 am
Atlantic City Campus Group Tours: Tuesdays and Thursdays @ 10:45 am
We strongly encourage groups to secure a tour reservation first before booking your bus transportation, so that you can better take advantage of our available dates.
---
Campus Tours Essentials
After registering for a tour, you will receive an e-mail confirming your attendance as well as information regarding parking.
Parking
Admissions parking is located in Lot 3, directly in front of the Campus Center. Once you arrive, you will check in at the Admissions Office (located to the left as soon as you enter the Campus Center). Please plan to arrive 15 minutes prior to your tour start time to allow time for parking and checking-in. Should you have any questions, please call 609-652-4261.
Driving directions and detailed parking information are available here.
Inclement Weather Policy
In the event of inclement weather, please be sure to check our website the morning of your visit at www.stockton.edu for school closing information.
Did you enjoy your tour and would like to now meet with faculty and current students in your prospective program? Visit us again for an open house!