The Stockton Promise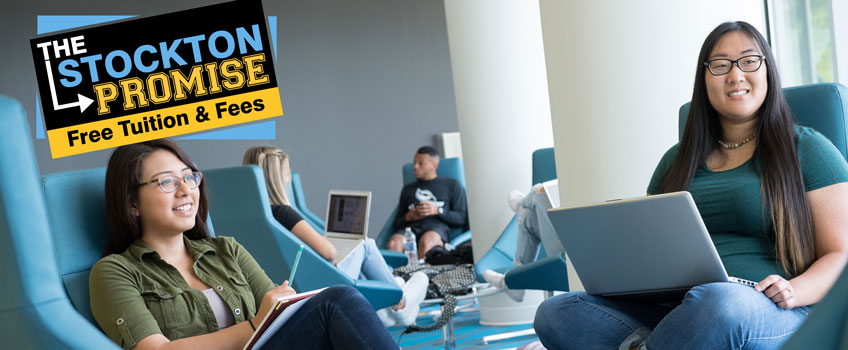 ---
What is the Stockton Promise?
The Stockton Promise is a last dollar program that furthers Stockton University's ongoing commitment to helping students achieve their academic goals while reducing their need for student loans.
The Stockton Promise covers 100% of the gap between federal, state, institutional and private financial aid funds (grants & scholarships) and the cost of tuition & fees for qualifying students who are in their first or second year of study (have 59 or fewer earned credits) towards their first bachelors degree.
---
How Does it Work?
The Stockton Promise covers the remaining balance of an eligible student's tuition & fees* after all institutional and private grants and scholarships as well as any federal and state grants and scholarships are applied. Students eligible for the Stockton Promise will not be required to take out loans to cover their tuition & fees.
See the breakdown below:
Total tuition & fees bill minus any federal/state grants and scholarships you are eligible for minus any institutional/private grant and/or scholarship monies you have been offered = tuition & fees balance that the Stockton Promise will cover
Learn More:
Learn more about the Stockton Promise below. Visit stockton.edu/finaid to learn more about each of the sources of financial aid as well as financial aid programs.
---
Questions?
Visit our Stockton Promise FAQ, or contact us below!
---
Eligibility Criteria:
To be eligible for the Stockton Promise, students must:
Enroll as a new, matriculated (degree-seeking), first-time undergraduate (freshman) OR transfer student for the fall 2021 semester or later

Note:

Students who are not eligible for Stockton Promise funds during their first semester at Stockton will not be eligible for the fund in future semesters

Note:

Only students pursuing their first bachelor's degree are eligible. Students cannot be a readmitted student or have been previously enrolled at Stockton, unless enrollment occurred while still in high school (i.e. dual-credit courses)

Enroll with 59 or fewer earned credits

Maintain full-time status (enroll in at least 12 credits per semester at Stockton)

Be a New Jersey state resident

(this applies to parents of dependent students as well)

+

Complete the

FAFSA (Free Application for Federal Student Aid)

or

HESAA NJ Alternative Application

(NJ Dreamer students only) by April 15th of each year

Important:

Please be aware that the 2022-23 FAFSA utilizes 2020 income and tax information; therefore, we will use 2020 income information to verify fall 2022/spring 2023 students' eligibility for this program.

Complete all outstanding federal, state and institutional requirements, including all verification requirements. Learn more at

stockton.edu/verification
Have an adjusted gross income (AGI) of $0 - $65,000 per year AND an Expected Family Contribution (EFC) of $15,000 or less, as per the FAFSA ++

Dependent Students:

Parent(s) adjusted gross income (AGI) must be between $0 - $65,000 per year. (Student income, if any, will NOT be factored in to the (AGI) requirement.)

Independent Students:

Student and spouse (if applicable) adjusted gross income (AGI) must be between $0 - $65,000 per year.
+All students and parents of dependent students must be New Jersey residents. NJ Alternative Application filers must be recognized New Jersey residents as defined by the Higher Education Student Assistance Authority (HESAA).
++A negative AGI is not eligible for Stockton Promise funding.
+++Foreign or Out of State Tax Returns submitted will not be considered for the Stockton Promise. Parents and Students (if independent) must be able to provide proof of verifiable U.S. income to be considered.
---
---
Did you know?
Merit scholarships and other sources of financial aid are available to all students, including those not eligible for the Stockton Promise.
Our Foundation Scholarship program awards approximately 200 privately funded scholarships annually to qualified current Stockton students.
---
Stockton has a bill estimator tool that allows you to see how your personal bill might look, depending on how many credits you take, what housing option you choose, or what meal plan you pick.
---
Frequently Asked Questions:
Frequently Asked Questions for Transfer Students:
Yes, a transfer student who enrolls with 59 or less earned credits and meets all other Stockton Promise eligibility requirements will qualify for the Stockton Promise.