Picture Stockton...Welcoming New Ospreys with Open Wings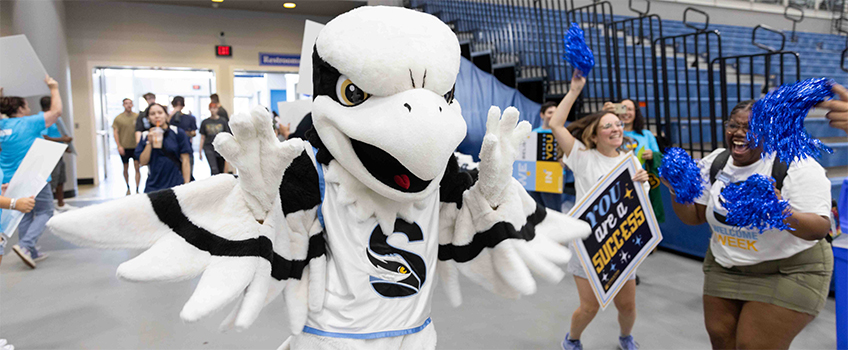 Galloway, N.J. - Ospreys, you are the author of your college journey, and you get to choose how you want to fill the pages with classes, clubs, friends, sports, internships and memories.
Chapter one began with Welcome Week. Strangers became friends, decorations transformed dorms into new homes and current students lead the way with smiles, advice and words of encouragement.
Spirit Day united new students and encouraged everyone to make the most of their Stockton experience. View Spirit Day in 11 images.
Photo story by Susan Allen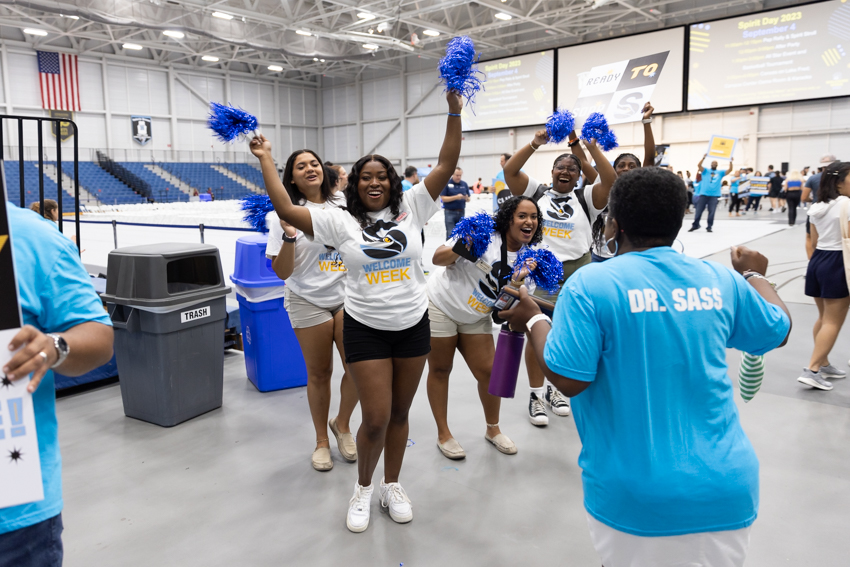 New students were greeted by a cheering squad of students and staff when they entered the Sports Center for Spirit Day.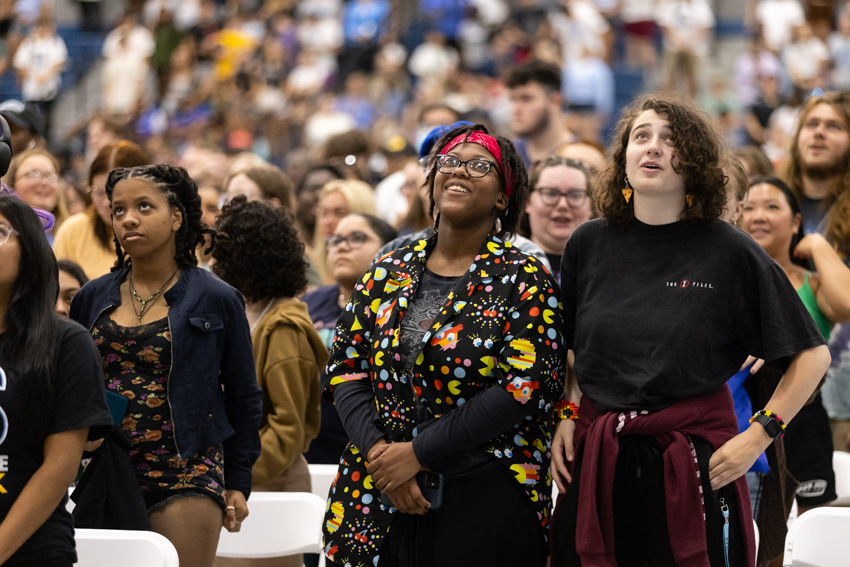 This year's first-year class is more than 1,500 students strong. "You're only as strong as you are together," said Ariane Hutchins-Newman, associate provost for Academic Success. She and all the pep rally speakers emphasized the importance of getting involved. "And bring a friend," she added.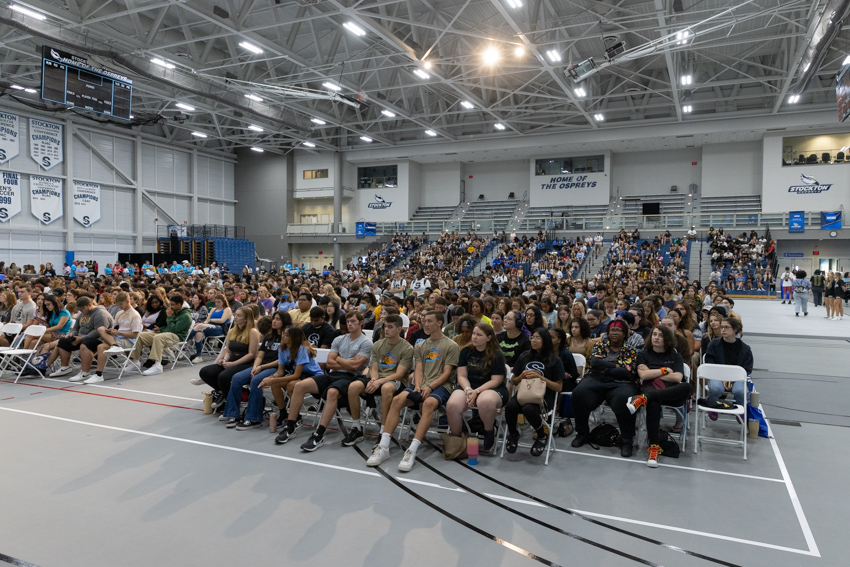 There are two occasions that bring together an entire class of Ospreys into the same room--Welcome Week Spirit Day at the beginning of the journey and Commencement at the end--noted Christopher Catching, vice president for Student Affairs.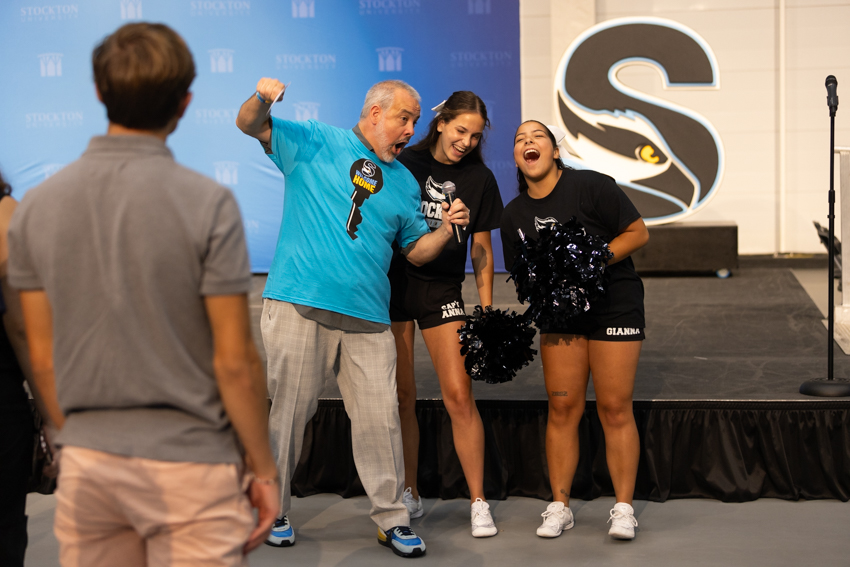 "I'm a first year too," said President Joe Bertolino, Stockton's sixth president who started this summer, as he welcomed first-year students. He officially welcomed the class with a spirited "Go Ospreys!" chant with help from Cheerleading Captain Anna and Gianna.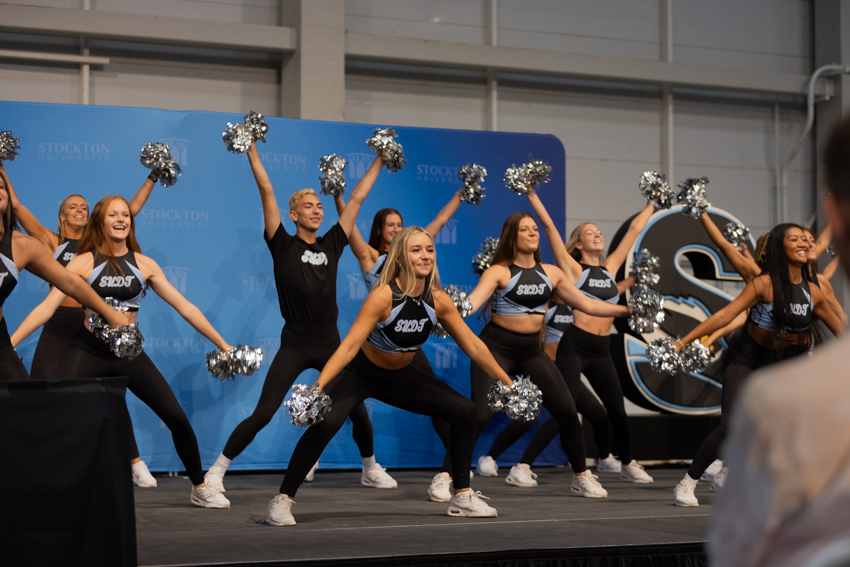 The Stockton Dance Team performed for the new class.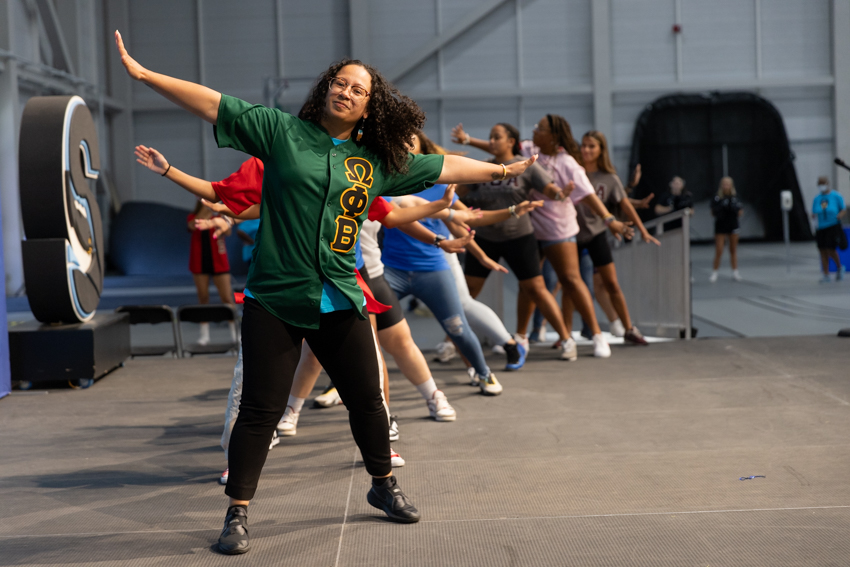 Ana Edmondson, assistant vice president for Student Transitions, Access and Retention Programs and sister of Omega Phi Beta, leads a Greek unity stroll with other sororities including Chi Upsilon Sigma, Zeta Phi Beta, Lambda Theta Alpha, Sigma Gamma Rho and Alpha Kappa Alpha to show one of the many ways students can connect and join a campus community.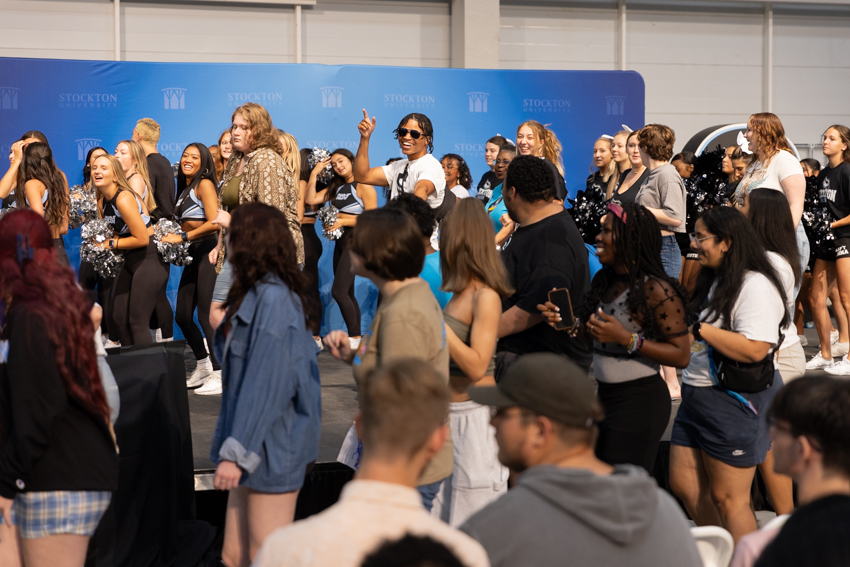 Upon special request, current and new students came to the front stage to dance the Cupid Shuffle.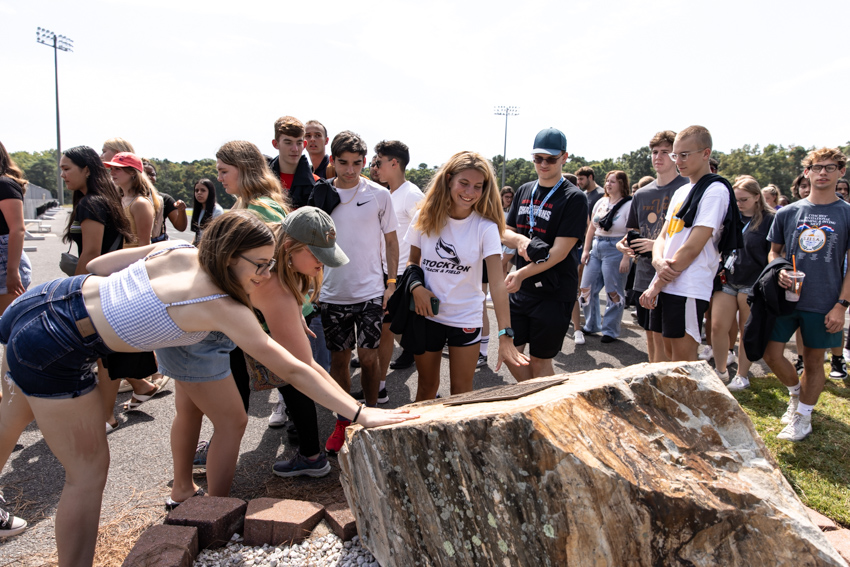 Students went to the track for a spirit walk that ended with each person skimming a hand on the G. Larry James touchstone that honors the 1968 Olympic gold and silver medalist. James, who is known as "The Mighty Burner," worked for more than three decades in the Stockton Athletics department as a coach, athletic director and dean.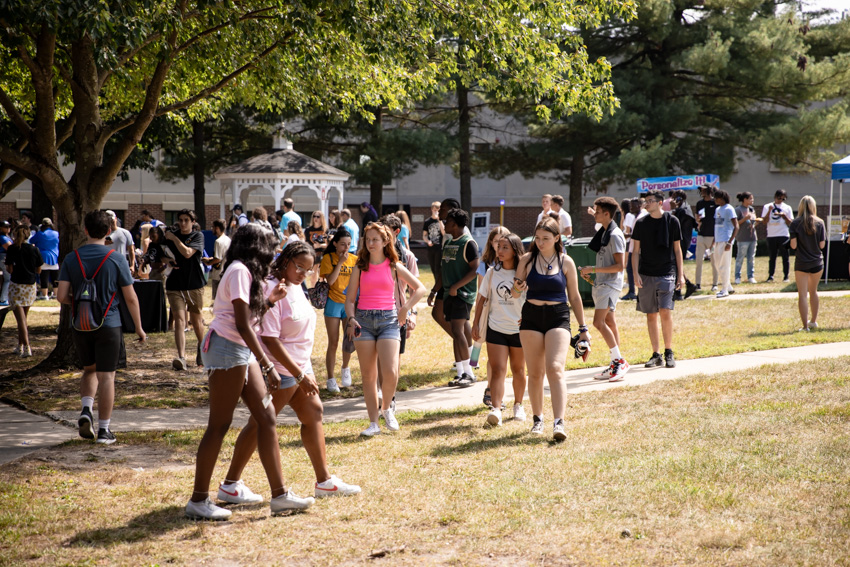 Students went to the After Party in the Townsend Residential Life Center (TRLC) quad to meet fellow Ospreys for lunch and activities.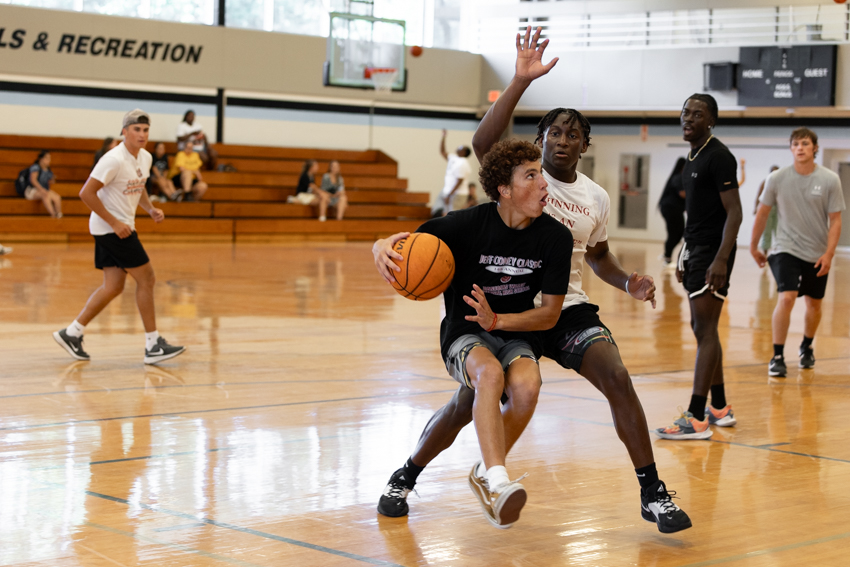 A basketball tournament and other games brought students to the I-Wing gym.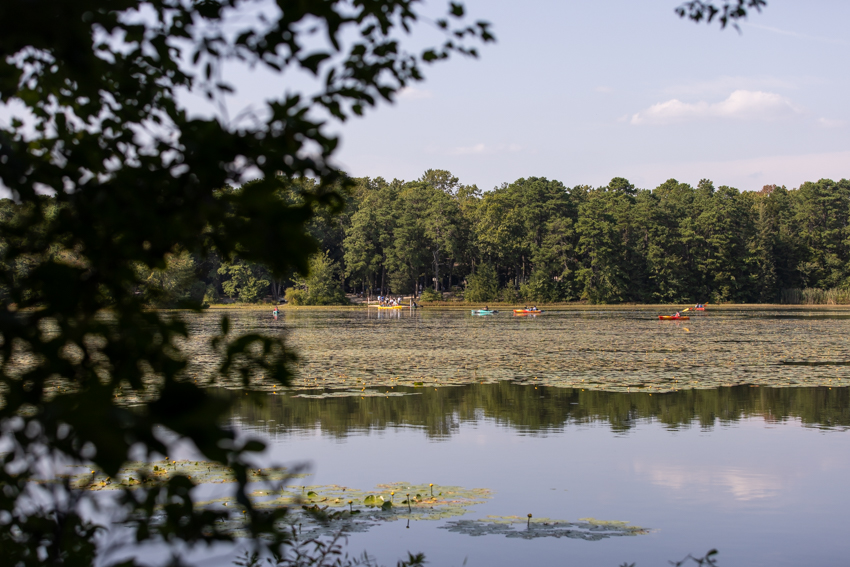 You're not an Osprey until you've been to Lake Fred. Students launched kayaks from Lakeside Lodge to explore Stockton's great outdoors.
View more photos on Flickr.