48 Blocks, One City
By Caroline Linton, Fall 2018

What better way to celebrate and show off the culture of Atlantic City than to create a 48-hour, whirlwind project displaying the many talents of its artistic community? Lisa Honaker, Dean of the School of Arts and Humanities at Stockton University, partnered with Joyce Hagan of the Atlantic City Arts Foundation (ACAF) to produce the 48 Blocks Project, a program spanning Atlantic City's 48 blocks and showcasing over 96 art projects. The summer of 2018, from Friday, June 22nd, until Sunday, June 24th, marked the second iteration of 48 Blocks Atlantic City (the summer of 2019 brings the third offering). At the event, attendees viewed live performances, murals, abstract street art; they also participated in hands-on art projects, community yoga, and yarn bombing.
The preeminent feature of the project has been the efforts of many to enhance the sides of several of Atlantic City's buildings through a variety of murals, some breathtaking, some quirky—all welcome in their neighborhoods. Mark Chu, a Columbia University graduate student originally from Australia, painted a giant chicken on the side of a Vietnamese restaurant in Atlantic City and paired it with the Vietnamese word for chicken, gà. Other artists, such as Manuela Guillén from Atlantic City and Charles Barbin from Philadelphia, contributed their talents to murals that left viewers amazed. Guillen created a community-themed mural on a local firehouse, while Barbin created a massive, stunning 3D jellyfish mural, which inspired a dedication party in its neighborhood. Vanessa Spollen, a Stockton University Fine Arts alumna, painted a mural of the Atlantic City shoreline in the Arts Garage gallery.
The initial goal of 48 Blocks Atlantic City, according to Honaker, was to add one permanent piece of artwork each year. In the project's first year, 10 murals were created throughout the city; in the second, 25 murals were created, far outstripping the original goal. Several more are projected for summer 2019. Lisa Honaker, who believes 48 Blocks Atlantic City to be "the most rewarding work [she's] ever done," says she and those working on the project wanted to change the narrative of Atlantic City: "it's more than just a city with beaches and boardwalks; it's more than casinos and a slum." With the Atlantic City community's interest and support, local and regional artists filled the city with colorful attractions: 48 Blocks turned out to be a rousing success, a "city-wide celebration of creativity." Honaker was pleased to note the positive change that 48 Blocks has made in the way the community views Atlantic City, seeing art in all areas of the city—not just those that serve tourists—as evidence of positive change. Residents now look forward to 48 Blocks Atlantic City and other events sponsored by ARTeriors and Chalk About AC to celebrate art and community in the city.
In addition to Dean Honaker's contributions, many others from the Stockton community have provided their talents and services to the 48 Blocks Atlantic City. Tom Kinsella, a Professor of Literature and Director of Stockton's South Jersey Culture & History Center, set up in the Atlantic City Free Public Library and offered to digitally preserve family photographs and to record oral histories from residents about life in Atlantic City. Emari DiGiorgio, an Associate Professor of Writing and First-Year Studies, helped organize Poetry on a Jitney. Professor of Music Beverly Vaughn conducted area choirs at Kennedy Plaza. Outside of Stockton's faculty, Saskia Schmidt, Director of Education at Stockton's Noyes Museum of Art, joined with volunteers to assist children in creating "peace flags," long, colorful creations installed at the Noyes Arts Garage in Atlantic City. Merydawilda Colón, Executive Director of Stockton Center for Community Engagement, led projects at Buzby Village and Stanley Holmes Village to create "Where We Live" ribbons. Colón arrived with boxes of biodegradable paper streamers that children in the Homework Completion Programs used to decorate their fences and playgrounds. Other parts of Stockton's involvement included performances by Peter Murphy, who read poetry at Dante Hall; the Bay Atlantic Symphony, led by Jed Gaylin and Chris DiSanto; and Levi Fox, who impersonated Enoch "Nucky" Johnson, former Atlantic City sheriff, at the opening reception held at the Claridge Hotel.
Outside of the contributions from Stockton and regional artists and performers, the community members of the city itself were also deeply involved in the success of 48 Blocks. Yarn bombing, a practice that has been popping up recently, involves knitting or crocheting yarn into pieces that fit over or attach to various facets of a town. From trees, to fence links, to parking meters, and even to bikes, anything can be stitched together to liven up the mundanity of everyday objects. Beverly Constant Bromley, a participant of the project, expressed that her neighbors thought she should contribute, telling her, "Beverly, you knit. Why don't you yarn bomb something?" Although temporary, the memory of a tree with a colorful sleeve on it or the sight of flowers of all kinds climbing up chain-link fences is sure to stick with us for many years to come.

This festive weekend also included live performances, some on residents' front porches; yoga and martial arts displays; a sustainable circus; and a sand mandala on the beach. It also showcased six adirondack chairs, ingeniously decorated by artists and installed on the boardwalk in locations in each of the six wards of Atlantic City. Francie and Fred Josephsen, a couple from Atlantic City, were two of seven artists commissioned to decorate one of those adirondack chairs for their ward. Using a practice called "fractal burning," the couple created tree-like, or lightning-like, burns into the wood of the adirondack chair.
After the success of this past summer's 48 Blocks Atlantic City, Honaker plans to do, "the whole thing over again next year." She is excited to keep adding to the project and hopes to make it even more enjoyable and inspirational, a definite possibility given the positive response of the community. Because it was difficult to access all of the wonderful events throughout the city, Honaker proposes to again provide jitneys to shuttle folks around so that they might do less driving and parking and more sightseeing. Jitney mural tours will be a big part of next summer's event. She also hopes that, in the future, 48 Blocks Atlantic City will move from a single event in June to a series of events and projects throughout the year, so that the artistic culture of Atlantic City might be celebrated all year round!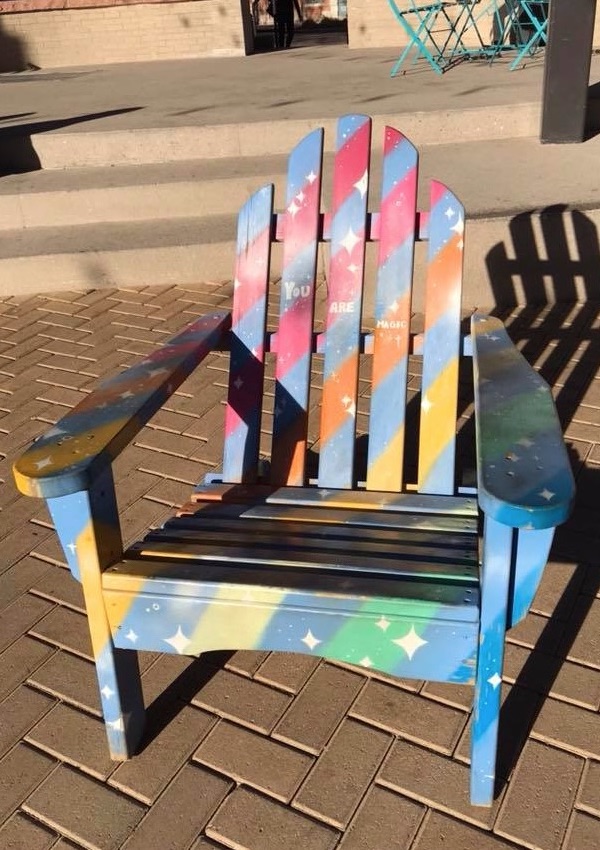 One of the six decorated adirondack chairs.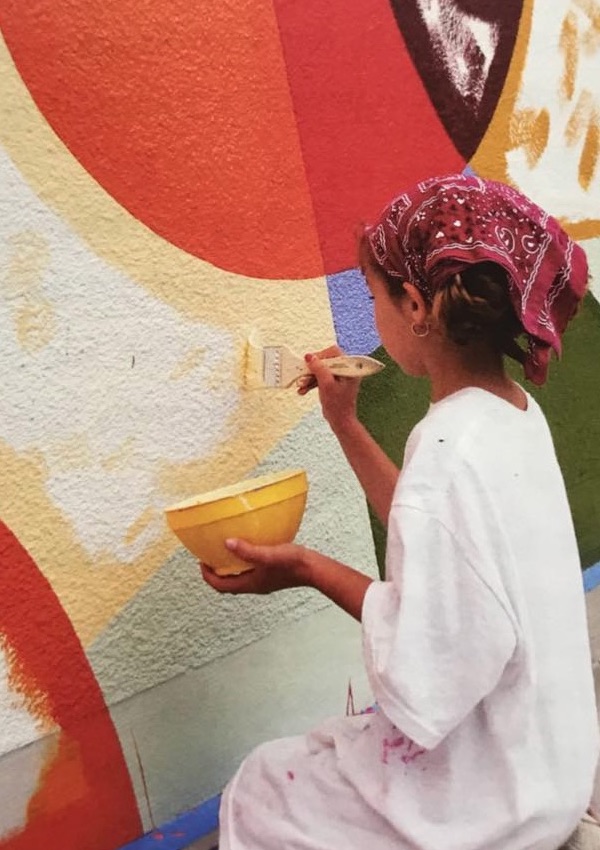 A young girl participates in the festivities by painting a wall.