Famous Visitors
By Gabriella Fiorica
Billy Joel, Joseph Campbell, Isaac Asimov, and Susan Sontag are among some of the numerous distinguished individuals who have visited Stockton. Many life-changing, impactful outsiders have walked the halls of the university since it first opened its doors to students in fall 1971. In fact, Stockton students might be taken aback to learn the luminaries who have found their way onto our list of famous Stockton visitors. A few of these visitors and their contributions are presented below.
BillyJoel

Today it is hard to imagine a time when America was not graced with the alluring and captivating music of Billy Joel. Lyrics to songs like "Only the Good Die Young" (1977), "Uptown Girl" (1983) and "We didn't Start the Fire" (1989) are known by young and old. Joel remains one of the best-selling music artists of all time. However, before he was the legend, he performed at Stockton State College on May 11, 1976, only days before the release of his album Turnstiles. Stockton received a sneak-peak of some of its tracks.
In addition to songs like "Piano Man" and "Streetlight Serenade" he performed "New York State of Mind" and "Miami 2017" which were both unreleased songs at the time. A crowd of about 1,100 people, jammed into the I-wing gymnasium, were mesmerized by his performance. The Argo described the scene: "With the lights in the gym blacked out, the group was led by flashlight into position while taped music from Piano Man flowed from the amps. Then spotlights, applause, and Billy Joel." The Argo praised Joel for a spectacular performance, writing, "I regret that someone with the immense talent that Mr. Joel has is not as well known and publicized as are people with lesser talent and better publicity departments . . . hopefully Billy Joel's new album will bring him the recognition he deserves." Little did the author know: not long after Joel's visit to the small college would he become one of the most successful performers in music.
Joseph Campbell

Joseph Campbell was a literature professor at Sarah Lawrence College, specializing in comparative mythology and religion. He is best-known for his book Hero With A Thousand Faces in which he discusses the archetypal hero found in world myths, and the mythological structure of the hero's journey. Many modern writers and artists have applied Campbell's theories to their own work, and Campbell has been credited as an influence on the creation of George Lucus' Star Wars. In 1979, Campbell gave a presentation on the "Myth and Archetype in Literature." His lecture was the highlight of Stockton's third annual conference on literature and myth.
By Joan Halifax - flickr_url: [1], CC BY 2.0,
https://commons.wikimedia.org/w/index.php?curid=17242629

Isaac Asimov

A Russian-born writer and professor of biochemistry at Boston College, Isaac Asimov is best known for his works on science fiction and popular science. Throughout his life, he wrote or edited about 500 books, as well as 90,000 letters and postcards. Asimov was deemed one of the "Big Three" science fiction writers during his lifetime, along with writers Robert A. Heinlein and Arthur C. Clarke. His most famous work is the Foundation series, which was a science fiction trilogy collected in 1951. His Galaxy Empire seriesand Robot series are also acclaimed. Assimov visited Stockton on April 9th, 1980. He attended a forum in CC-103 and then a lecture at the Performing Arts Center later that day. He presented his views on the topics of science, technology and overpopulation, addressing misconceptions many individuals have about technology and science and the ways they harm our connection to nature and human beings. Many people believe in such harm, remarked Asimov, without realizing how difficult today's life would be without technology. He cautioned that there should be a balance. This conversation led to his thoughts on overpopulation, and he wondered how long the earth could continue to support the human race considering the rapid increase in population. Asimov then offered ways in which humanity could attempt to lower the population, alleviating this problem.
Wikimedia
Susan Sontag
Susan Sontag, although largely known for works like On Photography, Against Interpretation, Styles of Radical Will, The Way We Live Now, Illness as Metaphor, Regarding the Pain of Others, The Volcano Lover, and In America, was also a teacher, political activist, philosopher and filmmaker. Often she combined activism with her love for writing and through her writing spoke about important issues such as AIDS and illness, human rights, communism and more. Regardless of the controversy brought about by her views, she has been viewed as "one of the most influential critics of her generation." She traveled frequently, speaking about these significant issues. On February 18th, 1981, Sontag delivered a lecture in Stockton's Performing Arts Center. She discussed the ways America had changed throughout the last hundred years. She questioned how Americans measure their own lives and past historical moments, suggesting that people measure their lives through numbers and judge historical moments through the idea of progression.
By User:LynnGilbert5 - Crop of File:Susan Sontag 1979 ©Lynn Gilbert.jpg, CC BY 4.0,
https://commons.wikimedia.org/w/index.php?curid=63378055

Al Franken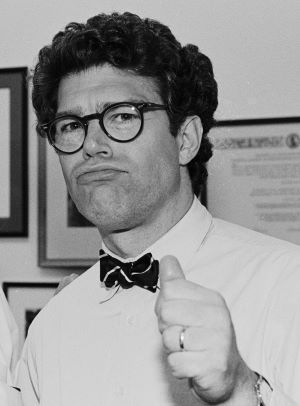 Al Franken is a comedian, author, and politician who first gained public notoriety when he joined the comedy show Saturday Night Live in 1975 as a staff writer and performer. Years later he hosted the Al Franken Show on Air American Radio, where he expressed his prominent liberal views on politics. Deeply interested in the political elements of America, in 2008, Franken was elected to the United States Senate and won reelection in 2014. However, it was only in 1982 when Stockton welcomed Franken and Tom Davis to the PAC on December 9th. Davis was Franken's writing partner, and they made up the comedy duo "Franken and Davis" on Saturday Night Live. The duo performed for the Stockton Community and were filmed for Showtime Cable Company. Lots of activities took place during their visit, including Stockton students being given a rectangle to paint portraits of Franken and Davis. The comedians supplied photographs of themselves for students to refer to and they purchased refreshments for everyone at the event.
By Jamie Howren - https://www.loc.gov/item/2013645669/, Public Domain,
https://commons.wikimedia.org/w/index.php?curid=89493939
Rosa Parks
Everyone knows the story of the civil rights activist Rosa Parks who refused to surrender her seat to a white passenger on a bus in Montgomery, Alambama, in 1955. Although it inevitably resulted in her arrest, Parks' action was a strong and courageous message to Americans, North and South: African Americans deserved the same rights as their white counterparts. Stockton students had the pleasure of meeting Parks at the Tropicana Casino and Resort Ballroom in 1990. Considering Atlantic City is not too far from Stockton's Galloway campus, many Stockton students attended the event held in honor of both Parks and Martin Luther King Jr.
By Unknown author - USIA / National Archives and Records Administration Records of the U.S.
Information Agency Record Group 306, Public Domain,
https://commons.wikimedia.org/w/index.php?curid=4344206

Terry McMillan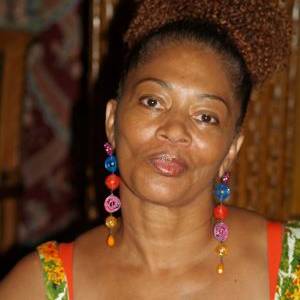 Terry McMillan is the New York Times bestselling author of works such as Waiting to Exhale, When Stella Got her Groove Back, Getting to Happy and more. Waiting to Exhale remained a bestseller for many years after its release in 1992, and McMillan's work, known for its focus on female protagonists, helped to encourage a wider representation of strong, black females in literature. McMillan visited Stockton University on October 2, 1997, in the A-wing lecture hall. She was part of Stockton's Visiting Writers Series. McMillan read entries from her works.
By David Shankbone - Own work, CC BY-SA 3.0,
https://commons.wikimedia.org/w/index.php?curid=5230314
Nicholas Sparks

Nicholas Sparks is a more recent visitor on this list. He is a novelist best known for his sweeping, erotic, romance novels, such as The Notebook or The Last Song. So far, every one of his novels has been a New York Times bestseller, beginning with the publication of his most popular work, The Notebook, in 1996. Since then, Sparks has written nearly twenty additional romance novels, each one a hit with readers. Sparks spoke about his accomplishments and success when visiting Stockton University in 2007. Speaking in the Sports Center, he gave a lecture which drew a crowd of about 400 people. He revealed what inspired him to write in the first place and confessed that writing was never something he planned to do, nor something he particularly enjoys. Yet, he feels compelled to write, and finds it to be the gift he was granted in order to serve God.
According to The Argo, there was a bit of controversy in regard to his visit, ignited after Sparks was asked whether he had any interest including interracial or homosexual couples in his novels any time soon. Sparks simply replied that that was not the type of audience his writing was trying to reach. The comment angered some Stockton literature majors and The Argo editors, who felt that people who write to such limited audiences are disgraceful and that if he didn't like writing, he should just quit. He concluded his visit with a book signing.
Wikimedia