Stockton Partners with '48 Blocks Atlantic City' Celebration
Galloway, N.J. ­_ Francie Josephsen's parents met on the Atlantic City beach in the early 1950's when her dad sold ice cream to her mother who was on vacation from Pennsylvania.
Today, Francie and her husband of 28 years, Fred, of Northfield, are among seven artists decorating six special Adirondack chairs to be placed on the Boardwalk for "48 Blocks Atlantic City."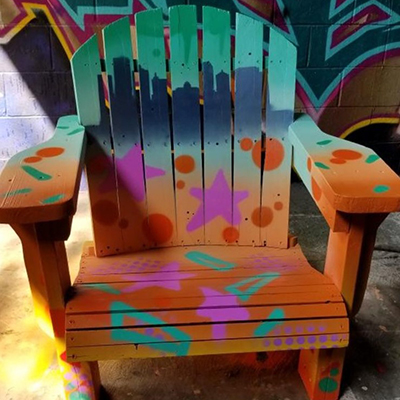 More than 100 projects created by local artists, performers, community members, schools, businesses and organizations will be shared with the public for 48 hours on June 22-24 as the second "48 Blocks Atlantic City" celebrates the creativity of Atlantic City.
"We are really excited to be participating in 48 Blocks," said Josephsen. "We are enthusiastic fans of the city, cheering on the rebirth movement currently taking place."
Francie teaches art at the Uptown School Complex in Atlantic City. Fred is the third generation owner of Josephsen Hardwood Floor Company and a professional craftsman.
The Josephsen's project will be using a method referred to as Lichtenberg Burning or High Voltage Electric Art to decorate an Adirondack chair with fractal burns reminiscent of lightning strikes. Using two probes, which generate 12,000 volts of electricity, random tree like branches are burned into the wood.
"We often refinish furniture projects together, and we recently discovered this interesting decorative wood method," said Josephsen. "We've been fractal burning a piece of furniture that once belonged to my parents, and the results are beautiful! We thought it would be a unique art form to lend to the Atlantic City Adirondack chair collection."
"I have worked on a wide variety of projects from kids' bedrooms to headquarters of Fortune 500 companies," said Rainbow. "I selected this project because I love Atlantic City and thought it would be cool to have a piece on the Boardwalk."
Other participating chair artists are Amy Carelli, Gianni Nistico, Jose Ruiz and Ashlesha Parekh.
Among the business supporters are Tun Tavern, Little Water Distillery, AtlantiCare, Atlantic City Contact Center, Coast Tile and Marble, Ocean First Bank., Borgata, and Tropicana Atlantic City Casino and Resort.
Other projects planned include wall murals scattered through the city created by local and regional artists, a Gospel concert featuring local multiethnic choirs, poets on a Jitney, knitted graffiti and yarn bombing, free yoga on the beach at the Tropicana with AtlantiCare LifeCenter instructors, fireworks and complimentary hand-crafted beer tastings along with live music and artists at work at Tun Tavern.
Last year's inaugural one-day event proved so popular that it has been extended to 48 hours starting Friday night and ending on Sunday.
48 Blocks AC is coordinated by the Atlantic City Arts Foundation in partnership with Stockton University, which will open a new residential campus in Atlantic City in the fall.
"We are so excited that this year's event will span an entire weekend," said Lisa Honaker, dean of Stockton's School of Arts and Humanities. "It's going to be an exciting 48 hours."
Joyce Hagan, executive director of the Atlantic City Arts Foundation, said residents are eager to show off their city.
Most of 48 Blocks AC is free to the public. Two ticketed fundraising events are:
A kickoff party from 6-8 p.m. June 22 at the Claridge Hotel Ocean View Room will feature Ken & Ci Bon. Tickets are $10.
Ella Gahnt in concert at Dante Hall, 8 p.m. June 23. Tickets are $10.
For more information on how to get involved or participate, visit www.48blocksac.com, call 1-833-700-48AC (4811) or email hello@48blocksac.com.
MEDIA CONTACT: To request press packets or schedule interviews contact Zach Katzen, program director, at 609 703-5959 or press@48blocksAC.com
# # #
Contact:
Diane D'Amico
Director of News and Media Relations
Galloway, N.J. 08205
Diane.D'Amico@stockton.edu
609-652-4593
stockton.edu/media