Harold E. Taylor Observatory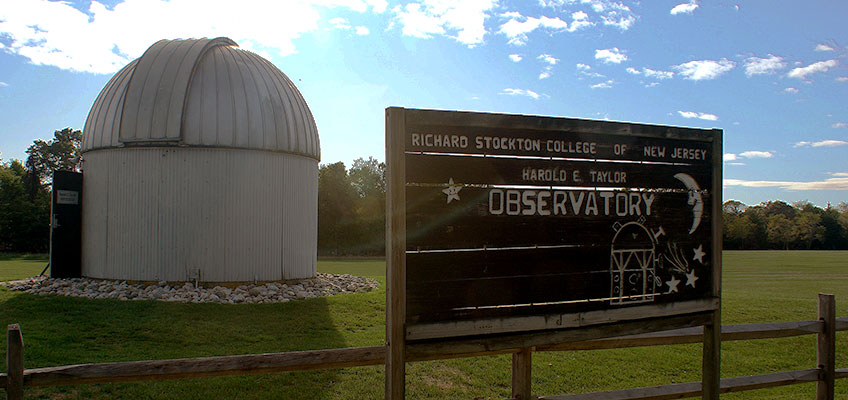 Through the vision of applied physics professor, Harold E. Taylor (1971 - 2001), the observatory was constructed in 1974 as a resource to inform, educate, and inspire our students and members of the community with the ever-changing display of the night sky.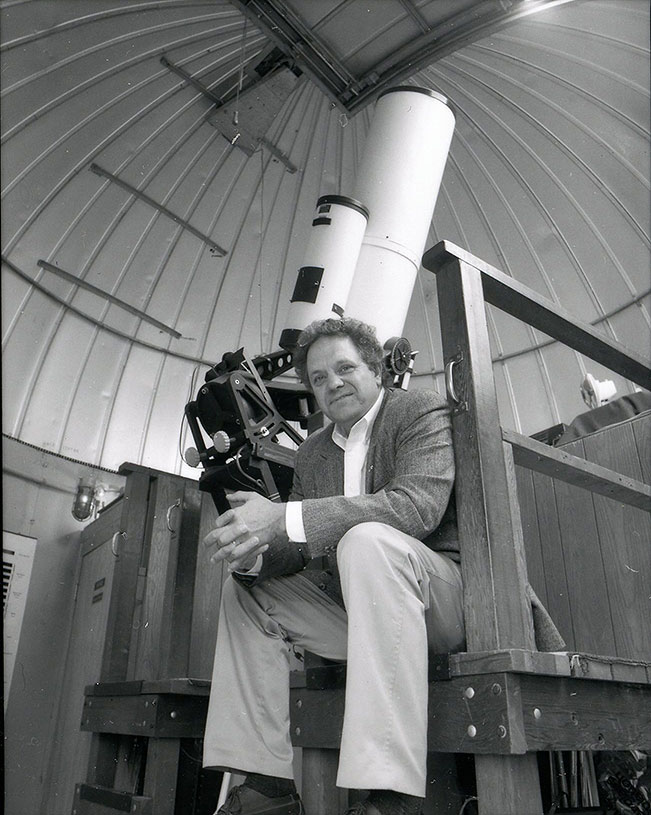 Dr. Harold E. Taylor, Professor of Physics (1971 - 2001). Photo credit Stockton University Library Archives.
The observatory hosted thousands of celestial viewings for 30 years until it lay dormant due to a broken transducer used to position the telescope. In 2018, physics alumnae, Miriam Saad, initiated a research project with physics professor Dr. Joseph Trout to refurbish the observatory's 1980s computer interface with modern technology.
After Miriam's graduation in 2018, Dr. Trout along with student physicists, Gracie Buondonno, Briena Feltner, Tara Jacobsen, Colleen Lindenau, and Courtney Weber, reassembled the telescope and installed an updated camera and guidance system through two Research Experiences for Undergraduate grants and a donation made in the name of Timothy Stout, a local amateur astronomer.
While working on the telescope, the students learned about the operation and management of the Meade LX-200 computer controlled telescope and will continue to assist Dr. Trout with running the observatory.
In the fall of 2021, the university received a very generous donation which enabled us to purchase a new 17" PLANEWAVE telescope. The telescope was installed July 2022 and is up and operational. It had its first light on August 18.
Show Your Support
Through the efforts of Dr. Joseph Trout and the student physicists, the observatory reopened to our community, however, there is still more work to be done.
A new 17" PLANEWAVE telescope was purchased and installed this past summer through a generous donation. The old camera and filters from the original telescope are obsolete and in need of replacement. Our goal is to raise money to replace these instruments.
Donations are tax-deductible and part of the Corporate Matching Gifts Program.
---
Public Observatory Viewings
Dr. Joseph Trout and our student physicists will guide visitors through a tour of the night sky. Observatory viewing events will be offered throughout the academic semester. Each viewing night has been chosen based on a featured object for that evening. Attendees should dress according to the weather.
Due to the popularity of the reopening, we are expecting larger than normal crowds. You will need to make a reservation through the booking system which is built using a specified timeframe, rather than an attendance cap. The reservation system is set at the lowest time interval in order for us book a larger number of visitors. Please choose a reservation in 5-minute intervals. One reservation may be used for up to groups of four. Please note, the observatory will be open for 2 hours on viewing nights and each visitor will have ample time at the telescope.
Once your reservation is made, you will receive a confirmation email. Please keep this email to manage your reservation should you need to cancel or change your reservation. Cick on the 'Manage Reservation' button on the bottom of the email to cancel or change a reservation.
Please note: Only service animals are allowed.
Questions
Questions about the observatory operation or events could be directed to the observatory@stockton.edu or the NAMS Admistration Office 609.652.4546 (M-F 8:00 - 5:00).

---
Upcoming schedule
The new 17" PLANEWAVE telescope 🔭 has been installed and is fully operational.
The fall schedule is listed below. Check back periodically as additional dates may be added when available.
Before you head out to the observatory, please look up at the night's sky. If there is cloud coverage, the viewing night will need to be cancelled. A notice will be posted on the website as well.


Spring 2023
Thursdays: January 19 - May 4 | 7:00 - 8:30 PM
January 26 viewing is cancelled