Harold E. Taylor Observatory
Due to COVID-19, we are not scheduling in-person viewings. Please check back for future updates.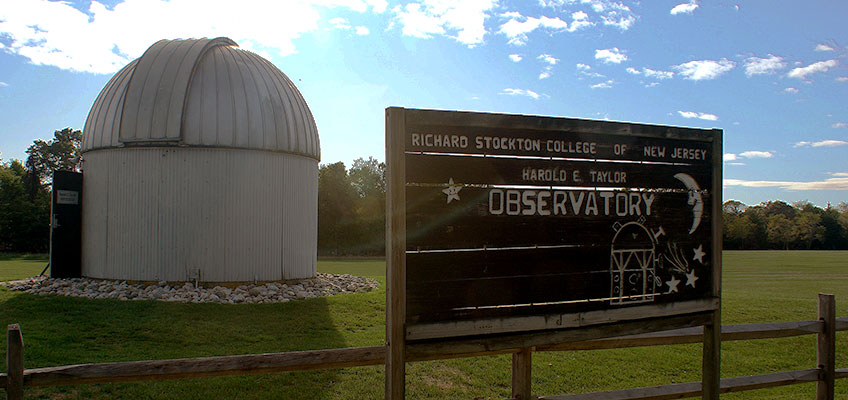 Through the vision of applied physics professor, Harold E. Taylor (1971 - 2001), the observatory was constructed in 1974 as a resource to inform, educate, and inspire our students and members of the community with the ever-changing display of the night sky.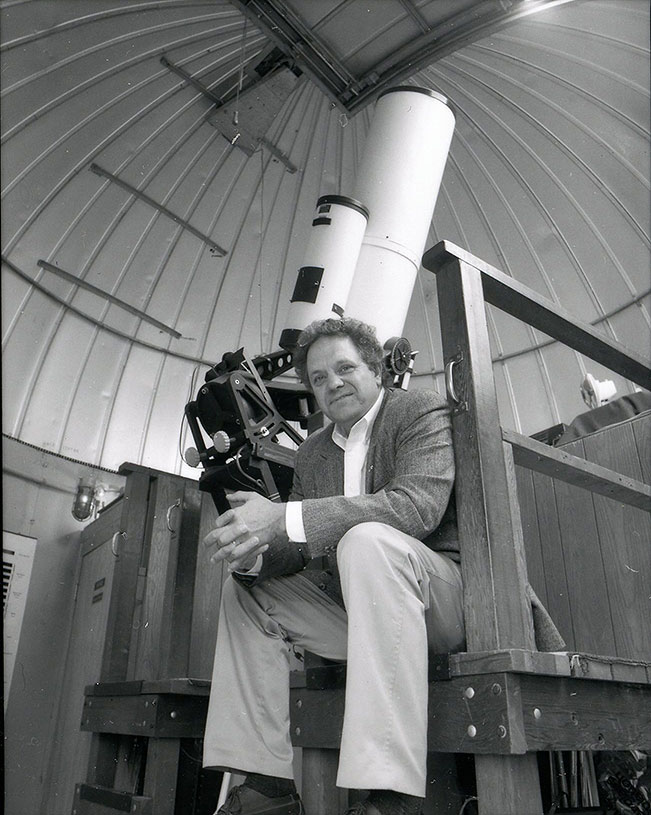 Image of Dr. Harold E. Taylor, Professor of Physics (1971 - 2001). Photo credit Stockton University Library Archives.
The observatory hosted thousands of celestial viewings for 30 years until it lay dormant due to a broken transducer used to position the telescope. In 2018, physics alumnae, Miriam Saad, initiated a research project with physics professor Dr. Joseph Trout to refurbish the observatory's 1980s computer interface with modern technology.
After Miriam's graduation in 2018, Dr. Trout along with student physicists, Gracie Buondonno, Briena Feltner, Tara Jacobsen, Colleen Lindenau, and Courtney Weber, reassembled the telescope and installed an updated camera and guidance system through two Research Experiences for Undergraduate grants and a donation made in the name of Timothy Stout, a local amateur astronomer.
While working on the telescope, the students learned about the operation and management of the Meade LX-200 computer controlled telescope and will continue to assist Dr. Trout with running the observatory.
Since the reopening on November 6, 2019, the group has been focusing their efforts on fundraising for the purchase of a new, modern telescope.
Show Your Support
Through the efforts of Dr. Joseph Trout and the student physicists, the computer interface for the telescope was reconditioned allowing the observatory to reopen to our community, however, there is still more work to be done.
The structure itself is 45 years old and in need of repair or replacement. Our goal is to raise money for the replacement of both the telescope and the structure so we could continue to educate our students and community. Would you give today?

Tax deductible and part of the Corporate Matching Gifts Program.
---
Public Observatory Viewings
Dr. Joseph Trout and our student physicists will guide visitors through a tour of the night sky with the Meade LX-200 computer controlled telescope. Observatory viewing events are offered twice a month during each semester. Each viewing night has been chosen based on a featured object for that evening. Attendees should dress according to the weather. Please bear in mind cloudy or inclement weather may cause observing nights to be canceled.

Due to the popularity of the reopening, we are expecting larger than normal crowds. To organize your trip, it is suggested you book one reservation per attendee for your preferred viewing time. Once all the slots are full, the date will not longer appear open.
Once you make a reservation, you will receive a confirmation email. Please keep this email as you will need to use to manage your reservation. If you need to cancel or change your reservation, click on the 'manage reservation' button on the bottom of the email. You will be provided options to cancel or change reservation.
Upcoming schedule:
Due to COVID-19, we are not scheduling an in-person viewings at this time. Please check back periodically for updates.