Meditation Room Moved Next to the Multicultural Center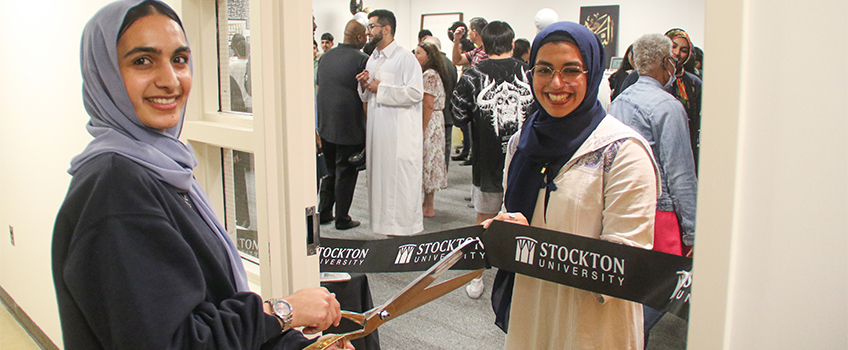 Galloway, N.J. – In addition to hanging out at the Multicultural Center, perusing for books and supplies in the bookstore and picking up mail in the Mail Room, students will now have the option to enjoy a quiet moment to themselves in the new Meditation Room in F-012.
The Meditation Room was previously neighbors with the Food Hall at the Nest in N-Wing, where it provided a quiet space for students to meditate, pray and silently reflect on their days on campus. The room change will now make the space more accessible and easier to find on the Galloway campus.
The Muslim Student Association (MSA), which utilizes the space for their five daily prayers (Salah), celebrated the opening of the new space on Tuesday, Sept. 12.
Hamza Mourad, a Biology major and religious chair for the MSA, began the celebration by introducing the crowd to the concept and importance of saying "Bismillah-ir-Rahman-ir-Rahim" or "In the name of God, the merciful and compassionate."
"Anything we do (as Muslim students) begins with 'Bismillah,'" Mourad explained. "Everything with value begins with it: when we're about to eat food, drive our cars, or enter rooms like this one. This is a very exciting day, and we look forward to what will happen in the future."
Huda Waheed, a Health Sciences major and vice president for the MSA, credited Stockton with caring for students' whole selves.
"Stockton provides for us (enrichment for) mind, body and soul," Huda said. "For our bodies, we have the I-Wing gym and Big Blue, and for our minds, we're getting intellectually stimulated. But what about our souls? For us to have this room where we can sit down, decompress and not become overly stimulated, it's so important to have these spaces and for students to feel a sense of belonging."
Zikra Naz, a Social Work major and president of the MSA, emphasized that although the room was a project the MSA advocated for, this new space is meant to be utilized by anyone on campus, regardless of religious affiliation.
"This is a space for everyone on campus," Naz said. "Anyone can come here to pray or fulfill their religious obligations. This is also a meditation room, so if you want to meditate or come in here for peace or a quiet space, you are more than welcome here.
"This new space can mean many things to different people. But for the Muslim students, this is a reminder that God-Allah (SWT) can open any closed door. He is Al-Fattah (He who opens all things), just like the door to the new prayer and meditation room. May this room be a place of peace, reflection, unity and a safe space for all students on campus to practice their faiths freely. Ameen!"
Craig Stambaugh, assistant vice president for Engagement and Community Development for the Dean of Students, and Dianne Stalling, associate director of Student Development, helped support the MSA in creating the new Meditation Room. Both were impressed by the students and the leadership that they demonstrated.
"If any students are looking to write a proposal to get something done, I'm going to direct them to the MSA leadership," Stambaugh said. "I had never seen a proposal done so well. The proposal had what was not sufficient in the old space, what they needed in the new space, and they did their research. This is what student leadership is about."
"This was a labor of love," Stalling said emphatically. "And we thank everyone, not only in our office, Craig and Event Services, but also (Facilities & Operations) and all of the students behind this. This was a team effort, and I was in awe when I first saw this room."
"This achievement exemplifies the power of students coming together, the power of perseverance and the power of a university that listens to its students and takes meaningful action," Naz said.
– Story by Loukaia Taylor
– Photos by Lizzie Nealis