Rotary Helps EOF Students Make Their Housing a Home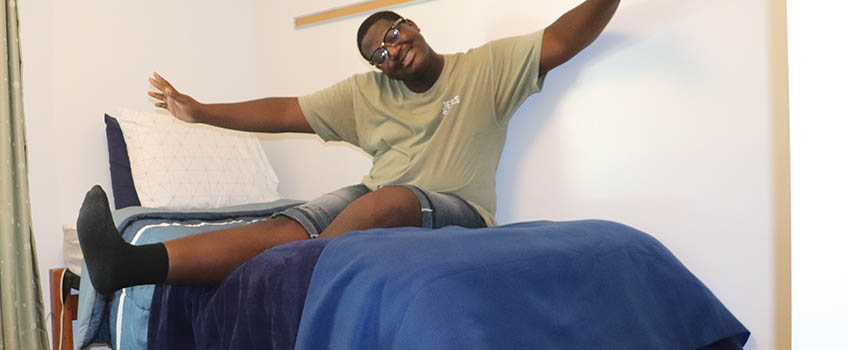 Galloway, N.J. - When Stockton University freshman Terron Oglesby of Egg Harbor Township arrived at his new room in Housing V for the Educational Opportunity Fund (EOF) summer program he found a box waiting for him filled with new extra-long sheets, a comforter, pillows, towels, a matching fleece throw and even a storage caddy and a clip fan.
The box of room supplies was one of 11 provided by the Absecon-Galloway Rotary Club to help EOF students make a home at Stockton.
"I was on the website, picking colors for everything and I couldn't believe I was getting all of that," Oglesby said. "I love the colors I picked. It was eye-opening for me."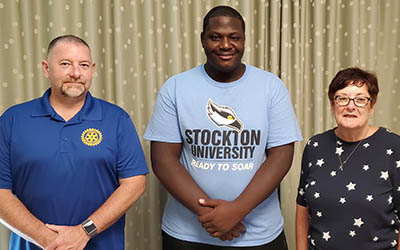 The project was spearheaded by Heather Swenson Brilla, Community Projects Coordinator at the Stockton Center for Community Engagement and Service-Learning, whose husband, John Brilla is a member of the Rotary, as a way to assist EOF students with some of the necessities of college life.
"This has been a passion project of mine," she said. "I've been talking my husband's ear off about it for a few years now."
Kevin Pleydle, funding coordinator for the Absecon-Galloway Rotary said they were looking for a project to use some $2,500 in funds they had from a Rotary grant and Heather was looking for a partner.
"Our focus is youth-related and student development activities, so it fit," Pleydle said. The group also provides eye exams and glasses for about 70 area children.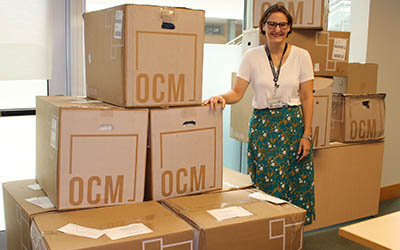 Swenson Brilla coordinated with Angel Hernandez, director of the EOF Atlantic City program to identify students who could benefit most from the items. Those students were able to pick their own patterns from a website, and after the boxes were delivered to Stockton, Swenson Brilla packaged the kits and the Rotary provided a congratulatory letter in each box, so the students would know who provided the items.
Oglesby, a Business major who plans to study marketing, said he first thought about going far away to college, but after talking to his father, and taking some tours of Stockton, he decided to stay close to home.
"The campus is diverse and there are a lot of different things to do. There are so many clubs and organizations to choose from. I love it."
He also loves his new blue room accessories from the Nantucket collection.
"Growing up, I always liked interior design and decorating things with my mom," Oglesby said. "She and I would shop for new bedding for my room. On the website, I was looking through the design and color options, and I saw this one and liked it the best. It's very chill."
Swenson-Brilla said she hopes to make the project an annual event, and expand it to help even more students feel welcomed when they arrive at Stockton.
"We have students who are coming out of foster care, students without parental support," she said. "Some really arrive with almost nothing. This is something that can help make them feel like they belong at college."
# # #
Contact:
Diane D'Amico
Director of News and Media Relations
Galloway, N.J. 08205
Diane.DAmico@stockton.edu
609-652-4593
609-412-8069
stockton.edu/media