Discover Stockton: See What We Have to Offer at Open House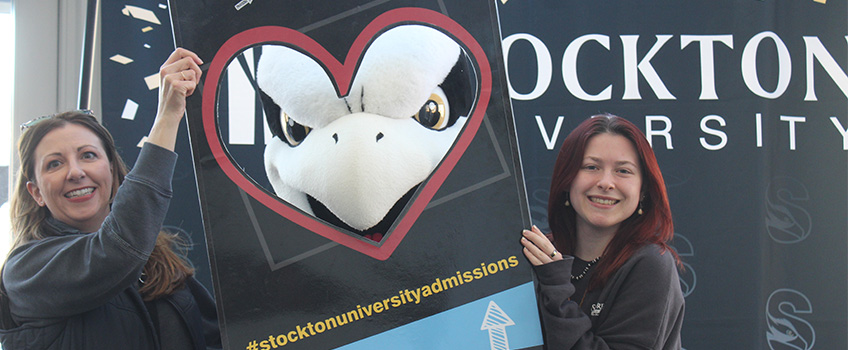 Galloway, N.J. – More than 1,600 prospective students and family members discovered the beauty of an early spring day on campus at Discover Stockton Day on March 26.
The day kicked off with a welcome address and overview of events in the Sports Center, followed by first-year and transfer information sessions. From there, attendees could take a campus tour, join sessions for their potential school or major, check out on-campus housing and drop by the Information Fair in the Campus Center.
Whether this is your first time at Stockton or you're ready to enroll, Discover Stockton Day is the perfect opportunity to experience all Stockton has to offer.
Here's what you can expect your future Discover Stockton Day to look like:
Greetings from the Ambassadors
Our wonderful and friendly Admissions Ambassadors will greet you as you head to the Sports Center to check in.
---
Fun Photo-Ops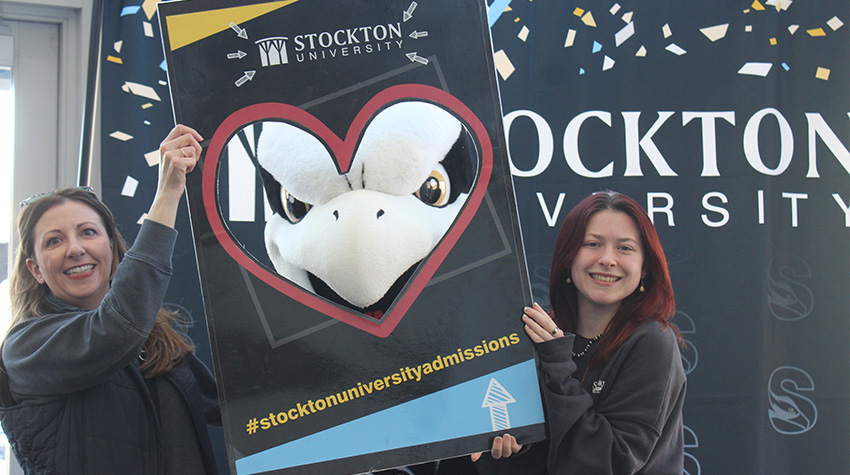 Smile! Start your day off right by taking a picture with Talon on your way into the Sports Center.
---
Hi! My Name Is...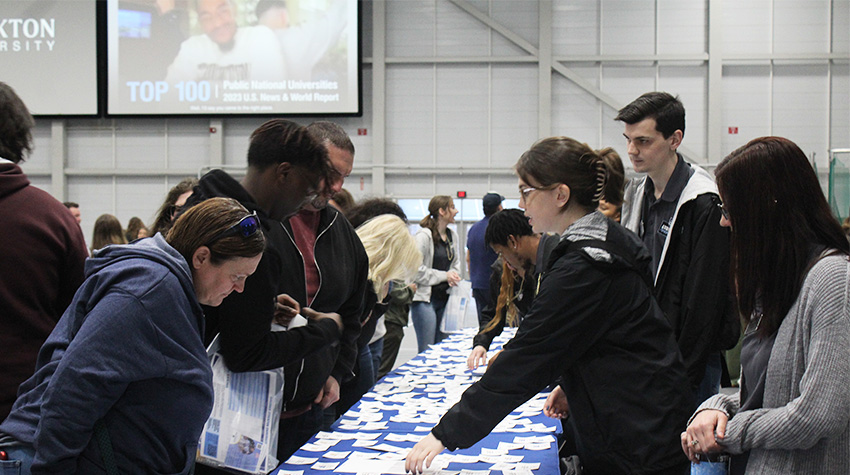 Check in with our Admissions team to receive your welcome packet and name tags.
---
Quick Rundown of the Day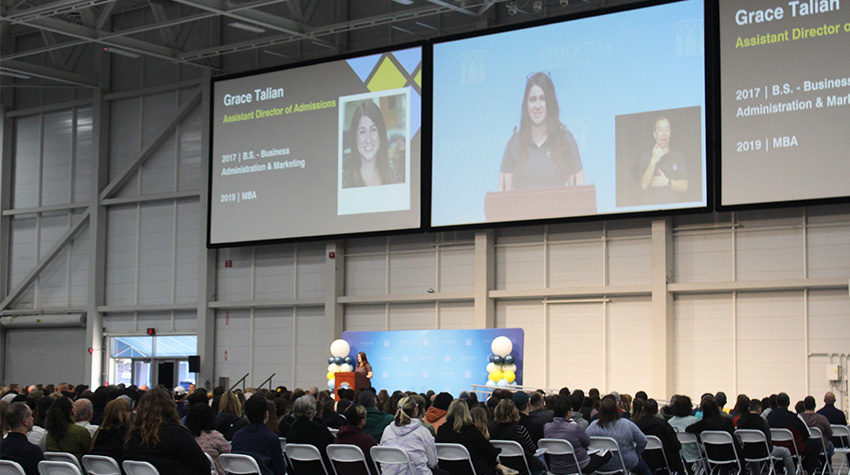 Attend the welcome address for an overview of Stockton from multiple speakers, including Admissions' Robert Heinrich and Grace Talian (pictured). Here's where you'll find out what Stockton is all about, from Athletics to academics. You'll also see a schedule of events for the day.
---
We Love Lake Fred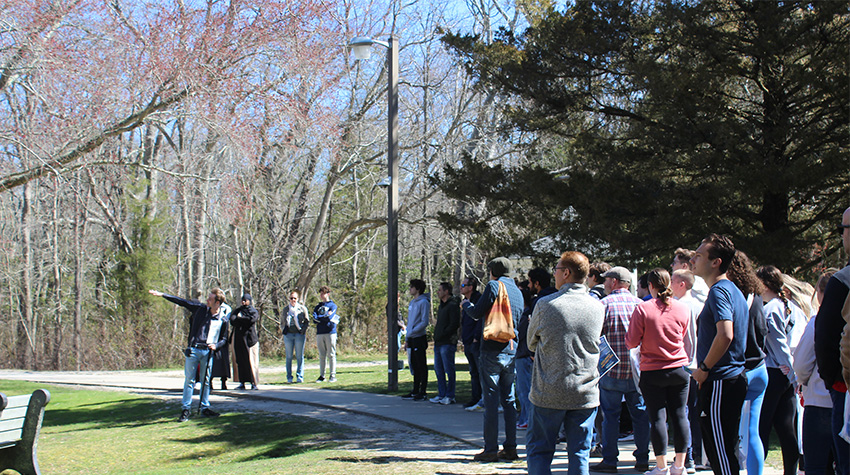 Head out into the sunshine on a campus tour to see all Stockton's campus has to offer – including the beauty of Lake Fred.
---
Residential Life in the Pines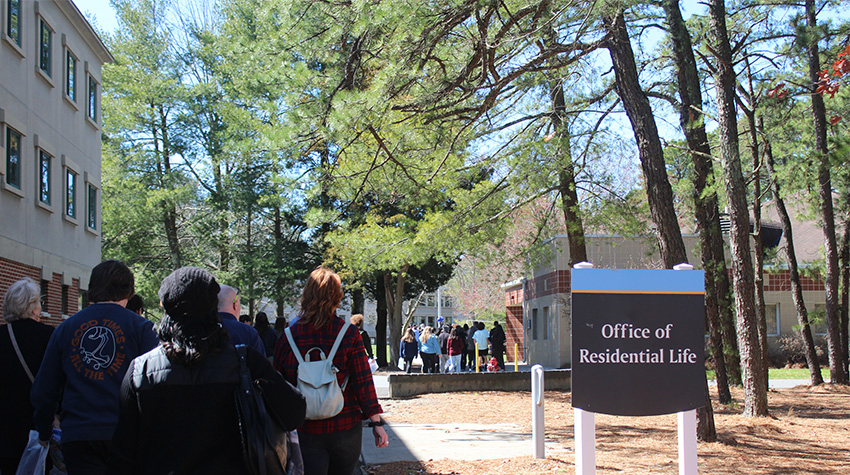 Follow your campus tour leader through the pines to see housing options (like the first-year Housing Quad, pictured) on the Galloway campus.
---
#DiscoverStockton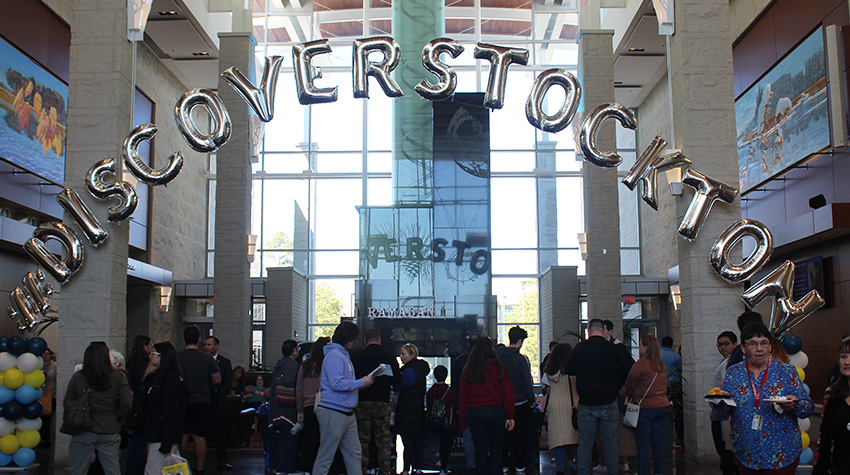 Head over to the Campus Center to walk through the Information Fair, where you'll find representatives from a variety of offices and organizations, from Student Development to the Bursar's Office.
---
For More Information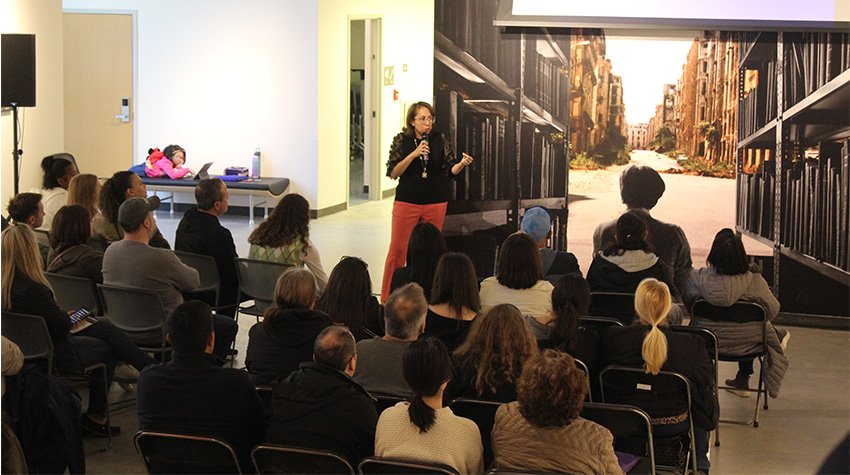 Attend an information session for your school of interest, where you'll receive an overview of programs, majors, and minors within the school. Here you can talk to faculty, ask questions and get an idea of what your time at Stockton could consist of. After the general information session, you have the opportunity to attend breakout sessions for your specific major of interest.
---
Learn While You Lunch
By now you're probably getting hungry – so drop by the Campus Center Event Room to grab some lunch! While you're here, take a walk around the room where more offices and organizations are set up with all the information you need about the opportunities Stockton offers.
---
End of the Day
Feel free to end your day at Stockton however you choose, whether it's with another walk around Lake Fred, a trip to grab some merch at the bookstore, or by meeting with Admissions to confirm your enrollment.
Tours may also be available at our Atlantic City location or the Marine Science Field Station.
Welcome, Osprey!
– Story and photos by Emma Desiderio