Four Students Bring Color to the Boardwalk in CRDA Project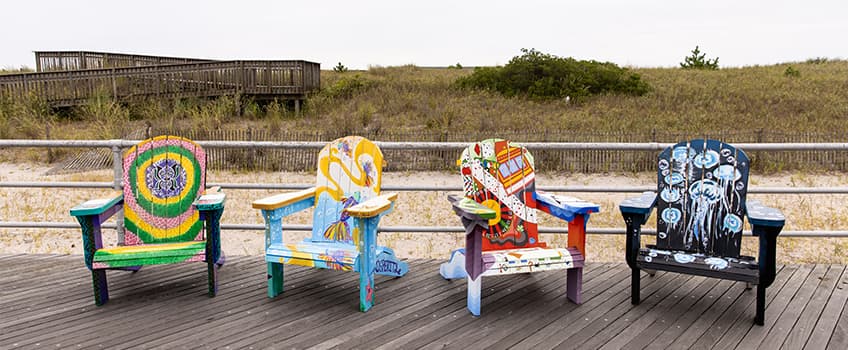 Atlantic City, N.J. – Before taking a seat on one of the many colorful and vibrant Adirondack chairs on the Boardwalk outside of Kesselman Hall, Ospreys should take a moment to see if one of their peers is the artist behind the art.
Four students created original themes and hand-painted one of the chairs, which were installed along the Boardwalk in August.
The students – Caitlyn "Frenchy" Hroncich, '23, Faeryn Meza, Ian Lawrence and Camryn Wilson – were tapped for the project, which is part of a public art installation spearheaded by the Casino Reinvestment Development Authority (CRDA).
"This art project serves as another example of how we link Stockton University, our students and faculty, in collaboration with our AC community partners to better serve the public in this wonderful artistic beautification project," Brian K. Jackson, chief operating officer for the Atlantic City campus, said.
Jackson reached out to Hannah Ueno, professor of Art, who recruited the students and had them submit sketches of their design ideas during the spring term. They were provided art supplies funded by Stockton's Atlantic City Campus Operations office and completed the project during the summer.
"Each of their artwork is unique and carries timeless themes — the cycle of life, nature, hope," Ueno said. "The students were very excited to work on this project that would be seen and be enjoyed all year round in the public setting."
Hroncich, a Colonia native who graduated this spring, at first couldn't decide what the theme of her chair should be.
"Ultimately, I chose a gambling theme since Atlantic City is known for its many casinos," Hroncich said. "I enjoyed this project very much. Possibly down the road, I can see myself in another public art installation, but for right now, I'm about to leave for flight attendant training with United Airlines."
Meza – who hails from the Bronx, New York – was excited to participate in the project after Ueno approached her for it after class. Her design includes betta fish amongst bubbles and yellow stripes, which she described as a "nautical scene."
"Along the way, I decided to name it the prosperity chair as these types of fish represent prosperity," Meza said. "With this project being a beautification of the AC Boardwalk, I thought having a beautiful warrior be the star of my chair very appropriate, especially with how current events in our world are playing out."
Lawrence, a Hospitality, Tourism and Event Management major, saw the opportunity in a newsletter from the Art Club. He decided to join the project and designed his chair to reflect himself and his time at Stockton.
"The pink fish scales represent Atlantic City, the green leaves represent Galloway and the pineapple yellow pattern represents the hospitality program," Lawrence said. "This project was the highlight of my summer: I had creative freedom, no shortage of ideas and it was the first project where I worked with a formal budget."
Wilson, the only student born and raised in Atlantic City, ultimately saw this project as an opportunity for both creativity and impact on the community she lives in. At first, she challenged herself to keep her chair "unpredictable" and looked for ways to still keep it "summery."
"But I realized in doing so I wasn't allowing myself to truly do what I wanted to do," Wilson said. "Therefore, I compromised: I decided to still have a summery feel by incorporating jellyfish but also only using cool colors as opposed to relying on warm colors for a summery feel."
Both Jackson and Ueno expressed their gratitude to Rick Santoro, executive director of the Special Improvement Division of the CRDA, and his team for helping support the project by providing the chairs, transporting them to and from campus and installing them on the Boardwalk.
According to both, this project should be the first of many with the Visual Arts program and the Atlantic City campus.
"My hope is that we can expand on this project by having students in the Art program facilitate additional Adirondack chairs next spring," Jackson said. "Professor Ueno has been very gracious in working with us to identify some of our talented students to design and paint their unique art creations on these chairs, which will be seen and enjoyed by millions of people over the next many years the chairs remain in front of Kesselman Hall."
More Atlantic City Projects
Students Collaborate with Artists to Create Atlantic City Murals
Atlantic City, N.J. — Alexandria Montalvo never thought artwork she helped create could have such an impact.
The senior Stockton University student put the finishing touches July 14 on a new wall mural in Atlantic City to honor four African American education trailblazers. The mural is one of two finished this week in time for the NAACP National Convention, which is taking place in the city for the first time since 1968.
A.C. Community Day and Party in the Park Grows in 2nd Year
Atlantic City, N.J. — What better day to have a community clean up than Earth Day? And what better place to do it than on the beach?
That's what Stockton University alumna Cindy Verderber figured when she signed up to volunteer for the second annual Community Day Clean Up on April 22.

– Story by Loukaia Talyor
– Photos by Susan Allen, submitted