Students Celebrate Staff, Faculty at Annual Dinner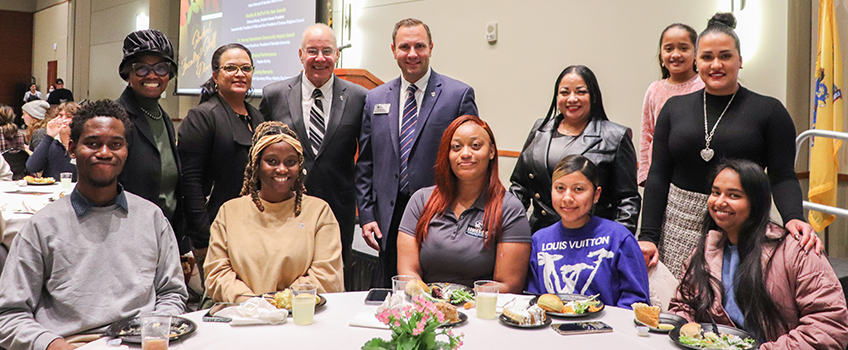 Galloway, N.J. — Laughter rang throughout the Campus Center Event Room as nearly 200 students, staff and faculty members celebrated the Stockton community in-person for the first time since 2019 at the 38th annual Student, Faculty and Staff Dinner on Nov. 17.
"What's really unique about this event is that it gives students an opportunity to invite a faculty or staff member," Brian K. Jackson, chief operating officer of Stockton Atlantic City and this year's Master of Ceremonies, said to open the evening. "It's a way for our students to say, 'Thank you.' And what better way to do so than the beginning of the holiday season."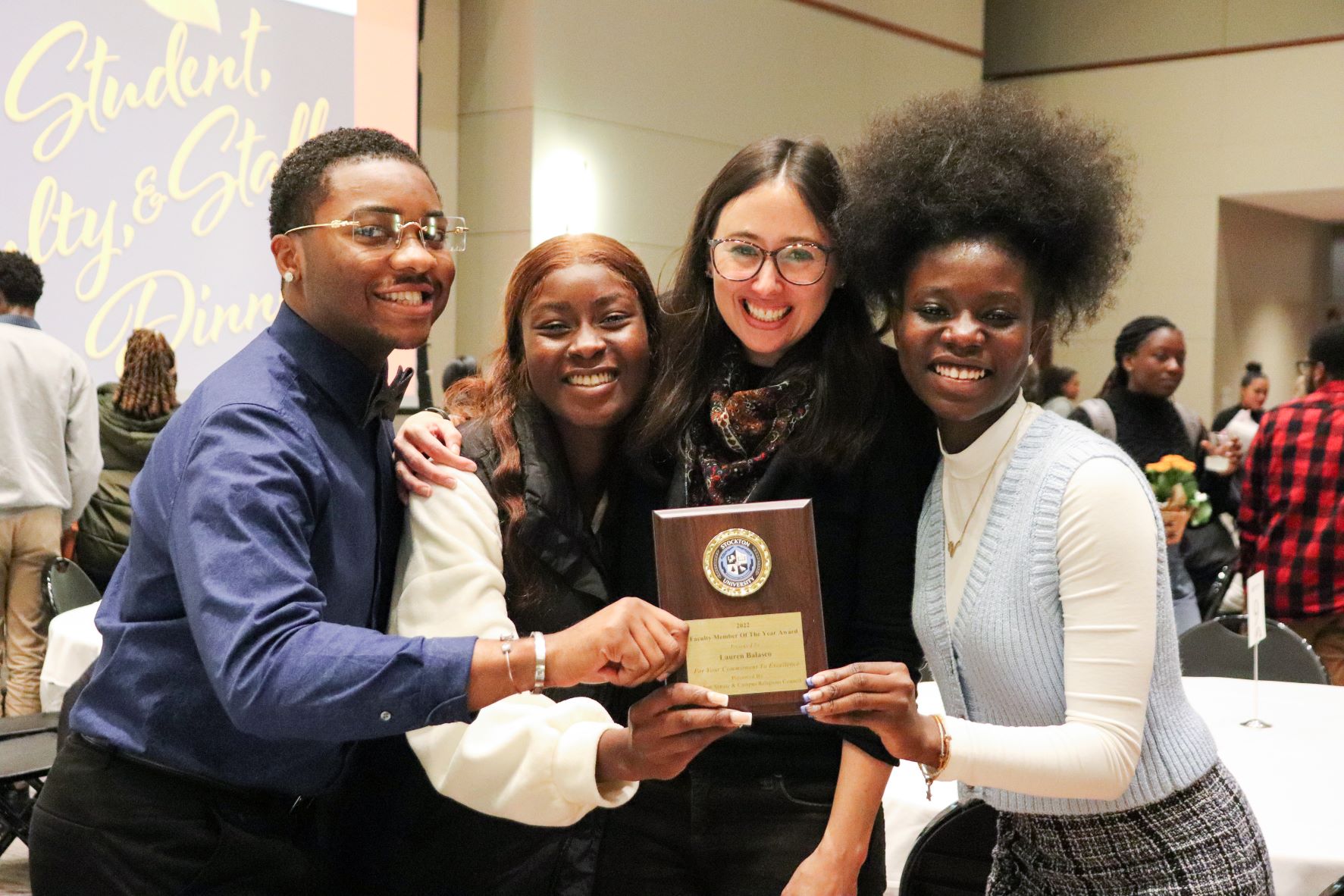 Brianna Bracey, Student Senate president, presented the Faculty Member of the Year award to Lauren Balasco, assistant professor of Political Science.
Students said Balasco embodies what a phenomenal professor should be.
"I, firsthand, have seen her teaching abilities and how she goes above and beyond to ensure that her students are not only engaged and interested in the content, but they are mentally OK," Bracey added.
In addition to her work on Stockton's Refugee Studies Initiative, Balasco serves as the faculty advisor for Amnesty International and coordinator of the Global Studies minor.
The award for Staff Member of the Year was presented to Ribon Kareem of the Chartwells at Stockton dining team by Samantha Bell, president of Stockton's Hillel club. One first-year student who had an issue with how their meal plan worked said Kareem took the initiative to explain the necessary information in "the most patient and kind way."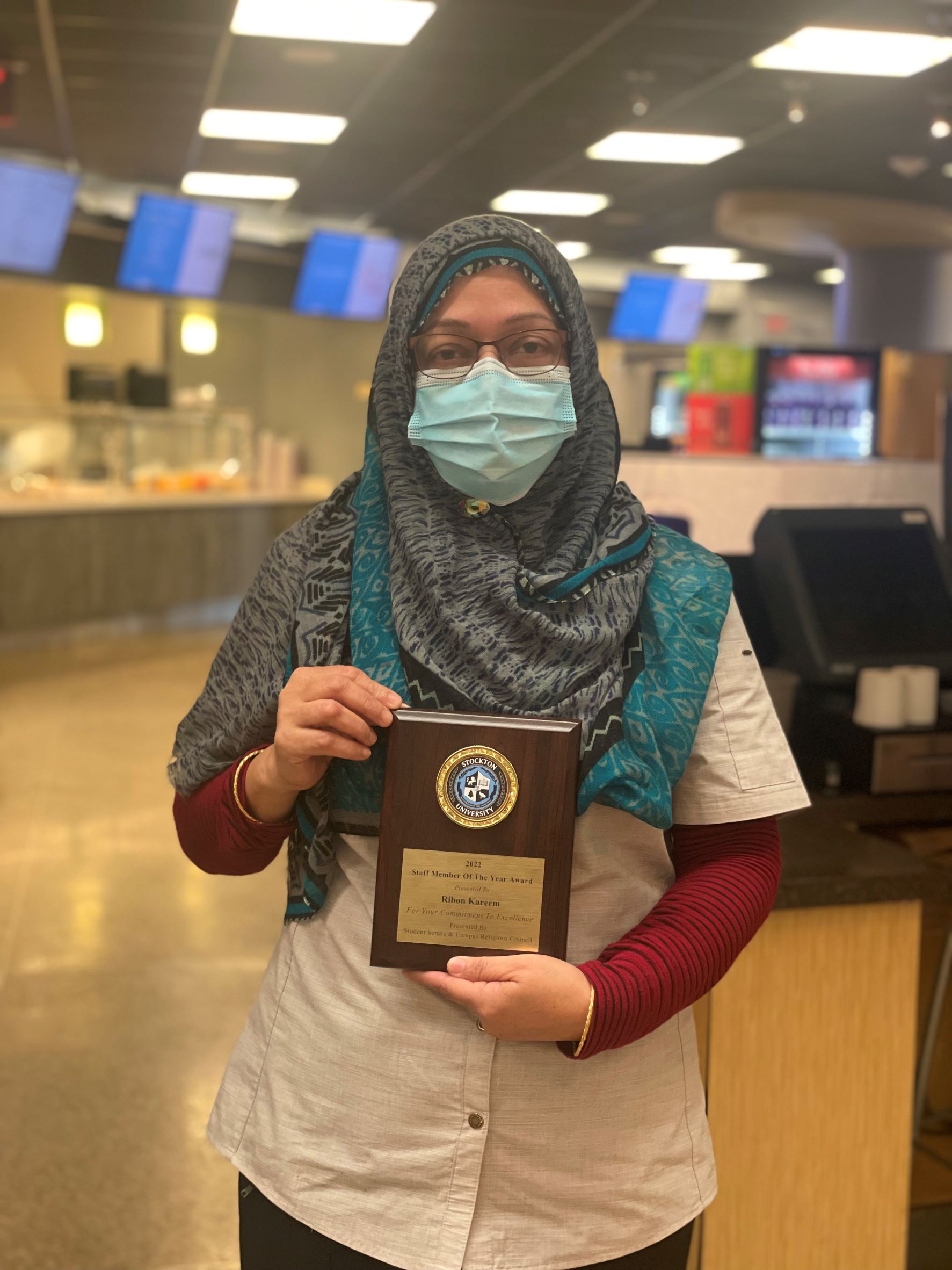 Stockton President Harvey Kesselman presented two Community Impact Awards to Jessica Grullon, associate director of Admissions Services, and Alicia Jenkins, a senior Mathematics major with a concentration in Education and double minors in Africana Studies and Childhood Studies.
Grullon designs and works with campus partners to create numerous successful recruitment events for prospective students and their families. She also serves as the faculty advisor to Los Latinos Unidos. She provides leadership to Unidos, a Stockton employee organization that aims to expand cultural and historical awareness of the contributions of the Latino and Hispanic community. Grullon actively contributes to the Hispanic Heritage Month planning committee and has been involved with the First Ospreys and TogetHER mentoring programs. Additionally, she is the vice president of the Hispanic Association of Atlantic County.
Joined by mother, Yubi Peña, and daughter, Mila, the moment was bittersweet for Grullon.
"My grandfather just passed away on Friday, and I think this is perfect timing because he really showed and instilled in me everything that I am, that I believe in, why I give back to the students and community," Grullon said.
Before Jenkins stepped up to the podium to accept her award, President Kesselman said he doesn't think "any student in the history of Stockton has done more than her."
Jenkins serves as a Resident Assistant, math and writing tutor, student senator, EOF summer academy tutor, the Public Relations coordinator for Urban Light and is also a winner of the Miss Black and Gold pageant. In spring 2022, as part of her Board of Trustees fellowship, Jenkins coordinated the Osprey Excellence Experience with the aim of uniting students of color as leaders on campus. She recruited 30 students to help facilitate the project and inspired others to do the same.
"I just want to give all the knowledge I've acquired and learned to help somebody else because that's what life is about," Jenkins said. "Not only growing, but reaching back and giving it to others that are important to you."
In the future, Jenkins plans to coordinate more projects and initiatives that bring increased diversity to campus and help students of color grow as leaders.
The evening also featured musical performances by Imani Mensah and Hayden Garrity.
The 38th annual Student, Faculty and Staff Dinner was sponsored by Hillel, the Student Senate, Campus Religious Council and the Office of Student Development.
Click here to view more photos from the evening on Flickr.
Reported by Eliza Hunt
Photos by Eliza Hunt, Frankie Martinelli-Noble and submitted by Stockton community members