Four Receive Board of Trustee Fellowships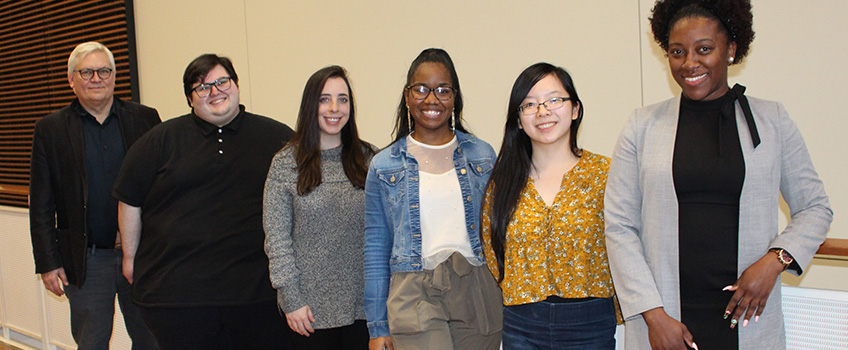 Galloway, N.J. - Four students were awarded fall 2021 Board of Trustees Fellowship for Distinguished Students awards at the December board meeting. They are:
Awardee: Alicia Jenkins - Senior, Mathematics major, Africana Studies minor
Advisor: Dr. Terri Carr, Director of Career Education and Development
Project: The Osprey Excellence Experience
The Osprey Excellence Experience is a two-day event targeting students of color to raise their awareness of resources available on and off-campus and provide information that will impact their career readiness. Day one consists of professionals and alumni from various fields sharing opportunities and the necessary steps students need to take after graduation. Day two consists of students participating in several etiquette sessions that detail business, corporate, and social etiquette including time management, attire, and politeness. Student groups such as EOF, Sankofa, TogetHER: Women of Color, and volunteer students and faculty will participate in fashion show of professional attire.
Awardee: Nichole Data - Junior, Health Sciences Major, Pre-Communications Disorders
Advisor: Erin O'Hanlon, Coordinator of Service Learning
Project: The Future Leaders Program of the Salvation Army
The Future Leaders Program of the Salvation Army seeks to address systemic undermining of self- and community-based efficacy in Atlantic City by following best practices of community schools and childhood development. Little work has been done in Atlantic City to directly address the cyclical nature of discrimination and poverty via education. This proposal seeks to develop engagement with education and career paths among 13-18-year-olds by building self-confidence and citizenship. It also emphasizes building lasting support systems via civic engagement and community partnerships. To do so, it works through the Atlantic City Salvation Army's after-school initiative to 1) establish a network of partnerships 2) encourage the potential of students by addressing individual needs, interests, and abilities and 3) address barriers to optimal development such as stress/traumatic events, low economic opportunity, and deficits in executive function. It will also focus on establishing mutually-beneficial relationships with local organizations/schools and Stockton University-affiliated programs and Atlantic City Salvation Army. Fellowship monies will fund purchase of classroom resources, event supplies/spaces, field trips, and staffing/involvement of community partners.
Awardee: Anna Maria DiPhillipo – Senior, Health Science Pre-Communication Disorders major
Advisor: Jennifer Drencheck-Cris, Adjunct Faculty
Project: Getting on Board with Augmentative and Alternative Communication (AAC)
The purpose of this project is to provide a more inclusive environment for all children by installing an Augmentative and Alternative Communication (AAC) board at a local playground (Imagination Station Playgorund, Galloway, New Jersey). The project supports AAC, an evidence-based practice (EBT) used in treating speech and language disorders. The project will grant those with communication disorders the ability to better communicate with their fellow peers and loved ones, a necessity for driving children's neurological and social development. A community-based AAC Playground board provides not only individuals with complex communication needs a tool for functional communication, but also is a resource so that communication partners can model to increase language opportunity in a fun and functional environment. The project involves civic engagement, working towards making a difference in the community. It involves experiential learning by fostering creativity and problem-solving. This project also focuses on social justice, working on creating a more equal environment for all. Providing children who may feel left out or different a tool to feel included, will help them believe more in themselves and the world around them.
Awardee: George Quinn, Senior, Political Science major
Advisor: Dr. Michael Hayse, Associate Professor of History
Project: Profiles of Local Holocaust Survivor Owned Businesses
This project aims to create a public exhibition documenting businesses established by Holocaust survivors in Atlantic, Cape May, and Cumberland counties. Beginning in the late 1930s, hundreds of Holocaust survivors arrived in the South Jersey area. Most of these refugees settled on poultry farms. By the mid-1960s, these farms were no longer economically viable. Many enterprising Holocaust survivors established businesses, which ranged from modest service companies run their homes to restaurants and hotel chains, perhaps several hundred companies in all. These businesses provided these immigrants the opportunity to establish financial security for their families, put children and grandchildren through college, and integrated their families into the region's community. My goal is to tell the story of these Holocaust survivor businesses and their contributions to the local community to a broader audience. That audience includes, but need not be limited to, affiliates of Stockton and the greater community of South Jersey.