Faculty, Staff Recognized at Annual Event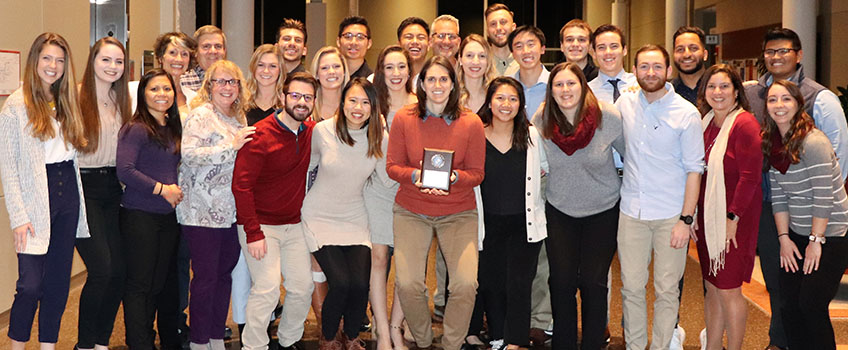 Galloway, NJ -- The 35th Annual Student, Faculty and Staff Dinner drew hundreds to the Campus Center Event Room Nov. 21 to celebrate the passion and support among the Stockton community.
Student Senate President Arianna DeFillippo and Tahreem Rajput, president of the Campus Religious Council, presented awards to Lauren DelRossi, associate professor of Physical Therapy, and Brian Pluchino, assistant director of Residential Life Facilities and Student Retention.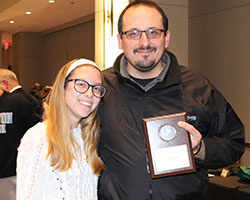 In nominating DelRossi for Faculty Member of the Year, students said she is dedicated to ensuring students understand the program material and that curriculum is updated and accurate.
Pluchino was named Staff Member of the Year for "always serving students to the best of his ability," as well as his roles as club adviser to Circle K and Relay for Life.
President Harvey Kesselman presented the Community Impact Award to Joseph Rubenstein, professor of Anthropology. "This year's honoree is an individual who exemplifies the spirit of the Stockton community," Kesselman said. "Our honoree has spent his entire career helping this university and his students discover what they care about."
Rubenstein began his Stockton career in 1972. In addition to his contributions to the classroom, he developed community garden initiatives, helped create partnerships with schools throughout the area and organized food and clothing drives during the last five decades.
This was the 35th year Distinguished Professor of Physics Yitzhak Sharon served as master of ceremonies at the annual dinner, which is sponsored by Student Senate, Hillel, Campus Religious Council and Office of Student Development.
View more photos of the event.
# # #
Contact:
Stacey Clapp
Director of Digital Engagement
Stockton University
Galloway, N.J. 08205
Stacey.Clapp@stockton.edu