Summer Academy
The goal of the EOF summer program is to introduce initial students to the academic and social demands of college life and prepare them for transition into the fall semester. Whether in Galloway or Atlantic City, the summer academy will provide EOF scholars a unique and rewarding experience that will help them develop a college mindset and enhance foundational knowledge and skills that they will apply to the academic year and beyond.
SAVE THE DATES:
A required program overview will take place on Saturday, June 4, 2022 from 10 AM to 1 PM (families are encouraged to attend as well). At this session, we will address questions regarding the EOF program and services, funding model, summer academy, and academic year program.
Incoming EOF scholars must complete the 2022 Summer Academy, scheduled for Saturday, June 25 to Thursday, July 28. The 2022 academy will be in person. EOF scholars will have two weekends off-campus during of the academy. Additional information will be provided on June 4th.
EOF Scholars will take the AccuPlacer placement test on Sunday, June 26. You may disregard any invitation to schedule a placement test.
EOF scholars will participate in New Student Orientation on Tuesday, July 5. You may disregard any communication about registering for orientation, as you will be registered upon submitting your confirmation of participation.
The EOF summer academy includes:
FREE credit-bearing classes
FREE on-campus housing and meals
FREE textbooks
Loaner calculator
Structured afternoon and evening study modules
Individual and small-group tutoring
Workshops to connect students with campus resources
Opportunities to engage in service-learning (Atlantic City EOF)
Improving your time management
Learning to flourish in a fast-paced environment
Familiarize yourself with the Galloway and Atlantic City campuses
Social activities
Overcome barriers to academic success
Learn about various clubs and organizations
Enter college in the fall term with a stronger foundation
Improve your self-confidence
Sample Schedule: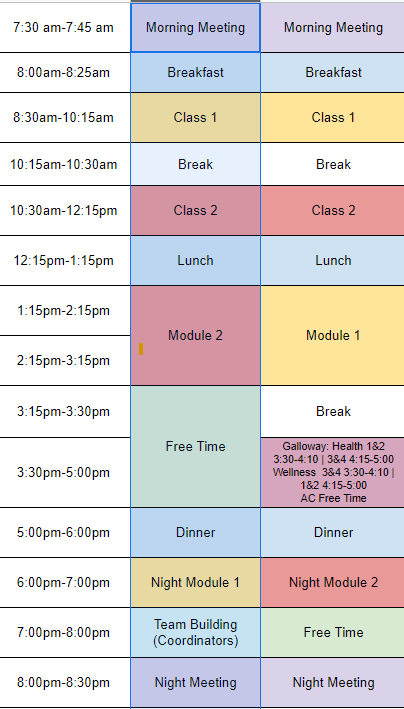 Students Participate in the Following:
Academics
College-level Mathematics (2 credits)
College-level Reading (2 credits)
Workshops from various campus resources
Accuplacer pre- and post-test
Fall course registration at culmination of Summer Academy
Tutorial Services
Individual and group tutoring
Assigned instructional assistant
One-on-one meetings with faculty
Counseling/Advising Services
Assigned EOF advisor/counselor
Wellness screenings
Mindfulness exercises
Referral to other campus offices as needed
Interpersonal Connections & Activities

Summer Academy participants are given the opportunity to participate in a variety of activities and workshops designed to help students establish meaningful conections with students, faculty, and staff.
Workshops with Sankofa and togetHER
Connect with continuing EOF students for peer mentorship
Tuition, fees, books, housing, meals and activities are funded through the Office of the Secretary of Higher Education/EOF and Stockton University