President Kesselman Tells Graduates to #BeExtra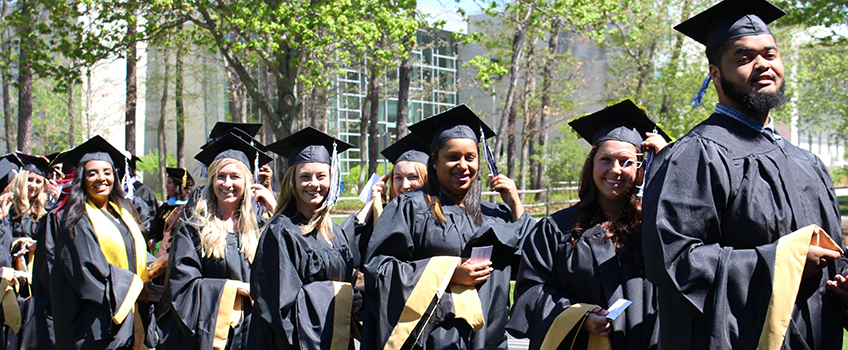 Galloway, N.J. _ Stockton University President Harvey Kesselman urged participants in the Graduate Commencement on Tuesday to "make your mark on the world and #BeExtra."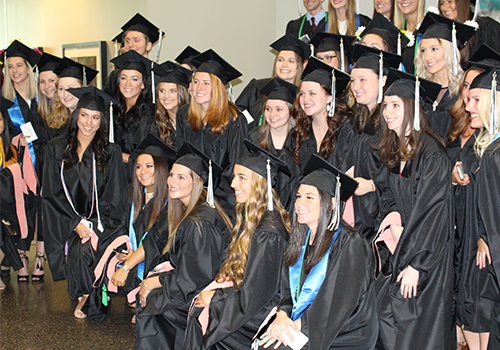 "For all of you here today, the ladder of your successes has no upper rung," Kesselman said. "So if I could impress just one idea upon you today, it would be this: remember to be more than just your position. Be more than just your title. Be the one who makes an impact. In other words 'Be Extra'."
As the speech ended, #BeExtra and #StocktonU flashed on the large video screen in the Sports Center, where more than 1,000 guests attended the ceremony..
This year's Doctoral and Master's Ceremony honored 257 graduates, including 31 candidates who earned a Doctor of Physical Therapy, and 226 who received master's degrees in 12 disciplines including Social Work,Criminal Justice, Environmental Science, Data Science and Strategic Analytics,Business, American Studies, Education, Instructional Technology, Holocaust and Genocide Studies, Communication Disorders, and Occupational Therapy.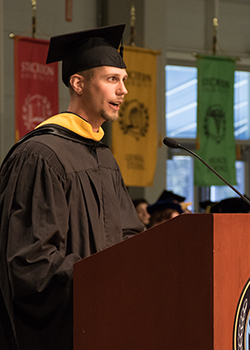 Student speaker Michael D'Imperio, who earned his Professional Science Master's in Environmental Science, said commencement is just accomplishment in the graduates' futures. D'Imperio, who developed a sustainable urban garden in Atlantic City and began a startup company, AgroSolutions NJ, said he is still "crossing his fingers and hoping that this next step will be my big break and everything will work out."
He encouraged the graduates to keep working toward new goals, even if they sometimes feel unsure.
"It's okay to be unsure of exactly what happens next," he said. "Trust yourself, hold your head high and put one foot in front of the next and you will end up exactly where you need to be."
Among the group of Master of Business Administration recipients were 16 employees of AtlantiCare who earned their MBA in a special partnership with Stockton. The participants come from different departments at the hospital and said being in the program has helped them better understand the operation of other departments and the medical system as a whole.
"It has helped us understand the finances of health care and be better managers," said Dr. Brian Isaacson, assistant chair of the Department of Psychology.
Kesselman recognized six members of the class who are active duty or military veterans. They are Ryan Hutton, Dylan Hutton, John Kayes, Christopher Bird, Michelle Marks and Kelly Collins.
Stockton Boards of Trustees Chair Madeleine Deininger '80, welcomed the graduates as alumni and encouraged them to remain involved with Stockton and its Alumni Association.
Stockton's Undergraduate Commencement Ceremony will take place at noon Friday, May 11, at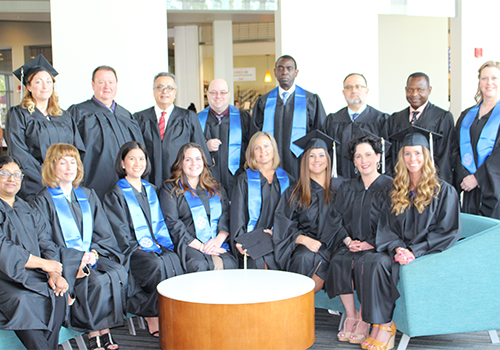 Jim Whelan Boardwalk Hall in Atlantic City. More than 2,000 students are eligible to participate and more than 10,000 guests are expected.
View a gallery of photos on flickr.
List of Candidates for the Doctoral and Master's Degree
# # #
Contact:
Diane D'Amico
Director of News and Media Relations
Galloway, N.J. 08205
Diane.D'Amico@stockton.edu
609-652-4593
stockton.edu/media