Angel Cordero '20
Angel Cordero
Hometown: Woodbridge, NJ
Class Year: 2020
Major: Political Science
Military Rank: Senior Airman, U.S. Air Force

---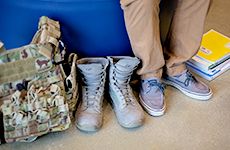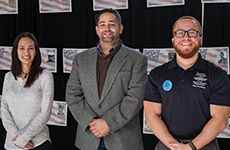 Why did you choose Stockton University?
My younger brother, Steven Cordero, graduated with a Biochemistry degree and always spoke highly of Stockton. When I began looking into colleges and universities while living in California, I made sure to put Stockton in my top three schools. As I researched more about Stockton, I found out they were ranked sixth in the nation by Military Times as a "Best for Vets" college (in 2016), and that sold me immediately. Faculty helped me throughout the application process and painted a friendly and familiar environment.
What have you gotten out of your academic program so far?
I have gained insight into just how large the career field in politics is. I have also learned that politics plays a much bigger role than we all think, and we can find it within the inner workings of many career opportunities. Being able to broaden my horizons and take courses in many different departments such as Criminal Justice, Economics and Psychology help me feel more well-rounded not only as a student, but as a person.
What opportunities have you had at Stockton?
Stockton has provided me the resources I need to achieve levels of success that I could not have dreamt of ever doing. Once I got involved on campus, I began networking and establishing great relationships with all those that would give me a second of their time. So not only did I know people, but they knew me and were willing to offer me opportunities.
I went on an all-veterans trip to Greece for 12 days over spring break to places such as Sparta, Olympia and the island of Ithaca. I have had the opportunity to go to Denver for a program called ACUHO-I (Association of College and University Housing Officers - International) Stars College and attend their conference and expo there as well. I went to Disney World in Orlando for the Student Veterans of America conference where I had a chance to network with student veterans from all around the country, with Stockton's Student Veteran Organization and the Office of Military and Veteran Services. Additionally, I was able to speak with potential graduate schools and veteran friendly employers. I am now working toward an internship at another university through ACUHO-I. And I find that a big reason I have had these opportunities is due to the platform, mentorship and faith that those at Stockton have given me.
How is Stockton preparing you for the next chapter of your life?
Stockton has prepared me by constantly challenging me and providing opportunities to explore bigger roles. From not knowing what I wanted to do my freshman year and commuting three hours a day, to living on campus as a Resident Assistant and getting involved, I find myself constantly growing and progressing. Knowing that I want to continue into a master's program in Student Affairs/Higher Education, most of the positions I currently hold on campus give me experience in that field and it is slowly setting me up for success. Whether it's being on call as an RA, giving tours as an Admissions Ambassador, being a voice of veterans as the vice president of the Student Veterans Organization or many other roles, I know that I can make positive impacts.
What are your career goals?
I plan to graduate with a master's degree in Student Affairs and hopefully start my career in a role where I can assist veterans transitioning out of the service and into colleges and universities. I can give back and be a positive and influential role model the same way many have mentored me.
---