Enrollment Checklist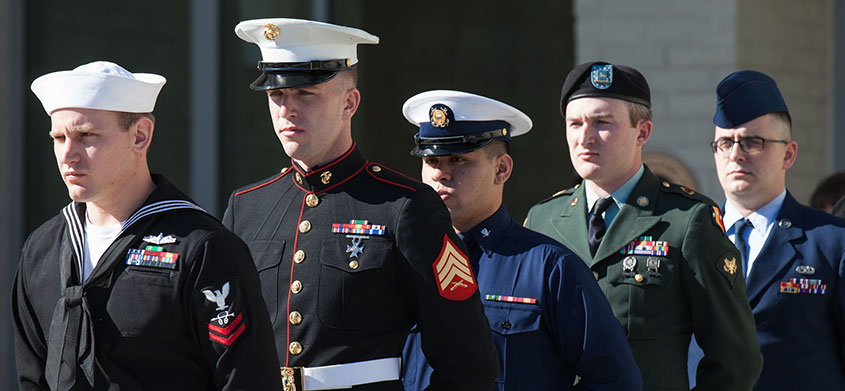 SUBMITTING YOUR APPLICATION TO OUR ADMISSIONS OFFICE
Return all required materials from your acceptance packet as soon as possible to the Admissions Office.
Please note that the $250 acceptance fee is waived for veterans and service members. However, please return the completed acceptance deposit card and write "Veteran" or "Active Military" at the top. Do not send the $250!
If you haven't done so already, send all transcripts to the admissions department (this includes all colleges you attended, if any).
To obtain your military transcripts go to: http://www.acenet.edu/news-room/Pages/Transcripts-for-Military-Personnel.aspx
Send transcipts to: Stockton University, Admissions Office, 101 Vera King Farris Dr., Galloway, NJ 08205-9441

Print out, complete and submit the

Student Refund Form
Attend orientation – you will get an email in your GOPortal email account regarding orientation dates. You will be able to register for classes during orientation.
TO THE FINANCIAL AID OFFICE
Begin benefits paperwork process (CC-201). Your contact person is Donna Garrity at ext 4984.
Complete the online VONAPP application at https://www.benefits.va.gov/vocrehab/.
All veteran students and service member must complete a FAFSA application (www.fafsa.gov) Through the FAFSA application you will find out if you are eligible for certain grants both federal and state. If your tuition is not being covered 100% you will be advised if you are eligible for certain student loans.
Guardsman and Reservists must provide commander certification.
IMMUNIZATION DOCUMENTATION
Provide your immunization documentation to the Health Services Office (WQ 108). Forms are included in the acceptance packet.
TUTORING CENTER
If you are a freshman or are transferring fewer than 16 college credits, you are subject to Stockton College's first-year studies requirement. Please contact Pam Cross at 609-4389 in the Skills Center to discuss your placement and possible placement testing.
STUDENTS WITH SPECIAL NEEDS
Please refer to the Learning Access Handbook: Policies and Procedures for Students with Disabilities
Make an appointment with Bob Ross, 609-652-4988 he is located in J-204.
OFFICE OF MILITARY AND VETERAN SERVICES AND STOCKTON'S STUDENT VETERANS ORGANIZATION
Please visit the staff in the Office of Military and Veteran Services located in office F-109 and who will help familiarize you to Stockton and introduce you to our other student veterans. She will also take you on a tour of the college. Please call 609-652-4315 to set up a tour.
Stockton's Student Veterans Organization is an organization of our student veterans. Please join them in the Veterans Lounge located next to the Office of Military and Veteran Services in room F109g. Student Veterans Organization meetings are held the first Thursday of each month in F207 from 4:45-6:00 pm.
The Office of Military and Veteran Services works closely with Stockton's Career Center. Patricia Donahue in the Career Center will help you to put together your resume. She will also let veterans know of job fairs and job openings as they become available. Patricia Donahue is the Veteran's contact person for the Career Center at 609-652-3544 and is located in office CC-104m.
We further advise that you meet with your preceptor (academic advisor) at least once a semester.
Be sure to purchase the necessary books for your classes. If there is a problem please come to the Office of Military and Veteran Services.