Sustainability - Policy & Law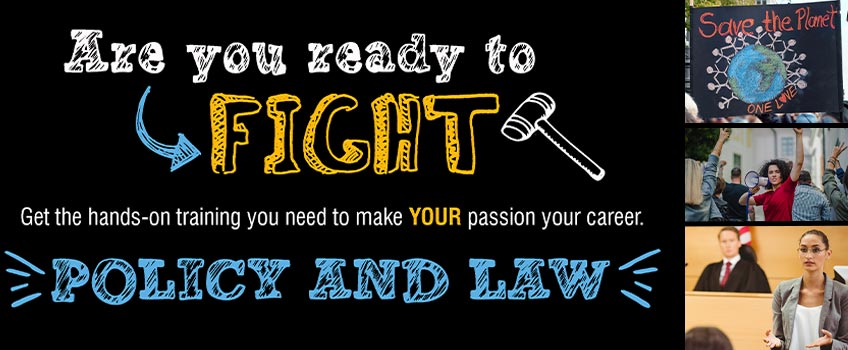 Student Video Testimonials
What is the policy concentration?
Students in the policy concentration focus their training at the intersection of public policy, economics, culture and law, all integrated in the context of global ecology, natural resource management, and technology. They explore the ways human society impacts the natural world; and they examine the long-term harm of human actions, from pollution and climate change to global water scarcity and hunger. They also examine the ways social inequality and injustice relate to these challenges. In fact, the program begins with the basic understanding that we cannot solve global environmental and health threats, unless we also recognize the ways they are entwined with questions of social justice, equity, and economic viability. With this understanding, students can then explore alternatives that address these threats. They can examine economic options, public policy and law, and business innovations, as perspectives in culture and psychology that may offer alternative pathways and promising solutions.
Students get training and experience in Public Policy, exploring environmental and social laws and policy alternatives that can help shape a more sustainable future. Students studying policy can shape their coursework to prepare for their chosen career path. They take courses in Natural Resources, Conservation and Wildlife Management. They can develop an understanding of International Development , and how we might better address global injustice, scarcity, and environmental threats. They may explore challenges in Environmental Planning and ways we might design and build more sustainable and livable communities. And depending on their interests, they explore topics in Social Justice, Economics, Psychology, Business and Public Health that can help us shape a richer, more just, and verdant future.
What sorts of courses do Policy Students take?
Like all Sustainability students, students concentrating in Policy begin with the basics, including courses in ecology, technology, ecological economics, and the natural sciences. Students pursuing the policy concentration, often add other courses in the social and behavior sciences, such as political science, sociology, psychology or anthropology, to offer a solid foundation to their understanding of public policy. Students also complete a focused set of courses that offer specific training in the policy field, including Environmental Policy and Law (SUST 3300), Global Health and Justice (SUST 3325), Natural Resource Policy and Law (SUST 3313), and they receive hands-on, real world training in a Policy Practicum (SUST 3351). Students also complete courses that offer professional training in grant writing, management, and professional writing.
It is important to note that the Sustainability program offers both a BA and a BS option with a POLICY concentration. Students that pursue the BA have more flexibility to take courses outside their major. So this can be a good option for student that want to pursue a second passion. Some students have pursued minors in the performing arts, languages, or philosophy for example. The BS alternative allows students to take a greater proportion of their courses in their major, enabling them to pursue more extensive training in conservation, policy, and sustainability by taking a larger number of courses in their major and related fields such as Marine Science, Environmental Science, Biology or Chemistry.
Every student selects from a list of possible electives that allow them to focus their education on their specific passion (with BA students choosing fewer course than BS students). The options include courses in sociology, economics, political science, environmental science, marine science, as well as advanced Sustainability courses and experiential projects like International Development (SUST 3701), Business and Sustainability (3320), and Sustainable Agriculture (SUST 3440).
Students in the Policy concentration often choose to pursue a minor to help prepare them for their career aims. These could include minors in Sociology, Africana Studies, or Political Science, for students pursuing a career in advocacy or nonprofit leadership. Those interested in business and industry, might chose to minor in business or economics, for example.
How long does it take to complete the policy concentration?
The Policy concentration is somewhat more flexible than the Energy or Agroecology concentration. So, students should have no trouble completing the degree in four years with proper guidance from their advisor. Transfer students who have completed an associates degree with a basic science curriculum and calculus should have no trouble completing a BS degree in two years of full-time study. However, students transferring from a community college without the required core science courses and calculus may find it difficult to complete the BS degree in two years. You may need to spend a bit more time catching up on the basic science courses, or it may require a few summer courses. Generally the BA degree offers a bit more flexibility for transferring students who are not adequately prepared in the sciences, allowing them to graduate in two years more easily, However, we strongly urge you not to choose your course of study based on a graduation date. Instead, choose the concentration that get you where you want to go.
What kind of job can a policy concentration get you?
The students who complete the policy concentration pursue a wide range of career alternatives, Many work in the nonprofit world. Often they work for advocacy groups that promote environmental stewardship or social progress. Some choose to work in Washington DC, Trenton or another center of political action, advocating for change and promoting sustainable policy options. Others focus their efforts more locally, building careers in community development, and working with a variety of organizations that focus on everything from community tree planting to wetlands conservation, from public health to fair housing.
Some pursue careers in the public sector, working with state agencies such as the Department of Environmental Protection, or Federal agencies from the Department of Agriculture to the National Park Service. And again others choose a more local focus, working with municipal and city offices. As an increasing number of cities across the nation develop a greater focus on sustainability, these job options are likely to increase.
Careers in the private sector are not uncommon for students with a policy concentration. Business and industry are showing increasing interest in sustainability and environmental stewardship. A policy concentration is an excellent starting point for a career promoting green innovation and sustainable practices in industry and business. This can include everything from helping companies meet environmental and health policy requirements to helping create new and innovative green products.
It's not uncommon for Policy students to continue their education after graduation. Some choose to study Environmental Law, and have gone on to some of the nation's most prestigious law schools. An interest in municipal planning has led many to pursue an advanced degree in planning and become Certified Planners. Still others have gone on to study sustainability at some of the nation's leading graduate centers on sustainably and climate change, such as Columbia University's Earth Institute and UC Berkeley's Energy and Resource Group.
What are the career prospects with a policy focus?
The career prospects vary widely and are largely defined by the student's interest and enthusiasm. The concentration in Policy offers a broad foundation to build upon. It can open up options in community development, nonprofit management, advocacy, public policy, education, business and industry, depending on how you choose to focus your studies. Business interest in sustainability, social responsibility and environmental stewardship is growing, and the number of nonprofits and community organizations focused on sustainability is also seeing notable expansion. So, future prospects look very good.
Working closely with a faculty advisor to identify courses, projects and internships that provide the right training and experience can help make Stockton's Sustainability degree a launch pad for your ideal career. Our graduates have found a wide range of interesting careers, including Sustainability coordinator at a ski resort, building sustainability consultant, national park guide, community organizer, program manager at an energy nonprofit, housing advocate, and conservation officer.
Additional Information
For more information on the Sustainability policy concentration and the sorts of careers available to this profession, contact:

---