Schwarzenegger Brings Message of Strength Against Hate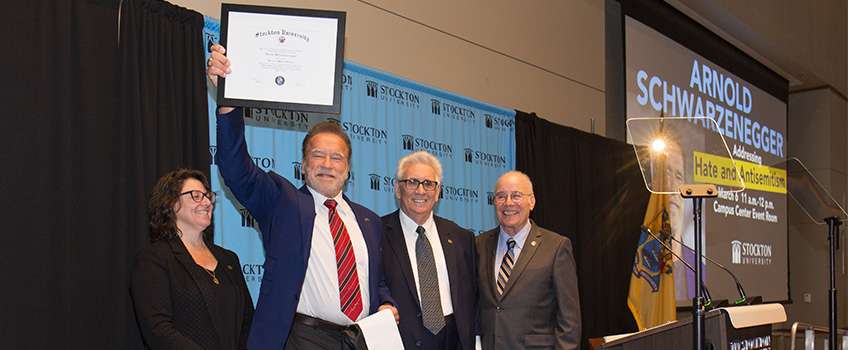 Galloway, N.J. — Arnold Schwarzenegger has spent most of his life helping people build their strength.
"Your muscles only grow from resistance. It wasn't easy. It was uncomfortable. Your mind and character are no different than your body and muscles," the former bodybuilder told Stockton University students and guests during his presentation centered on terminating hate Monday, March 6.
"It is easier to hate than it is to learn. Easier isn't better," said Schwarzenegger, star of several blockbuster films including "Twins," "Kindergarten Cop" and "Predator."
More than 600 students, faculty, staff and invited guests, including Holocaust survivors and their families, turned out to hear Schwarzenegger's message.
He began his visit at the Sara & Sam Schoffer Holocaust Resource Center on Stockton's Galloway campus, where he met with local Holocaust survivors and their families and learned about the internationally recognized center, which preserves and shares the history of the Holocaust and life stories of South Jersey survivors.
Schwarzenegger was born in Austria two years after World War II to a former Nazi soldier. Since serving as 38th governor of California, Schwarzenegger has been outspoken about fighting antisemitism and hate. Last September, he toured the Auschwitz concentration camp in Germany.
"How do we stop this from happening again? After a visit to Auschwitz, you will never question why 'never again' is a valid cry of the people who fight to prevent another Holocaust.
"Today, I don't want to preach to the choir. I want to talk to the people out there who may have stumbled on their path. … I want to talk to you if you found yourself thinking anyone is inferior or out to get them because of their religion or color of skin.
"I've seen people throw away their future because of hateful beliefs," he said, calling his father "a broken man who had to drink to numb the pain."
"If you find yourself at a crossroads wondering if the path of hate may make sense to you for one reason or another, I want you to know where that path ends. You will not find success on that road. You will not find fulfillment or happiness."
Instead, Schwarzenegger encouraged the audience to choose a life of strength.
"It's not easy to look in the mirror and change your own life. Discomfort is how we grow strong," he said. "You have to struggle to build strength."
Schwarzenegger recounted how he struggled through pain and adversity to build muscle and go on to be one of the top bodybuilders in the world before transitioning to careers in film and politics. "The first part of my life was about me. I've got to do things now that are for the world."
Schwarzenegger said he was impressed with Stockton's work. "Stockton University is known for its work studying the Holocaust and fighting hate and fighting for inclusion," he said.
President Harvey Kesselman presented Schwarzenegger with an honorary Doctor of Public Service degree. "This morning, we honor an individual whose artistic career, dedication to public service and extensive philanthropy exemplify Stockton's values. He is one of the most extraordinary individuals of our time, whose commitment and success in the entertainment industry, and his government, public policy and non-profit work has earned him a place among Stockton's," Kesselman said.
Students, who know Schwarzenegger from his role as "The Terminator" and his influence on the bodybuilding community, packed the audience.
A trio of students at the head of the line — Jared Handelman of Hillsborough, Max Eisenman of Manalapan and Casey Akumuo of Washington Township — arrived by 6:15 a.m., ensuring themselves a spot right in front of Schwarzenegger.
Handelman, a Marine Biology major and proud member of Stockton Hillel and Stockton Powerlifting, considers Schwarzenegger an "icon" and says that this opportunity is an "honor."
"He's such a role model for students, as well as lifters," the sophomore said. "I have a real, emotional, connection to this event. This is a great opportunity, and I'm going to embrace it."
Eisenman, a junior in Psychology and member of Hillel, has been "shaking in his shoes" since the announcement of Schwarzenegger's visit to campus and was one of the first people to buy get tickets.
"I'm on the track team and right when I finished my run, I ran right into the Campus Center and got the ticket from my Rabbi," Eisenman said. "Especially coming from a Jewish student, this is really special to see: a really good talk about a really important issue that I feel like we seem to hear about a lot in the news, country and world, and to hear it brought to life by a figure like Arnold here at Stockton is extraordinary."
— Story by Stacey Clapp
— Photos by Bernard DeLury and Vernon Ogrodnek