Stockton Mourns the Passing of Lt. Gov. Sheila Oliver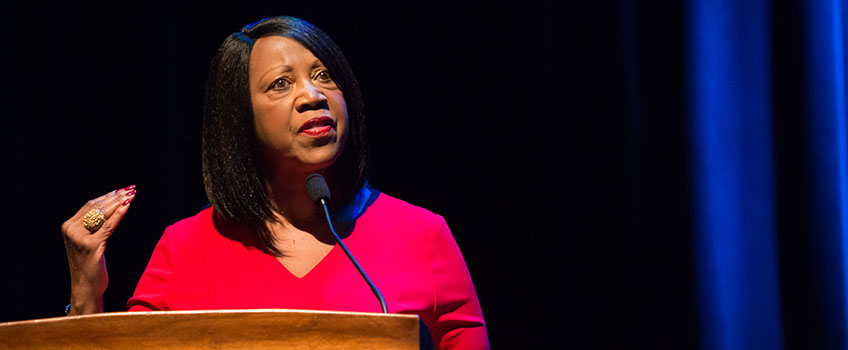 Dear members of the Stockton community,
It is with sadness that I inform you of the passing of New Jersey Lt. Gov. Sheila Oliver. A distinguished public servant, educator and advocate for social justice, she dedicated her career to making New Jersey a better place for all its citizens.
Oliver spoke at the 2018 Fannie Lou Hamer Human & Civil Rights Symposium at Stockton, where she emphasized the importance of women, especially women of color, in politics.
"If your voice is not in the room, you cannot change anything," she said. "I like the phrase that leadership is the only ship that does not return to port in a storm. Let us stop the political divisiveness. Let us band together and we can change the course of history in this country."
Oliver was no stranger to Stockton or our mission of developing engaged citizens. She visited campus and spoke with political science students in 2012 as part of the Legislator-in-Residence program, sponsored by the William J. Hughes Center for Public Policy. She also celebrated the groundbreaking of Stockton's Phase II expansion in Atlantic City in 2020, the establishment of the Esports Innovation Center in 2021 and was awarded a Doctor of Public Service degree at Stockton's 2023 Commencement.
As lieutenant governor, Oliver oversaw state control of Atlantic City through the state's Municipal Stabilization and Recovery Act and has been a strong advocate for its revitalization. She provided unwavering support for Stockton's expansion into the city and our mission to be an anchor institution and economic driver in the region.
Oliver served in the New Jersey General Assembly from 2004 to 2018, where she made history in 2010, by becoming the first African American woman in state history to serve as Assembly speaker.
Stockton mourns the loss of this trailblazing leader, and we are forever grateful for her dedication to the State of New Jersey and to Stockton University.
Regards,
Joe Bertolino, Ed.D.
President, Stockton University