Community Mourns Passing of K-9 Hemi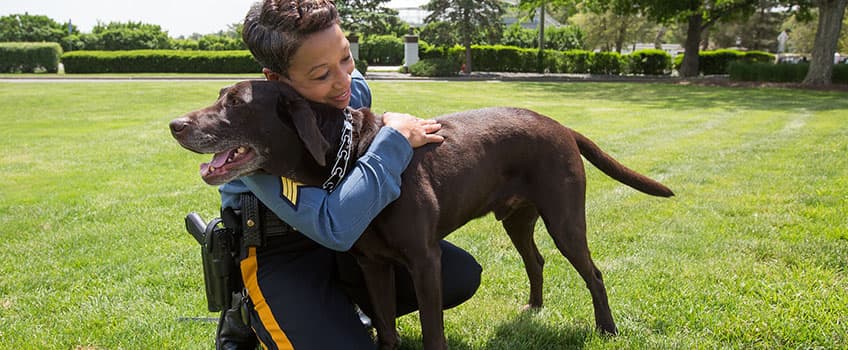 Galloway, N.J. – Retired Stockton University K-9 Hemi passed away this week, just shy of his 14th birthday.
Hemi was Stockton's first K-9 unit and served with his handler, Lt. Tracy Stuart, from 2011 until his retirement in 2020.
The Stockton University Police Department added Hemi to its ranks by securing a competitive NJ Detect and Render Safe Task Force through Homeland Security. Stockton was one of only seven departments statewide to receive the grant, and the only college police department.
Stuart was selected as the canine handler and assisted the department in choosing the chocolate lab. Hemi was named through a university-wide poll. He graduated from the New Jersey State Police K-9 Police Academy, a rigorous 16-week training program on July 7, 2011.
The K-9 team of Hemi and Stuart served on a New Jersey regional bomb detection taskforce and were called to action to investigate bomb threats, dignitary visits, parades and special events deemed vulnerable to terroristic attacks.
Hemi was an exceptional bomb detection canine and won back-to-back detection dog titles with the United States Police Canine Association National Detector Dog Trials in 2018 and 2019.
While he was a talented explosive detection dog, Hemi's real gift was in community engagement. Hemi loved the Stockton community and was a pillar of SUPD's community policing efforts. Whether coffee with cops, pizza with police or in costume for Halloween, Hemi was there to great staff and students who enjoyed petting him and taking photos with him. He was truly beloved by the community.
"It is truly devastating to have lost my original ride-or-die in K-9 Hemi. It's hard to imagine a world without him in it. I know the Stockton community, whom Hemi loved, mourns with me," Stuart said. "I try to find solace in the countless happy memories of his campus community engagement shenanigans that made people laugh as well as his incredible service achievements."
Hemi accompanied Stuart when she earned her master's degree from Stockton and served with her when she was promoted to sergeant and lieutenant. Stuart was not only Hemi's canine partner, but also his caretaker. In 2020, Hemi retired from service and became Stuart's pet.
K-9 Freya succeeded Hemi in service to Stockton. Hemi and Freya got along well and enjoyed playing together as brother and sister. In retirement, Hemi enjoyed quiet walks, eating his favorite foods--including bananas, apples and baby carrots—and sleeping with his Wonder Woman and Scooby-Doo blankets.
– Story by Stacey Clapp