K9 Dogs Sniff Their Way to National Titles at Stockton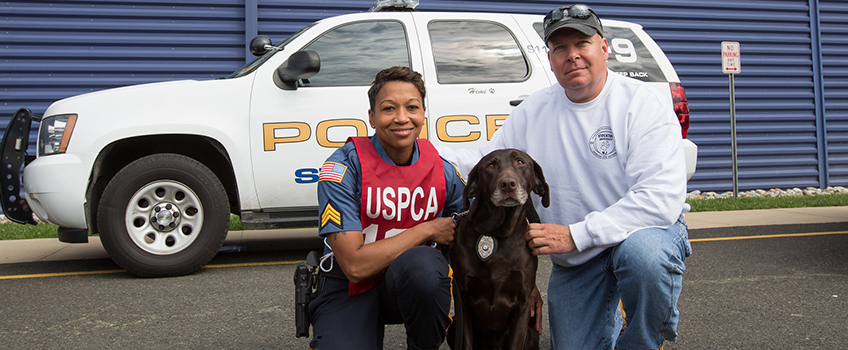 Galloway, N.J. _ Officers and their canine partners from Stockton University, the Passaic County Sheriff's Office and the Chester County Pa. Sheriff's Office sniffed their way to the top at the 2018 United States Police Canine Association National Detector Dog Trials held at Stockton University on May 20-23.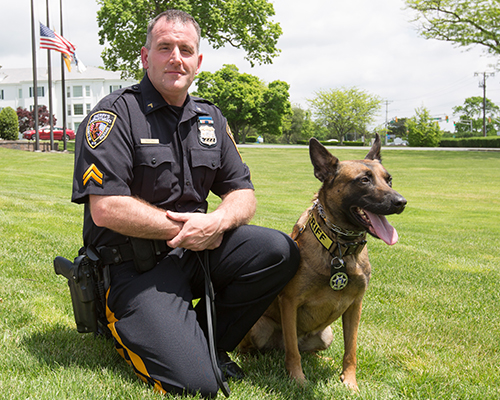 Stockton University Police Department Sgt. Tracy Stuart and her partner Hemi, a chocolate lab, were named the 2018 National Explosives Detection Team Champions. Stuart and Hemi also placed first in package searches and vehicle searches and fourth place in room searches. Stuart and Jill Giannini also took third place in the team award.
Passaic County Sheriff's officer Tony Testino and his partner Luna, a Belgian Malinois, were awarded the 2018 National Narcotics Detection Team Champions. The team also took second place in vehicle search. Testino and Sebastian Biondo took first place in the department team award.
Chester County, Pa. Deputy Sheriff Sgt. Paul Bryant and his partner, Don, a German shepherd , received the award as 2018 National Cadaver Detection Team Champions. The team also won the 2016 competition.
More than 100 teams from 11 states and a team from Mexico competed in this year's event. Participants included the FBI, CIA, New York Police Department and NY Metropolitan Transportation Authority Police Department.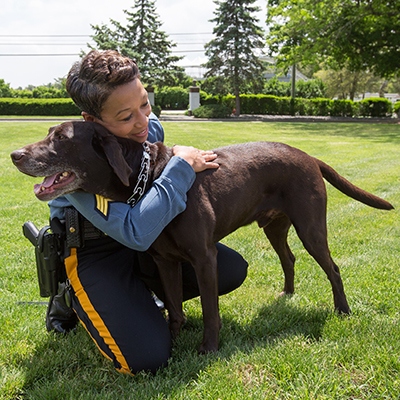 The teams were judged on accuracy, performance and speed in the different events, which were held around the Stockton campus. The awards ceremony was held at Stockton Seaview Hotel & Golf Club Wednesday.
Stuart, who also organized this year's event, said the three days are not just about competing, but also an opportunity to train and share information with their peers.
"We want people to realize the importance of training and that we want our dogs to be the best they can be so they can do their jobs," she said. She thanked university personnel and her department for their support during the year-long planning process.
Stockton President Harvey Kesselman said the university was proud to host the event and thrilled that Stuart and Hemi performed so well.
"We recognize and appreciate the work the teams do in keeping the community safe," Kesselman said. "We are proud to have Sgt. Stuart and Hemi as part of the Stockton community."
Testino said this was his first competition with Luna, and he was thrilled she performed so well. He said competing at a new site is great training for the dogs so they can get used to working in different environments and smelling different narcotics blends.
"It's great to be able to have fun and learn while doing what you love," he said.
USPCA National President Jason Brodt said the event showcases the "best of the best" in the association. He thanked the competitors for attending and said he hopes to see the competition grow each year and help advance canine training.
The top overall finishers are:
NARCOTICS: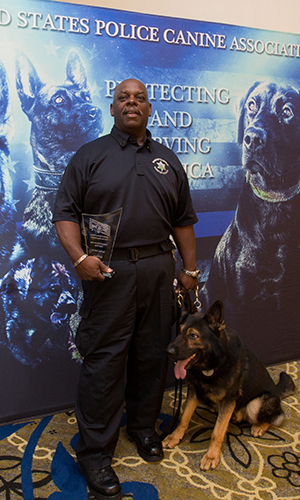 Tony Testino and Luna, Passaic County, NJ Sheriff's Office
2. Robert Egan and Czekaj, Alexandria, VA. Police Department
3. Scott Winneberger and Rocky, Galloway Township, NJ Police Department
4. Lou Kaelin and Jax, Camden County Department of Corrections
5. Mike Przeworski and Sarge, Gloucester Township Police Department
6. Kevin Halsey and Nicky, City of Warwick, NY
7. Joe Angarone and Bella, Mercer County NJ Prosecutor's Office
8. Mario Gutierrez and Karmina, Fiscalia General Mexico
9. Lucas Timmons and Burt, Chattanooga, Tenn. Police Department
10. Dave Lasko and Edge, Monmouth County Nj Sheriff's Department
11. Dave Gaeckle and Axel, Ventnor NJ
12. Carlos Rolon and XigXag, Alexandria, VA Police Department
13. Damon VanBogart and Karma, Iowa Department of Corrections
14. Chris O'Prandy and Gunner, Mt. Laurel Police Department
15. Anthony Damico and Rocky, Monroe Township Police Department.
EXPLOSIVES:
Tracy Stuart and Hemi, Stockton University
Nick Farace and Sam, CIA
Daniel Mercer and Coco, Department of Defense
Bill Finucane and Vinny, NY Metropolitan Transportation Authority PD
Alison Schmitt and Mac, NY Metropolitan Transportation Authority PD
Frank Musto and Mike, NY Metropolitan Transportation Authority PD
Walter Connolly and Blue, NYPD ESU K9
Michael Wilson and Chester, FBI
Joseph O'Reilly and Titan, Philadelphia Police Department
Charles Spahr and Hoss, NY Metropolitan Transportation Authority PD.
Watch a short video of Sgt. Tracy Stuart and Hemi from Stockton University competing.
View a gallery of photos from the event.
# # #
Contact:
Diane D'Amico
Director of News and Media Relations
Galloway, N.J. 08205
Diane.D'Amico@stockton.edu
609-652-4593
stockton.edu/media
Contact:
Melinda Ruopp
Secretary, USPCA
uspcasec@heartofiowa.net