Workshop Helps Police, First Responders Adapt to Accent Diversity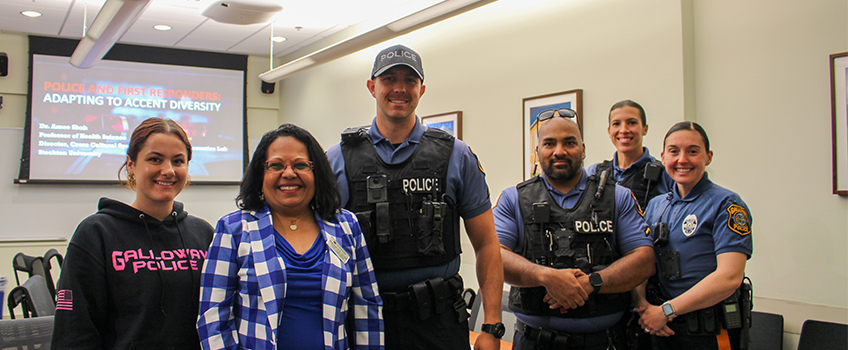 Galloway, N.J. – The Stockton Center for Community Engagement and Service Learning (SCCESL) recently held a workshop for first responders and police officers to learn the science of accents and strategies to effectively communicate during emergency situations on Thursday, June 15, in the Campus Center.
The workshop, "Police and First Responders: Adapting to Accent Diversity," is one of the ways that Amee Shah, professor of Health Science and director of our on-campus Cross-Cultural Speech, Language and Acoustics Lab, utilizes her decades-long research to help different populations knock down language and communication barriers.
Her work began in 2007 in a Cleveland clinic where doctors who had pronounced accents were having trouble communicating with their patients, leading to potentially dangerous situations. As a speech-language pathologist trained in organizational psychology and linguistic study, Shah was more than ready to find a solution for the clinic.
"Back then, I had started a program for them for cross-cultural communication that focused on speakers' accents and to help them speak clearly," Shah said. "And then I saw that there were limitations with just working on the speakers with their speech. No matter how clear someone is, if the listeners are not trained to listen to accents, they're (going to be) like, 'Oh, this is different.' They get disengaged, then the brilliant speaker can't really even connect with the listener."
Soon, the program changed to teach the listener invaluable strategies to better comprehend and understand those with unfamiliar accents. Through presenting her research on how accents are formed, inviting participants to engage in open dialogue and playing her trademark Global Listening IQ games that challenge listeners to decipher different messages, Shah hopes her work will contribute to the current conversation surrounding racism and xenophobia.
"This is the first of its kind in the whole world. There are many people working on apps and accent modifications, but really there's been no work out there on accent listening and systematic ways of listening," Shah said. "My goal is (to answer the question of) how do we work with racism through this lens of training people to listen differently? That they can start enjoying it, appreciating diversity and gaining some skills in doing that?"
Shah's research has helped develop a brain model that helps understand how structured listening retunes ears and rewires brains to build race relations.
Participants of the workshop, including officers and dispatchers from Galloway Township, Pleasantville and Stockton, all had experience ranging from four days out of the academy to over 10 years of service. Cassidy Walsh and Nicholas Stewart of the Galloway Police Department both considered the program beneficial and said they learned a lot from Shah.
"I came to better improve myself when I'm out in the field dealing with people with different accents," Walsh said. "I'm going to take with me the lesson on pinpointing how to differentiate different accents and also the key things to pick up on if there is that barrier between understanding, even with my own accent, people and making sure that I speak clearly."
"I just wanted to get some knowledge from the doctor. She gave a very enlightening presentation," Stewart said. "I'm going to keep in mind to slow things down and to actively listen to people so that I'm getting everything that I need to from them."
It's those lightbulb moments for self-improvement that Shah looks forward to when she hosts these types of workshops. Hospital and business leaders had the same sentiments in previous workshops. They started off feeling this kind of training isn't necessary and ended with them realizing how they could take these lessons with them.
"When they started to go through the training, they realized what they didn't know and what beliefs and biases they had. And then they also realized that they could grow. They were transformed by that," Shah said. "I feel that it's very gratifying to reach people in a way that makes sense and is fun and rewarding for them. It makes their life easier rather than lecturing them or shaming and blaming them, which is, unfortunately, what's happening in the world right now.
Heather Swenson-Brilla, SCCESL's community projects coordinator, believes programs such as this can have many positive impacts both on and off campus.
"I really think it's part of the mission of SCCESL to make connections between the university and the community and to use our resources to benefit the community, and we have this professor who does this amazing work," Swenson-Brilla said. "And (the program) has such an ability to immediately impact the community for the better. How could we not make that connection?"
Spotlight On: Amee Shah
Galloway, N.J. – Amee Shah, professor of Health Sciences, published a book of poetry, "Becoming the Light: From Angst to Awakening," during the pandemic to help provide healing and improve resilience during such stressful and uncertain times.

Shah used her work as a health sciences and communication science professor, clinician, communication coach, teacher and poet to bring her writing towards improving healing, resilience, health and wellness.

"I have been writing poetry my whole life as a form of self-expression and processing of thoughts. During the pandemic year, my writing intensified as a way of taking stock of all the uncertainties of our times and attempting to provide new perspectives and healing, mostly to myself, my students, my medical clients and my family," Shah said.
– Story and photos by Loukaia Taylor