Spotlight On: Amee Shah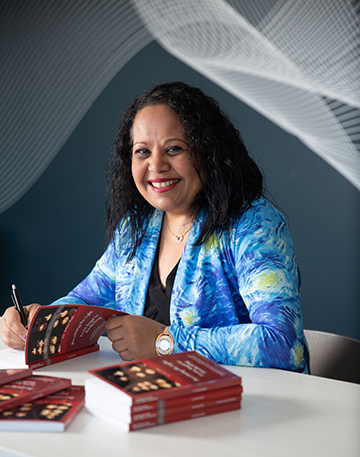 Galloway, N.J. – Amee Shah, professor of Health Sciences, published a book of poetry, "Becoming the Light: From Angst to Awakening," during the pandemic to help provide healing and improve resilience during such stressful and uncertain times.
Shah used her work as a health sciences and communication science professor, clinician, communication coach, teacher and poet to bring her writing towards improving healing, resilience, health and wellness.
"I have been writing poetry my whole life as a form of self-expression and processing of thoughts. During the pandemic year, my writing intensified as a way of taking stock of all the uncertainties of our times and attempting to provide new perspectives and healing, mostly to myself, my students, my medical clients and my family," Shah said. "As I began sharing this work,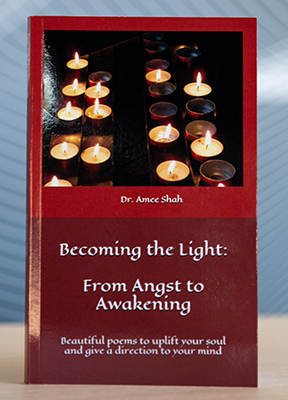 I was surprised to see how much interest and resonance there was of my poems to a wide variety of audiences. As a result, I finally began the process of publishing this book and was able to release it in December 2020."
Her professorship at Stockton has helped shape this research and transformative writing. "This work builds on my previous 'Empowerment Zone' research and curricular development on helping students develop their emotional intelligence and self-help skills in becoming resilient in and out of the classroom," Shah said. "Further, it now helps me study and assess a new wellbeing framework I have introduced to an interdisciplinary niche area of health and wellness: that of applying the arts/poetry to healing and wellness. This work represents a much urgent, important, and needed area in the world these days and I am excited to be representing Stockton at a global platform in this leadership."
Shah has already hosted several local and international workshops in London, Netherlands, France, Athens and New York to a wide range of audiences including college students, artists, health professionals, teachers, corporate professionals and more. This line of work represents an innovative and timely line of education by infusing the arts into science and medicine (STEAM education). Furthermore, Shah's new Wellbeing Framework of Poetry (2021) is helping study and assess the benefits of various elements of poetry on a range of psychological, physical and physiological health aspects.
"Logic, science and traditional medicine can only take us so far in grappling with the conditions of the world. They are necessary, but not enough. We need to be able to access the human psyche beyond the tangible plane and find artistic and creative ways to tap into our full potential," Shah reflected. "That space of 'Oneness' as described in the spiritual world, or 'Unified Field' as described by meta-physicists holds the key to our highest wellbeing, full creative expression, freedom from suffering, and a connection to each other as well as to the higher powers. My book of poetry has tapped into pathways to access those portals of light into the unified field, and readers have found this bestselling book immensely valuable during these times."
Read more about Shah's work here.
Reported by Mandee McCullough