Rocket League Team Heading Back to World Championships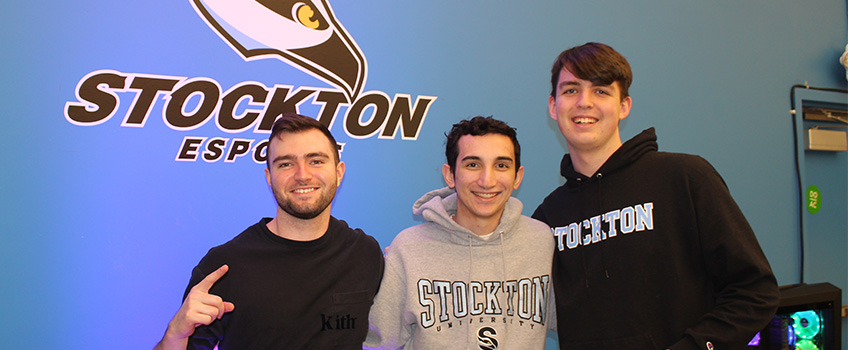 Galloway, N.J. — Stockton University's Rocket League team is returning to the Collegiate Rocket League (CRL) World Championships after a dramatic run to win the North American Last Chance Qualifier on Sunday, April 2.
With the top two teams earning spots at worlds, the Ospreys defeated Ball State (Indiana) 4 games to 2 in the best-of-seven semifinals to clinch a return trip. Stockton went on to beat St. Clair (Canada) 4 games to 1 to win the qualifier.
"It's absolutely insane. I can't expect to just make it to the finals every time," sophomore John Merendino said with a laugh. He and senior Brian Busse returned from last year's team along with first-year Anthony Cooper. "In the last-chance qualifier, you can't lose. It's single-elimination, so you have to make the most of it. But we weren't backing down to anyone."
The CRL World Championships are June 2-4 in Dallas with the 16 qualifying teams competing for a share of $75,000 in scholastic awards. Last year, Stockton finished second to national power Northwood Blue from Northwood University (Michigan).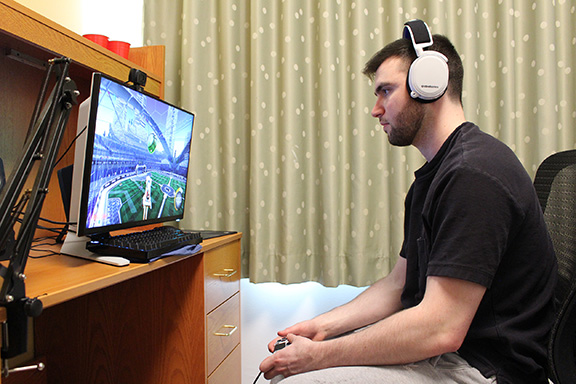 Senior Brian Busse plays Rocket League in his dorm room. Busse is one of two members of the three-person team who will be competing in the Collegiate Rocket League World Championships for the second year in a row.
But earning a return trip to Dallas was hardly easy. Due to some struggles during the Rocket League regular season, Stockton entered the Last Chance Qualifier with a 6-8 record in the spring season and a 29-31 overall record.
To clinch one of those two spots, the Ospreys had to win four best-of-seven matches, including a 4-2 third-round win over the University of Texas-Dallas (10-4 spring, 36-23 overall).
After defeating Universite Laval (Canada) 4-1 in the quarterfinals, Stockton faced Ball State in the semifinals. In the pivotal game 6, Ball State scored a game-tying goal with almost no time left on the clock to force overtime.
"It was a little tense in overtime. It was a little scary," said Cooper, who just started at Stockton in the spring semester.
But the Mathematics major from Forked River scored the game-winning goal, 5 minutes and 39 seconds into the extra period, to lift the Ospreys to a 5-4 win and a spot at worlds.
"I was psyched. I jumped out of my chair. The adrenaline was pumping. It was dope," Cooper said.
It honestly feels so great. It's my last season, and I've put in a ton of work, like eight hours a day. I'm just happy that in the end we still get to go to worlds and hopefully win it this time."
Stockton Esports Program Manager Demetrios Roubos said this finish shows that the trio "has really just begun flexing their collective might."
"They really showed they have what it takes, absolutely demolishing the competition," Roubos said. "We're extremely proud of the team. This accomplishment highlights the resilience, teamwork and determination of our students and reinforces the importance of providing an inclusive and supportive environment for students to develop their skills and explore their interests."
Both Busse, of Hazlet, and Merendino, of Long Island, New York, said the team's struggles this spring has made a return trip that much more special.
"I think it takes some losses and some issues to happen to really learn from that and realize what we can fix to make ourselves better," said Merendino, who's a Business Marketing major. "That's what we needed."
"It honestly feels so great," said Busse, who's a Business major with a concentration in Finance. "It's my last season, and I've put in a ton of work, like eight hours a day. I'm just happy that in the end we still get to go to worlds and hopefully win it this time."
The CRL World Championships is a 16-team tournament with 10 teams representing North American universities and six teams from European schools. The 16 teams will be divided into four groups of four for the group stage. Within each group, teams will compete in a double-elimination bracket with each match a best-of-five series. The top two teams from each bracket will advance and be seeded into an eight-team, single-elimination bracket with the quarterfinals best of five and the semifinals and finals best of seven.
To watch a replay of Stockton's semifinal and final wins in the Last Chance Qualifier and to watch the CRL World Championships, go to the official Rocket League Twitch channel at twitch.tv/rocketleague.
— Story and photos by Mark Melhorn