32 Doctor of Physical Therapy Students Receive White Coats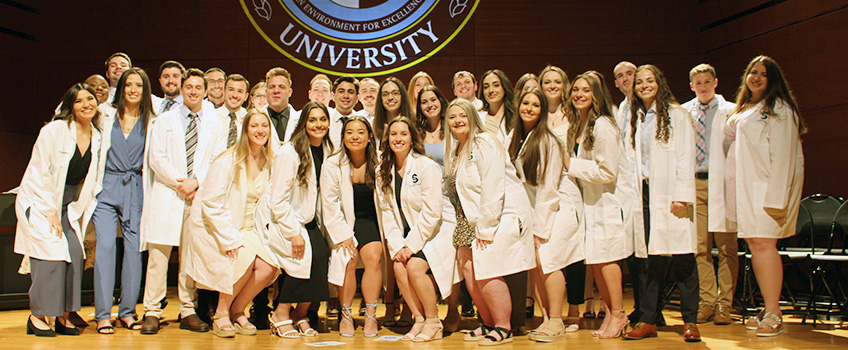 Galloway, N.J. — The Stockton University School of Health Sciences held a Commitment to the Profession Ceremony on April 4 in the Campus Center Theatre for 32 students in the Doctor of Physical Therapy program.
Speakers at the event were President Harvey Kesselman; Brent Arnold, dean of the School of Health Services; Thomas Nolan, professor of Physical Therapy; and Megan Gardner, president of the New Jersey chapter of the American Physical Therapy Association.
The keynote speaker was Erin Pizzolato, a 2013 graduate of Stockton's 3+3 Physical Therapy Program who has eight-plus years of experience in the outpatient setting. She has treated orthopedic, neurological, developmental and traumatic cases from pediatric to geriatric age.
Members of the Class of 2024 who received their white coats are:
Amina Bakhat, Zachary S. Bille, James J. Bockin, Chrismarie Castano-Lopez, Dominic Cenci, Hunter M. Clayton, Jodi L. Cook, Haley S. Elias, Tia Evangelista, John K. Fabbiani, Rachel D. Follman, Hallie L. France, Jacqueline Godwin, Kelly Herman, Edwin R. Hernandez, Stephen A. Hill, Cassidy L. Hogan, Anna V. Lim, Danielle Lynch, Kaleigh P. Nolan, Rachel E. Notaro, Abigail R. Ortiz, Julia A. Quick, Josephine E. Rundall, North F. Runk, Zainab Shuja, Corinne A. Shustyk, Nicholas A. Sisto, Sean Taylor, Matthew Thermann, Jarred M. Tolley and Julia Wiemken.