$500,000 Grant Will Equip Coastal Zone Management Program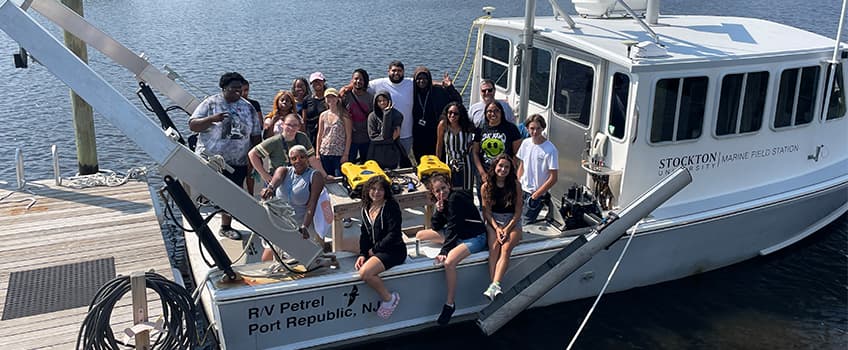 Galloway, N.J. — As climate change makes storms stronger and sunny-day flooding more prevalent, educating the next generation of coastal zone managers becomes even more important.
Stockton University created its graduate-level Coastal Zone Management program in 2020, and a $500,000 grant from the National Oceanic and Atmospheric Administration will provide new resources to enhance research opportunities, said Peter Straub, professor of Biology and Coastal Zone Management.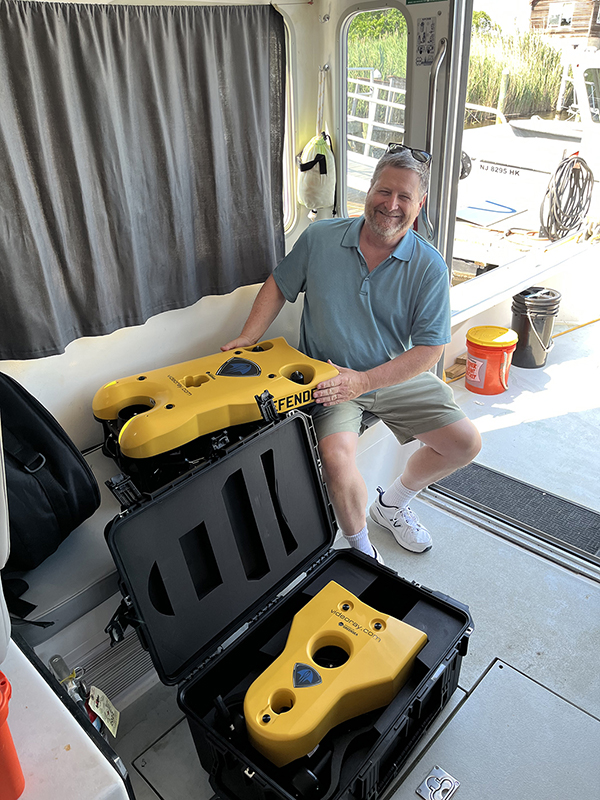 Peter Straub, a Stockton professor of Biology and Coastal Zone Management, sits with a new remotely operated vehicle the school purchased with a $500,000 NOAA grant.
"Coastal resilience is very important now with climate change," Straub said. "The biggest concern on the shore is flooding. Besides storm floods, we are now getting a large number of flooding days per year that have nothing to do with storms. They are just high tides that have been reaching up because sea level is rising."
Amanda Norvell, Stockton's dean of the School of Natural Sciences and Mathematics, thanked NOAA and New Jersey Sens. Cory Booker and Bob Menendez for their support through the Congressional Directed Spending program.
"In addition to allowing us to update critical technical equipment to advance research in areas such as mapping of offshore reefs and monitor coastal storm damage, these resources will also support educational outreach programs that we hope will inspire our local students to see how they can contribute to future solutions," Norvell said.
The upgraded equipment will primarily go to support the master's program and the educational outreach will focus on creating a "pipeline into STEM" for K-12 students, Straub said.
"We want to catch kids early, get them excited about science and teach them a little bit about climate change and some of the things facing us," Straub said.
He added that Stockton wants to focus the outreach on local schools, like those in Atlantic City, and ones that serve underrepresented communities.
"There is going to be a lot more need for students in STEM, and STEM is not particularly inclusive at this point," he said.
Steve Evert, the director of Stockton's Marine Field Station, said it is important to promote oceanography and hydrography as career choices to pre-college students who might have never thought those were options beyond the more commonly known marine biology field.
"We need more students studying these physical sciences to strengthen the workforce that will help increase our coastal resiliency in the decades to come. We need to catch their interest sooner and this program will help fill that need," he said.
One example of the outreach is a program Straub is planning for the fall where students would work with small SeaPerch robots. SeaPerch uses small remotely operated vehicles (ROVs) to guide students on how to build an underwater robot.
"We want to catch kids early, get them excited about science and teach them a little bit about climate change and some of the things facing us. ... There is going to be a lot more need for students in STEM, and STEM is not particularly inclusive at this point.."
However, most of the grant will go directly toward upgrading existing and buying new equipment.
More than $160,000 will buy a larger ROV to support underwater mapping. Straub said there is a lot of recent interest in this due to offshore wind development.
"Each one of those offshore wind towers at its base is probably going to develop into an artificial reef, and that's one of the things that we have studied for years is the enhancement of recreational fisheries due to artificial reefs and what happens when you put rock piles into the coastal zone to protect for scour," he said.
Nearly $50,000 will purchase a new mobile Light Detecting and Ranging (LIDAR) drone system that uses laser light to map topographic information from the marshes and dunes along the coast. The drone will help Stockton's Coastal Research Center fulfill its mission of measuring coastal storm damage. Two other smaller aerial drones will also be purchased for STEM demonstrations.
"That data is critical to the state for beach replenishment any time there's a storm," Straub said. "Without that data, (towns) can't ask for sand. A lot of the skills that develop from that coastal resiliency project are important for protecting homes, rebuilding dunes and figuring out what places can and can't build on due to FEMA rules."
The final major piece of the grant will go toward enhancing the equipment on the Marine Field Station's new research vessel, the Rudy G. Arndt, which was formally dedicated in May 2022. The boat will get a new positioning system and a new sonar mount.
"The type of instrumentation Dr. Straub has brought to Stockton through his grantsmanship has strengthened the teaching and research programs supported by the Port Republic-based Marine Field Station and Coastal Research Center and will help further align their activities," Evert said.
Learn more about applying to Stockton's Coastal Zone Management degree.
-- Story by Mark Melhorn, photos by Peter Straub
# # #
Media contacts:
Stacey Clapp
Director of Strategic Communications
Stacey.Clapp@stockton.edu
609-626-3645
609-412-8069
stockton.edu/media


Mark Melhorn
Associate Director of News and Media Relations
Mark.Melhorn@stockton.edu
609-652-4593
609-569-6026
stockton.edu/media