New Beginnings in Career Education & Development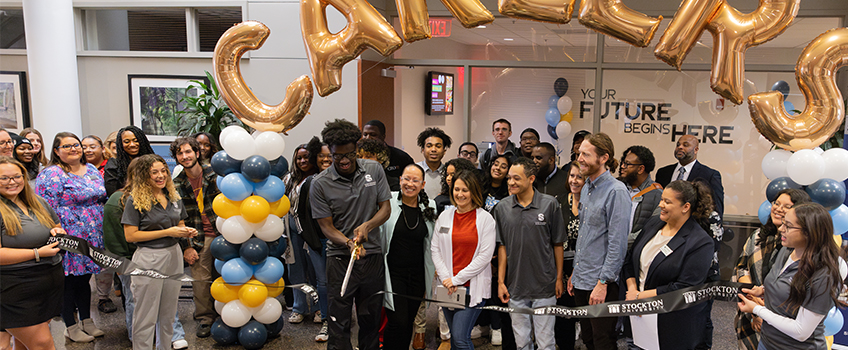 Galloway, N.J. – Your future begins here.
That is the message students see as they walk along the hallway in the Campus Center toward the Office of Career Education and Development (CED) and the brand-new Career Success Studio.
Sofia Abreu, director of the office, and others gave short remarks before cutting the ribbon for the new space on Wednesday, Nov. 8. After expressing her gratitude to the CED team and Facilities Operations, she explained her vision for the studio to the crowd.
"As we move forward, I eagerly anticipate collaborating with our campus partners to further expand career development opportunities across Stockton University. Our vision for the Career Success Studio is to create an inviting, inclusive space that caters to students at all stages of their career development journey," Abreu said.
The space is expected to be multipurpose – students can use it for meetings or interviews, find various job postings, or even attend workshops hosted by the CED. Ultimately, how the space will be used will be up to the campus community and their needs while they explore career paths.
Christopher Catching, vice president for Student Affairs, encouraged students to check out the new space and to use the services that the CED office provides throughout their time at Stockton.
"This is a tremendous, tremendous resource, and we're glad to have it," Catching said. "I would encourage students to use career education development and learn about their career from the time that they start here. It's not a place that you come to in the 11th hour during your senior year, but a place to continuously come in and use, where you get to know the team and engage in activities that are going to support your professional development."
Once the ribbon was cut, students, staff and faculty were invited inside to see the new space, which included seating for one-on-one counseling sessions and group interviews and a whiteboard already full of positive messages and words of wisdom. "We are fully committed to broadening our services and fully maximizing the potential of this space to support our students' journeys to success," Abreu said in her remarks. "Thank you for being a part of this exciting venture. Together, we can empower our students and help them realize their full potential in their career pursuits."
Ana Edmondson, assistant vice president for Student Transition, Access and Retention, believes that the studio will have an environment reminiscent of the Multicultural Center in terms of inclusivity and resources available.
"This space will promote equitable, strategic and intentional support for historically underrepresented and marginalized populations – as it pertains to post-graduation outcomes – to support those disproportionately impacted by higher unemployment rates and financial hardships," Edmondson said. "It will be a space that is student-centered, accessible and equitable that aids in securing meaningful and gainful employment upon graduation by helping all students create community and connections to build access and social capital. I'm thankful for the support I received from Marques Johnson, associate dean of students, who utilized his social capital to bring life to the center with signs and decorations that added a modern touch to enhance the experience for the students."
The Career Success Studio was made possible through a $50,000 grant from the Office of the Secretary for Higher Education (OSHE) called the "Opportunity Meets Innovation Challenge: Cultivating Research, Innovation and Talent."
---
Galloway, N.J. – If there was an accurate hashtag for this year's Fall Career & Internship Fair, it would be Alumni Relations' favorite: #OspreysEverywhere.
In addition to having more than 700 preregistered students and over 100 recruiters on Thursday, Oct. 5, in the Sports Center, the Fair was full of graduated students ready to recruit their peers on the other side of the table.
Alumni from ACT Engineers, Renault Winery and TTI Environmental all said they met eager students ready to join the workforce, which only made it all the more fulfilling for them to come back to campus.
"It's been really interesting to be on this side and to see where I was just a few years ago. This is an amazing opportunity to have right in front of you as a student." Rachel Thornton, '21, said. Thornton graduated from the Environmental Science (ENVL) program and is now a staff environmental technician with ACT, which is currently looking for more students within the ENVL program.
– Story by Loukaia Taylor
– Story by Loukaia Taylor
– Photos by Lizzie Nealis