An Osprey's Guide to Landing in the Nest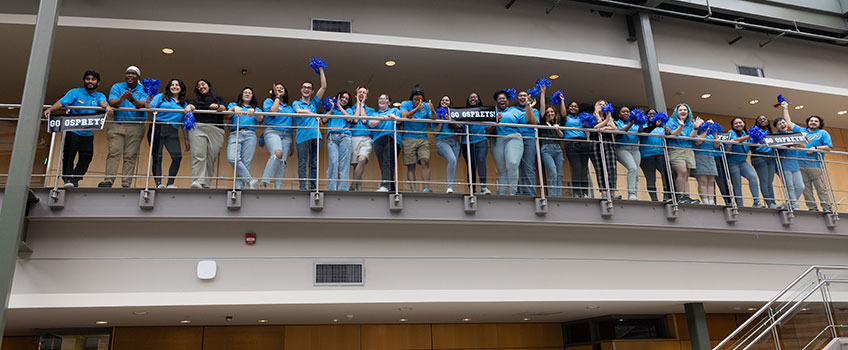 Galloway, N.J. - New students are preparing for landing in Galloway and Atlantic City to join the nest and begin their college journeys. There is no one path to success, but there are a few tips to make the route more rewarding, scenic and filled with support and friendship.
Our Transition Activity Leaders of New Students (T.A.L.O.N.S.) share some of the challenges they overcame as new students and their recommendations on how to maximize the college experience.

Find a Place That Gives You a Sense of Belonging
When Mashrur Pantho, an international student from Bangladesh, came to Stockton two years ago to study Computer Science and Information Systems there were only a handful of other international students. Connecting with each other was a challenge, he said. Now there's the Stockton International Student Organization that brings students from abroad together to share their experiences.
"You can be a part of a community, or you can help build a community," he said.
Pantho noted the diverse cultural clubs like Asian Student Alliance, the Bengali Student Association and Muslim Student Association.
"The Multicultural Center is a favorite spot. If you're like me and you came here from a different country and you don't feel like you belong here or you feel lonely, you must go to the Multicultural Center. That's where I spend most of my time--I study there, I meet people like me and I found a sense of belonging there," he said.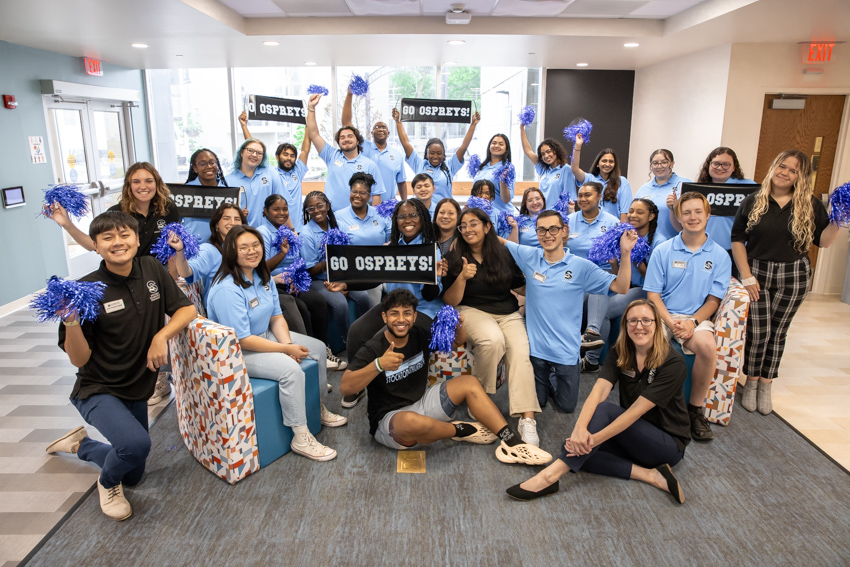 Work on Campus
Head T.A.L.O.N. Ivanna Taveras is a first-generation college student. "It was a hard transition for me coming to Stockton because I felt like I didn't have enough resources, especially during COVID," she said.
That all changed when she found a job opportunity on campus.
"I found a job application for TALONS, and I wanted to apply to get involved on campus. I got the job and took the course, and I've had a blast. I've built my leadership and communications skills and made new friends," she said.
Working on campus helps students offset educational expenses, develop professional skills and network with the campus community.


Take a Class That Dives into Your Passion
Taveras already knows that she wants to work in education, so she found a course to dig deeper into her interest.
"The Urban Teacher" taught by Meg White explored what it's like to be a teacher in an urban school setting. "It was great for me because I want to become a teacher in an urban setting," she said.
Emma Loro loves anything that has to do with Psychology and the brain.
"I've taken quite a few classes that I really enjoyed, but 'Clinical Neuropsychology' with Christine Gayda was my favorite," said Loro.
Stockton's General Studies courses give students the opportunity to step outside their major, find new interests, exercise their creativity and broaden their perspectives.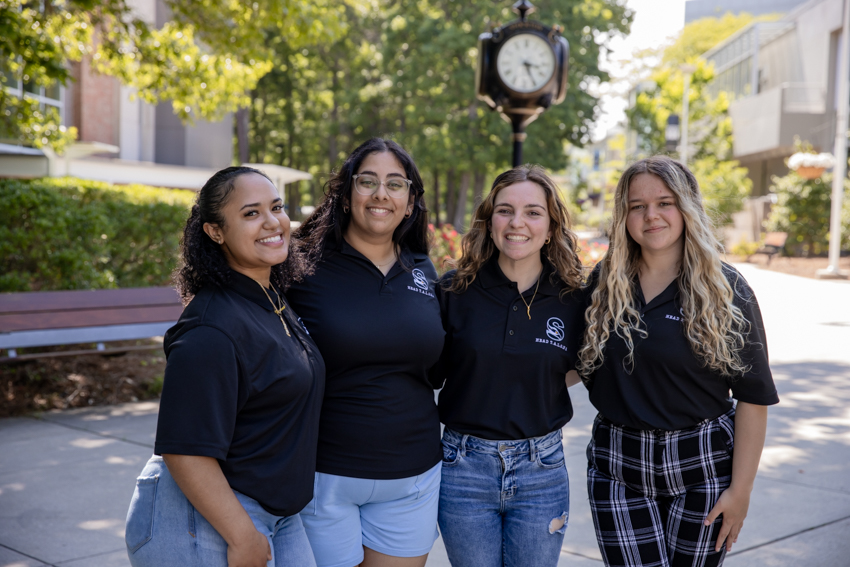 Find Ways to Get Involved on Campus

Head T.A.L.O.N. Priya Parikh got involved to become an engaged member of the campus community, but it gave her much more than what she anticipated.
"My favorite Stockton memory is becoming a T.A.L.O.N. I learned about myself as a student leader and as a person in general. It brought me a really great community. I've met all my best friends through T.A.L.O.N.S. And it's brought me joy to be a part of something bigger than me," she said.
Loro transferred to Stockton and credits her involvement with helping her transition to a new campus.
"I joined a fraternity called Delta Epsilon Mu, which is for folks who want to go into health care professions. I got to meet people who want to go into similar careers and fields that I do," she said.
She also attended as many events as possible. "The Stockton Entertainment Team throws lots of events on campus. I made sure to go to the taco bars and to take advantage of all the resources on campus. That's how I met a lot of people, and when I started meeting people, my transition went really smoothly," she said.
Just one event can make a big difference.
Troy Edwards got an email about Deeper SPACES, an overnight weekend retreat designed for students to engage in conversations and deeper dialogue on social justice and diversity. "I got connected, met more people and met my adviser, Shedia Laguer, who got me a lot more involved on campus," he said.
This year's retreat will be held at the YMCA of the Pines in Medford Lakes in November.
As the treasurer of SET, Edwards plugged his group, "We put on events almost every day. We have craft night, paint night, taco Tuesday--they are free by the way--and off-campus trips to New York, Six Flags, the Eastern State Penitentiary and Broadway."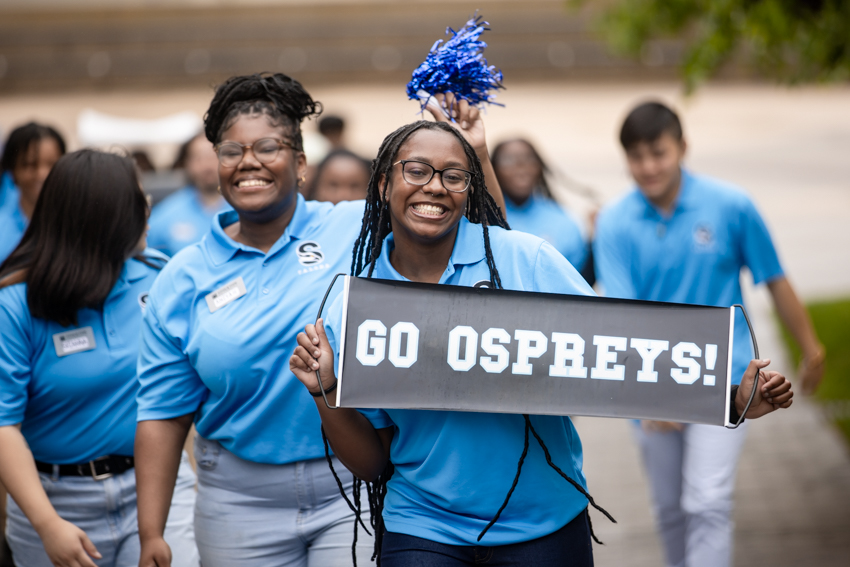 Travel to Step Outside Your Comfort Zone
Head T.A.L.O.N. Allanah Docherty had the chance to visit Greece for a month this past May on a study tour that introduced her to Greece's culture and history. The educational experience, food and hiking were unforgettable.
Loro took a bus trip to New York City with the Stockton Entertainment Team and spent the day in the city.
If outdoor exploration is your thing, Stockton's Galloway campus has two lakes and nature trails that meander through the Pinelands. Just outside Atlantic City's residential buildings are the Boardwalk and the beach.
Each Stockton experience is a unique collection of stories and experiences. Make the most of the opportunities that come your way, Ospreys.
Photos and story by Susan Allen