Stockton Rocket League Team Eyes World Title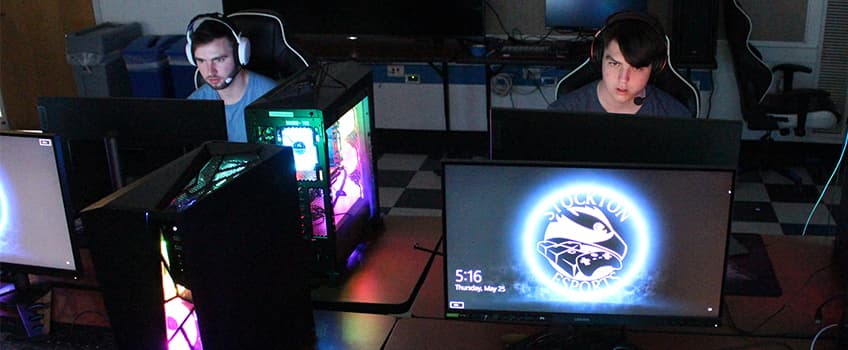 Galloway, N.J. — The Stockton University Rocket League team has unfinished business this weekend — winning a world championship.
After finishing second at the 2022 World Championships, this year's esports team, which features two of the three players from last year, is ready to win the Collegiate Rocket League 2023 World Championships from June 2-4 at the DreamHack festival in Dallas.
Senior Brian Busse, of Hazlet, and sophomore John Merendino, from Hauppauge, New York, lead the 2023 team along with first-year newcomer Anthony Cooper, of Forked River.
"I think we can take it all," Merendino said. "We all believe that we can, and if we can trust each other, we can win it all."
From left, senior Brian Busse, of Hazlet, sophomore John Merendino, from Hauppauge, New York, and first-year Anthony Cooper, of Forked River, make up Stockton's Rocket League team that will compete in the world championships.
Rocket League is an arcade-style soccer game played with rocket-powered cars. This year's team took a different route to make it to the 16-team championship by winning the North American Last Chance Qualifier on April 2. With the top two teams earning spots at worlds, the Ospreys defeated Ball State (Indiana) 4 games to 2 in the best-of-seven semifinals to clinch a return trip. Stockton went on to beat St. Clair (Canada) 4 games to 1 to win the qualifier.
"It was definitely harder this year, mainly because of the level of competition," Busse said. "It's probably good though because teams underestimate us still, just like they did last year. And I think that could really help us."
Just like last season, Busse and Merendino had to take on a new teammate for the spring semester. And it's taken some time for the team to jell, as they stumbled in the College Esports Commissioners Cup, also in Dallas earlier this month, not advancing out of the group round. But the tournament was still a good opportunity to get more playing time with Cooper.
"We were breathing the same Dallas air with the schools that we are going to compete against at worlds," Merendino said. "It was the perfect learning experience. It was even a wake-up call that we need to put more work in so we can perform at our best at DreamHack."
Each of the three team members have been playing on their own about 5-6 hours a day to prepare. They've also been watching a lot of replay videos to analyze their mistakes, and the last couple of weeks have been scrimmaging together in-person at Stockton's esports lab on campus.
"We've been grinding a lot more these last two weeks," Cooper said. "It's good preparation for what's to come and solidifying our chance of becoming world champions."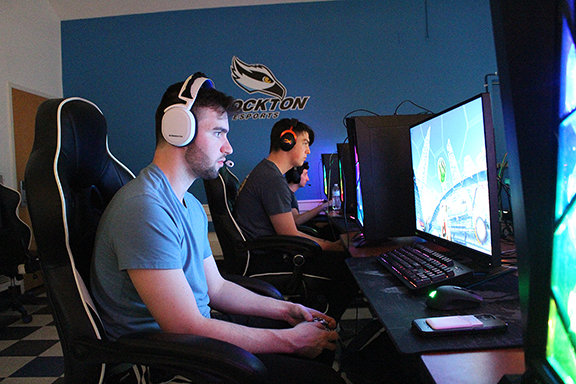 The team has been gathering in Stockton's esports lab to practice together before heading to Dallas on Wednesday.
The team will fly to Dallas on Wednesday, and the tournament begins Friday. Each of the schools are divided into four groups of four and will play matches against each other within their group. The top two teams from each group advance to single elimination matches with the final taking place Sunday with a $20,000 grand prize. All matches will be streamed live on the official Rocket League Twitch channel.
Stockton is in Group B with Columbia College (Missouri), University of Nevada-Las Vegas and the Berlin Phoenix of the Technical University of Berlin, Germany. The Ospreys' first match is against Columbia at 1 p.m. Friday. If they win, Stockton would play either UNLV or Berlin at 5 p.m. Friday.
All three relish the chance to play live in front of a crowd of several hundred people and an online audience that could reach as many as 60,000 concurrent viewers, Busse said.
The odds are stacked against us, but I think there's a really good chance that I can finally get a win and it would be the biggest win ever. I'm really excited to go out there for the last time and try to win everything for the first time."
"That experience is the reason I still play this game," he said. "I feed off the energy a lot when we are playing. Once you do it once (play live in front of a crowd), you want to keep doing it again and again. You just don't know how many opportunities you're going to get."
And this could be Busse's last opportunity to play in a big tournament collegiately. He graduated with a Business degree in May. Merendino certainly wants to win it for his teammate, roommate and friend.
"We are coming back with a vengeance," he said. "We know this could be Brian's last year, so we've got to make it the best we can. Hopefully we can only go up from last year and win that grand final."
Busse said he's played Rocket League in college for the last four years, and after finishing second last year, he believes Stockton can win a world title.
"The odds are stacked against us, but I think there's a really good chance that I can finally get a win and it would be the biggest win ever," he said. "I'm really excited to go out there for the last time and try to win everything for the first time."
— Story and photos by Mark Melhorn