7th Annual MLK Day High School Panel Discussion a Success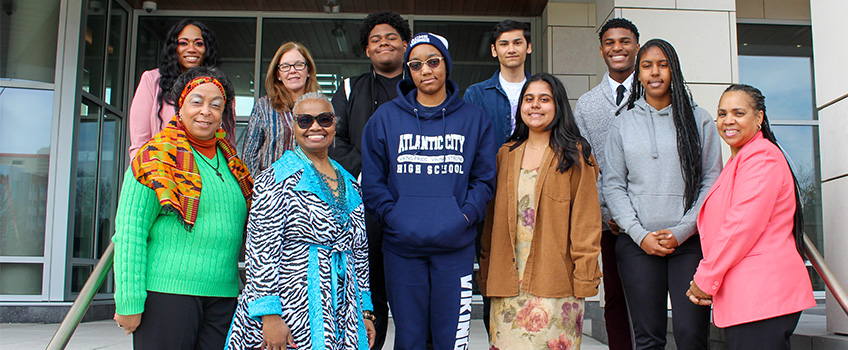 Galloway, N.J. – Six high schools visited Stockton University – Atlantic City for a morning of conversations centering on societal change on Feb. 23.
Patricia Collins, community engagement liaison for Stockton's Center for Community Engagement and Service-Learning (SCCESL), hosted the area high school students at the John F. Scarpa Academic Center, for a panel discussion and breakout sessions during lunch.
According to Collins, the goal of the 7th annual program – the theme of which is "Stronger Together: Working Toward a Better Future by Working Together Today" – is to challenge the students to think critically about timely conversations.
"Stockton University hosts this program because it provides high school students with an opportunity to discuss relevant topics," Collins said. "The safe space also gives them a chance to interact with others from various schools—and meet other high school students from the area. We are pleased that we have built a partnership with these schools and their administration, which has helped ensure the success of our programs."
She introduced Brian K. Jackson, chief operating officer for Stockton – Atlantic City, who used his remarks to introduce the high schoolers to a variety of student activists that enacted change in their community, including X Gonzalez, who survived the deadliest school shooting in history and now advocates for gun control; Greta Thunberg, a climate change activist who hosted walkouts and protested outside of Swedish Parliament; and Sophie Cruz, the five-year-old who gave Pope Francis a letter, advocating for her undocumented parents, in 2015.
It was his hope that the students could keep these activists in mind when thinking of ways to enact change wherever they are.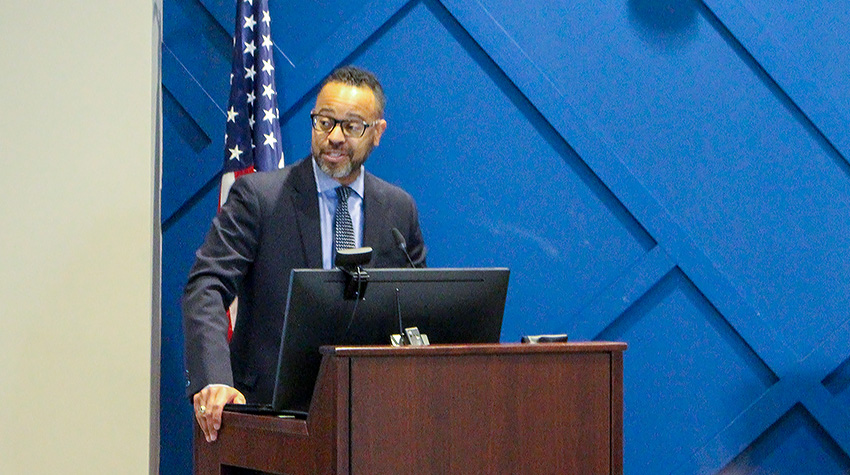 "I expect that at the end of today's program, you will all walk away with a greater appreciation and understanding of the power that you all have as individuals and as a collective of young people to influence positive change in your schools, households and in your communities," Jackson said.
Shawn Cooper, program coordinator for SCCESL, and Dianne Stalling, assistant director of Student Development, moderated the student panel discussion.
The students were asked questions such as, "Do you feel there is a need for change?" and "What difficulties came from the adversity you faced?"
For one question, "How could you help others facing adversity?" the students described their influence as student leaders and the value of listening to others and raising awareness on social issues.
The Student Panel:
Parth Shah – Absegami High School
Jamiah Bailey – Atlantic City High School
Aaron Washington – Cedar Creek High School
Tasfia Ahmad – Egg Harbor Township High School
Isaiah Watson – Oakcrest High School
Khaliyah Haraksin – Pleasantville High School
"I feel like us, sitting up here as leaders in our schools, we have a good advantage for getting other students involved," Haraksin said. "It's kind of our job to voice and say what we're doing and get other students to do the same thing."
"As class president at my school, I feel like we have power in our meetings to have other students stand up and talk about their experiences," Shah said. "And this way, we can get more people involved."
"Giving people space to tell their stories," Ahmad said. "Stories are really important in that they make work more meaningful and show how much of an impact we make. We should share the good, bad and challenging things in our lives with each other. Listening to them and letting them have their stories heard and acknowledged is an important way to support others."
"Last summer, I attended the NAACP convention here in Atlantic City, and I wasn't aware that we had a youth council/chapter for the NAACP until last year," Bailey said. "We actually have a lot of great community organizations that I just wasn't aware of. In terms of trying to help and spread resources and social support, we have a lot of that, and I feel like a lot of people in our community don't know about it. It would be easier if more people tried to raise awareness on those programs."
When asked, "What tools, tips, tricks or ideas do you have to empower others to make a change at your level," they described maintaining an open mind, verbal affirmation and reaching out to the community at large.
"I feel like looking at your own biases and how you feel about certain issues and extending that to another person, like someone who maybe doesn't have the same opinion as you and having an open dialogue with them (is a tool)," Watson said. "Finding a middle ground can empower others."
"Words matter to other people," Washington said. "For instance, if you motivate someone (with words of encouragement), that person can gain confidence, which gives you the best feeling when you see them say 'Yeah, I can do this.'"
After the panel, the questions were opened to the floor; students discussed as a group and amongst themselves the importance of change and how one can achieve it with their community.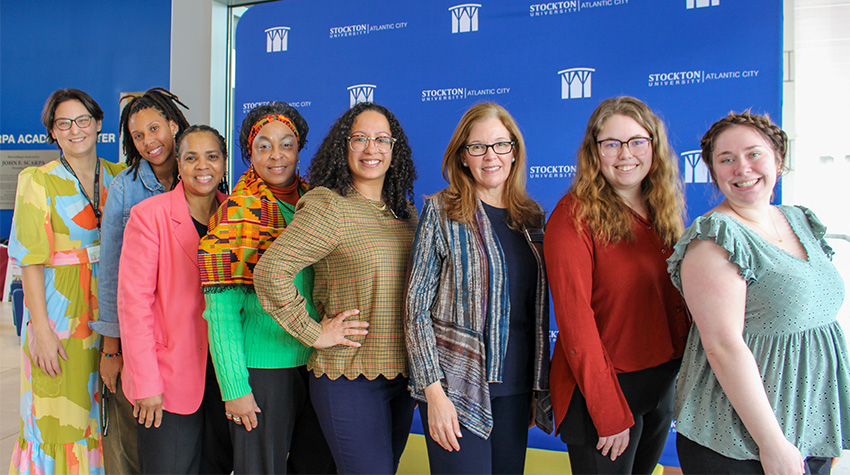 Meydawilda Colon, director of SCCESL, beamed at the audience before her as she gave her remarks.
"I am just so pleased that all of you chose to be here today," Colon said. "I believe in your passion, and I think you all will go very far in life."
Heather Swenson-Brilla, the community programs coordinator of SCCESL, mirrored Colon's sentiments.
"I'm so impressed by you all," Swenson-Brilla said. "You guys are amazing – for being brave and sharing your story with us today."
Participating high schools:
Absegami High School; Atlantic City High School; Cedar Creek High School; Egg Harbor Township High School; Oakcrest High School; and Pleasantville High School.
– Story and photos by Loukaia Taylor