MLK Panel Addresses Youth Voting Power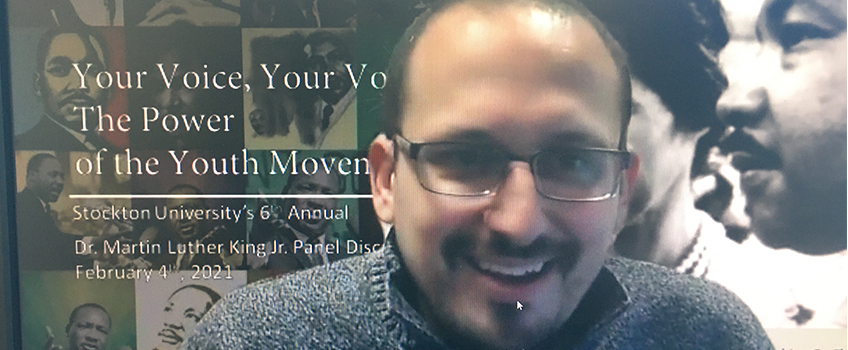 Galloway, N.J. _ We are all historians, Ralph E. Hunter, Sr. told than 60 area high school students at the 6th Martin Luther King, Jr. high school panel discussion hosted by Stockton University on Feb. 4.
"What you do today, will be part of history," said Hunter, founder of the African American Heritage Museum of Southern New Jersey, as he recalled attending the March on Washington in the 1960s with Martin Luther King, Jr.
He encouraged the students to get involved in their communities, saying they should "learn from the past, live in the present and look to the future."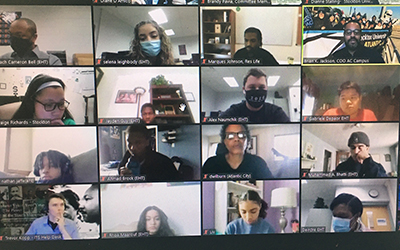 The growing role of young people in shaping the future was the theme of this year's event, which included students from Egg Harbor Township, Atlantic City, Absegami, Oakcrest and Pleasantville high schools.
"We are seeing an increasing number of youth in the world who are unwilling to just be bystanders," said Brian Jackson, CEO of Stockton Atlantic City, who opened the program on Zoom.
Jackson noted that young people played an important role in the Civil Rights movement and are now again prominent in issues ranging from climate change to gun violence.
Event co-chair Brian Pluchino led a discussion among the student panelists, noting that young people ages 18-29 were crucial in the 2020 presidential election and if they stay involved could help determine the future.
While most of the students were too young to vote in the 2020 election, they did pay attention. Pluchino asked what impact they would hope to have.

"We are using our voices to speak for ourselves and to get what we need," said Sunrose Rousnee from Absegami High School. "The first step is voting."
Angel Ihie from Pleasantville High School said people vote based on what they hope to achieve.
"People are looking for change, positive change," she said.
The students said their voices are important now because as young people they will bear the impact of decisions made today far into the future
"In the long run, it's going to affect us the most," Rousnee said.

The students acknowledged the impact of social media as both a good and bad influence by providing more information, but also spreading rumors.
"You have to question everything and do your research," said Rebekah Monroe from Oakcrest High School.
Ahmad Brock oaf Egg Harbor Township High School said basic human rights issues are being politicized when they should be more accepted.
On the argumentative and sometimes hostile tone of politics, students said it's important to listen to other views, and also accept that there are other views.
"Do your own research, make your own decisions, but accept that there are other views," said Jayden Jones from Atlantic City High School.

Selena Leighbody from Egg Harbor Township said people need to listen to other views even if they don't agree with them.
"You need to understand where people are coming from," Leighbody said.
"You have to understand that there will be some people who will never agree with you," Brock said.
Rousnee said while she looks at social media, her core values come from her immigrant parents who came to America and worked hard for the future they wanted.
Ihie said the pandemic has made her more aware of the world around her, and made her open to changing and learning.
The participants also broke into smaller chat rooms to discuss issues with each other. Pluchino said the event was just one day, but it was up to them to keep issues moving forward.
"What you do has to be sustainable," he said.
Monroe noted that voting isn't just national, but also local, and students can begin change within their own communities in local elections.
Event co-chair Patricia Collins said she was thrilled with the participation and she urged students to keep up the momentum and advocate for change.
"Be kind to each other," she said.
Other members of the planning committee were Brandy Pavia, Dianne Stalling and Carol Waties. Discussion leaders for the chat rooms were Angel Hernandez, Heather Medina, Ashlee Roberts, Marques Johnson and Tiffany Rice.
# # #
Contact:
Diane D'Amico
Director of News and Media Relations
Galloway, N.J. 08205
Diane.D'Amico@stockton.edu
609-652-4593
609-412-8069
stockton.edu/media