Student, Faculty and Staff Dinner Brings Campus Together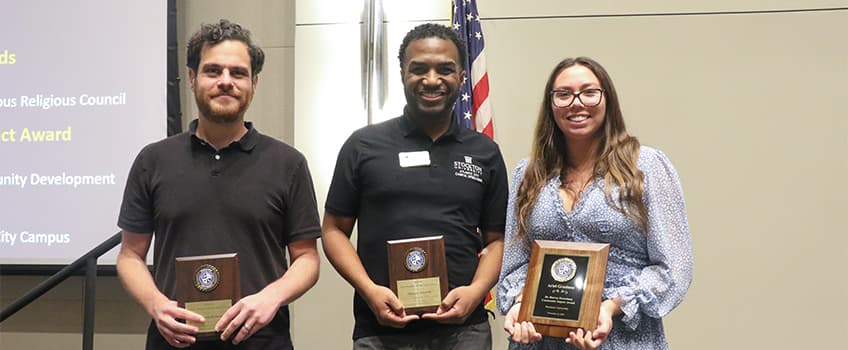 Galloway, N.J. – Laughter, companionship and good cheer were ever present in the Campus Center Event Room during the 39th annual Student, Faculty and Staff Dinner on Nov. 16.
Brian K. Jackson, chief operating officer for the Atlantic City campus and emcee for the evening, kicked off the program by encouraging the audience to remember the founders of the dinner, which included Yitzhak Sharon, distinguished professor of Physics, Vera King Farris, the former president of Stockton University from 1983 to 2003, and Gail Rosenthal, the late director of the Sara and Sam Schoffer Holocaust Resource Center. According to Jackson, they created this dinner as a way for the campus community to engage with one another shortly before the holidays.
"This event is very meaningful because it represents a moment where, no matter your race, color, religion, sexual orientation, creed or political beliefs, we all came together to break bread, acknowledge the beginning of the holiday season and, most importantly, enjoy each other's company. We leave our differences at the door, and we celebrate those things which bring us together, our community and to reflect on the importance of our humanity," Jackson shared.
Appreciation for one's community was a central theme throughout the speeches. Vlad Vasylyk, a student senator, and Samantha Bell, president of student organization Hillel and vice president for the Campus Religious Council, each explained the dinner's meaning during their remarks.
"This tradition, unique to Stockton, is a cornerstone of our university's commitment to bringing our community together every November," Vasylyk said. "Thank you to everyone who is here tonight, and a special thanks to members of our faculty and staff joining us. We are so fortunate to have such a dedicated team of educators and mentors who always put student success first, and we are so grateful for all the hard work that you do."
"Thank you to all staff and faculty for being encouraging and doing everything you can to keep us motivated and supported throughout the school year," Bell said. "We wouldn't be here without you. Your dedication and passion as educators help students learn and, above all, reach their potential under your guidance."
This year's dinner was also the first for both President Joe Bertolino and Executive Vice President Terricita Sass. During his remarks, Bertolino expressed his excitement at being invited by Bell and talked about the gratefulness he felt when asked what he was thankful for this year.
"I thought, 'Wow, that is an interesting question.' There are a lot of things that go through my mind. I am fortunate enough to probably have a laundry list of things that I am thankful for, like the people that I love, the opportunity to be here serving and leading my mother's alma mater and the opportunity to spend time with all of you, the members of our community – particularly our students – because you are the reason we are here. You are the reason that we do what we do every day, and you are the reason that we have committed to this work," Bertolino said.
After a delicious dinner from Chartwells and a beautiful rendition of "Unwritten" by Criminal Justice major Kyla Ritter, the awards of the evening were presented by Vasylyk, Bell and Craig Stambaugh, assistant vice president of Engagement and Community Development. Cheers rang out as the recipients of Faculty Member of the Year, Staff Member of the Year and the Harvey Kesselman Community Impact Award were individually called onto the stage and honored.
"It's an honor to be presented with this award. Teaching is what I love to do and I never expected to be recognized for what I'm doing and the impact I'm having. It's nice to hear from students that we're making a difference," said Steven Kalman, associate professor of Chemistry and recipient of Faculty Member of the Year.
"It really means a lot that I am being recognized by the students because it reminds us that that's the reason we're here. When we put them at the center, I think that the most important thing we can do is to make sure that they all feel seen and heard and that they feel supported by all of us at the institution," said Marques Johnson, associate dean of students and recipient of Staff Member of the Year.
"It just felt nice to get that validation to know that people see what I do, and that it means something. I don't really know what my purpose is yet, but I feel like I have a purpose here with all the things I'm involved with. It's beautiful," said Ariel Graziano, student and recipient of the Community Impact Award.
– Story by Loukaia Taylor
– Photos by Lizzie Nealis