SPACES Welcomes New Students to Stockton
Galloway, N.J.- As music blared and the smell of empanadas and egg rolls wafted through the Campus Center Event Room, more than 300 students, staff and faculty celebrated the beginning of the fall semester at the annual fall SPACES Welcome Reception Sept. 6.
Launched in 2018, SPACES is a program that encourages diversity and inclusion through connection. The twice-a-year Welcome Reception, which boasts free multicultural food, a live DJ and door prizes, is one of their staple programs.
Students were given multiple icebreaker opportunities, such as fun group activities to complete and free buttons that showcase parts of their identities, including race and ethnicity, religion, and even whether they're a commuter or residential student.
"It had a lot of options: I ate, I danced, I talked," said Jayanna Jones, a junior Social Work major. "I got to interact with people I didn't know, and I made some new friends."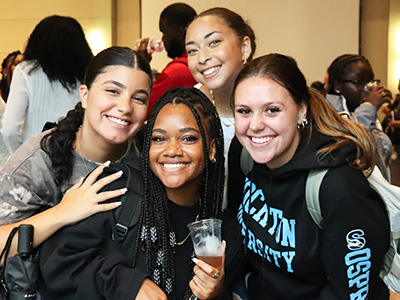 Student Tariq Morgan, a junior in Marine Biology, expressed the same sentiments.
"I would definitely come to this again," Morgan said. "Having everyone in the community come together, talk, have good vibes, and eat was nice."
The "good vibes" were exactly what the program wanted to cultivate. This year, the reception included addresses from members of Student Affairs, Student Development and Admissions, including Jessica Grullon, associate director of Admissions, and Christopher Catching, vice president for Student Affairs. They all had a clear message for the students in attendance: the resources are here, and it's up to the students to use them in order to create a community.
"It was an incredible event," Elizabeth Maclin, a sophomore Criminal Justice major, said. "Especially for those who are trying to find diversity where they may find, at a PWI, they may lack."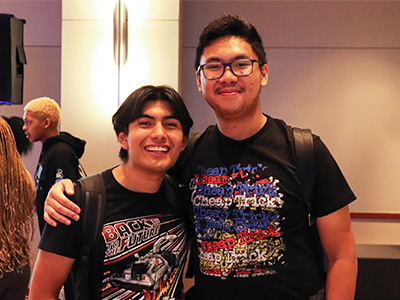 "The SPACES event truly shows how diverse Stockton is," Aniyah Harris, a sophomore in Business, said. "It also shows how strong of a community we are."
In addition to the welcome receptions, SPACES hosts an overnight weekend retreat called Deeper SPACES. The retreat is designed to facilitate healthy and fruitful conversations surrounding topics such as social justice and diversity.
The retreat is Nov. 18-20 at the YMCA of the Pines in Medford Lakes. Transportation, meals and lodging are included. Interested students should apply through OspreyHub by Oct. 28.
For more photos, visit our Flickr gallery.
-Story by Loukaia Taylor
-Photos by Eliza Hunt